There are so many great reasons why you need to get an Aviator Harness and start taking your parrot outside!

First of all, safety! No matter how bonded your parrot is to you, no matter how well trained it is, no matter whether its wings are clipped or not, any parrot can accidentally fly away and be lost outside. Quite likely your parrot will not be able to find its way back to you and will not be able to survive on its own. For this reason, a leash is a great safety net.

Now I certainly don't recommend using a harness as a primary means of keeping your parrot from flying away. Your bond, relationship, training, etc should always be the main reason that your parrot chooses to stay with you. The harness is merely a very unlikely backup plan just in case anything unexpected goes wrong. Think of the harness as a seat belt and not as a chain. Just because you wear a seat belt, isn't a license to drive dangerously. Instead, it is only an important line of protection in the event that something unexpectedly goes wrong. Some folks make excuses not to wear a seat belt, maybe even calling it uncomfortable, but it is the best safety catch in the event of an accident. Likewise, for your parrot's safety it is a reasonable compromise.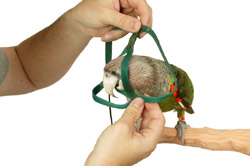 That said, the harness should not be a point of torture. Forcing a terrified parrot into a harness just for the purpose of taking it outside is cruel and counterproductive. The bird will be so distraught by the harness on its body that it will not have a chance to notice or enjoy the surroundings. This will also harm the parrot's relationship with you. It is better to take a parrot out in a travel cage or not at all than to mistreat it by misusing a harness. But, there is a way to teach the parrot to wear the harness voluntarily.

Parrots are very intelligent and capable learners. So if we teach them the purpose and method of putting on a harness such that they agree to wear it, then there is no problem. The most important thing that I teach my students is to ask the parrot if it agrees to wear the harness and until the parrot says yes (through its behavior), you are not to make the parrot wear it. Instead, I teach parrot owners how to use positive reinforcement and a carefully developed training regime to teach the parrot to want to wear the harness.



Watching my videos, you might get the impression that it's easy to put a harness on a parrot. And guess what? It is! On a parrot that was properly trained to wear it that is. Of course it is not easy at all to wrestle a resisting parrot into a leash and maybe impossible the next time when it knows what it is used for. However, after spending the initial effort to complete the training, they really do put the harness on easily for the rest of their lives. Realizing how long parrots can live, that's a lot of years of great harness wearing and outdoor adventures that you can have. It more than justifies the cost and effort to learn to teach your parrot to wear a harness properly.

Here are some outdoor adventures I have taken my parrots on:
Park
Carnival
Harness Flying
Coney Island
Camping
Socializing
Block Party
Boating
Sightseeing
Flying
Dating
Interviewing
Fund Raising
Performing
Wedding

This is just the beginning! There are so many more ways you can involve your parrot in your outdoor life and the Aviator Harness is your tool to being able to do that! Hiking in the forest, roller skating, maybe even rock climbing are just some possibilities. Get your parrot more involved in your active life.





To get started, you will need:
· Aviator Harness (choose any size/color) from ParrotWizard.com
· Parrot Wizard's Guide to Well-Behaved Parrots
· Parrot Wizard Harness Training DVD

The good news is that when you order a copy of the book and an Aviator Harness from ParrotWizard.com. the $19.99 Harness Training DVD comes free! Patiently follow the steps in the book and DVD to harness train your parrot and you can partake in outdoor Aviator Harness Adventures with your parrot for life!

So what are you waiting for? Your bird isn't going to learn to wear a harness by itself! If you want to enjoy an active outdoor lifestyle with your parrot, you have to start somewhere. You have to set yourself a goal to get the tools and start using them. Then, you have to take a deep breath and calm down. The harness training process requires patience. Patience is the quickest way to successfully teaching a bird to wear the aviator harness. Any attempt to rush this process will only set you back when the bird develops a distrust for the harness. This is where the tortoise beats the hare every time. Slowly work on following the steps you'll learn from me until the parrot is completely comfortable with the harness. And then you can scale mountains and do anything outside as long as you and your parrot are having fun!