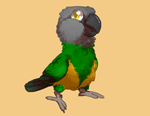 Kili
Type: Senegal Parrot
Genus: Poicephalus
Species: Senegalus
Subspecies: Mesotypus
Sex: Female
Weight: 120 grams
Height: 9 inches
Age: 12 years, 9 months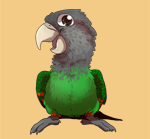 Truman
Type: Cape Parrot
Genus: Poicephalus
Species:Robustus
Subspecies: Fuscicollis
Sex: Male
Weight: 330 grams
Height: 13 inches
Age: 11 years, 1 month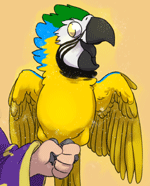 Rachel
Type: Blue & Gold Macaw
Genus: Ara
Species:ararauna
Sex: Female
Weight: 850 grams
Height: 26 inches
Age: 8 years, 9 months

List of Common Parrots:
Parakeets
:
Budgerigar (Budgie)
Alexandrine Parakeet
African Ringneck
Indian Ringneck
Monk Parakeet (Quaker Parrot)
Parrotlets
:
Mexican Parrotlet
Green Rumped Parrotlet
Blue Winged Parrotlet
Spectacled Parrotlet
Dusky Billed Parrotlet
Pacific Parrotlet
Yellow Faced Parrotlet
Lovebirds:
Peach Faced Lovebird
Masked Lovebird
Fischer's Lovebird
Lilian's (Nyasa) Lovebird
Black Cheeked Lovebird
Madagascar Lovebird
Abyssinian Lovebird
Red Faced Lovebird
Swindern's Lovebird
Lories and Lorikeets
:
Rainbow Lorikeet
Conures
:
Sun Conure
Jenday Conure
Cherry Headed Conure
Blue Crowned Conure
Mitred Conure
Patagonian Conure
Green Cheeked Conure
Nanday Conure
Caiques:
Black Headed Caique
White Bellied Caique
Poicephalus Parrots
:
Senegal Parrot
Meyer's Parrot
Red Bellied Parrot
Brown Headed Parrot
Jardine's Parrot
Cape Parrot
Ruppell's Parrot
Eclectus
:
Eclectus Parrot
African Greys:
Congo African Grey (CAG)
Timneh African Grey (TAG)
Amazons:
Blue Fronted Amazon
Yellow Naped Amazon
Yellow Headed Amazon
Orange Winged Amazon
Yellow Crowned Amazon
Cockatoos:
Cockatiel
Galah (Rose Breasted) Cockatoo
Sulphur Crested Cockatoo
Umbrella Cockatoo
Moluccan Cockatoo
Bare Eyed Cockatoo
Goffin's Cockatoo
Macaws
:
Red Shouldered (Hahn's) Macaw
Severe Macaw
Blue And Gold Macaw
Blue Throated Macaw
Military Macaw
Red Fronted Macaw
Scarlet Macaw
Green Winged Macaw
Hyacinth Macaw
Glossary of Common Parrot Terms
A year ago today, I married the love of my life. As we celebrate our one year wedding anniversary, I would now like to share with you memories of that special day.

Sorry that I didn't have a chance to post about the wedding sooner. Right after the wedding we left for three weeks to Australia on honeymoon. Then when we got back we had a lot to catch up on and married life to adjust to. I spent a lot of time editing together footage of Australia parrots so that set me even further behind on getting to the wedding footage. By the time I had a chance to work on the wedding video, it was the harsh middle of winter. I was just posting pictures of parrots and snow. Posting footage of a summer wedding would just be out of place that time of year. So we decided it would be best to wait till August and share with you the wedding on the same day, one year later.

The quick version of how I met my bride: Truman, that little flying monkey, got lost in New York City. I received help searching for Truman from a random stranger. Him and I started the New York City Parrot Adventures Group and hung out in Coney Island with our parrots. Marianna, who already had a Blue and Gold Macaw, learned of these outings through my youtube channel. She joined the group and started coming to our parrot outings. She fell in love with Truman, and I with her, and she with me. Long story short, we ended up getting married. Full story of how we met is here.

Fast forward to August 8, 2015. It was a cool summer morning in northern New Jersey. Crickets were chirping and songbirds singing. A thin layer of fog formed on the lake that would serve as the backdrop for the wedding ceremony. A few of us spent the night at the lakehouse for an early start. But the majority of guests (and the birds) began arriving in the later part of the morning. Our bird friends Ginger and Kristine were responsible for bringing all of the parrots from our house that day. Once our parrots arrived, we went out to take some pictures.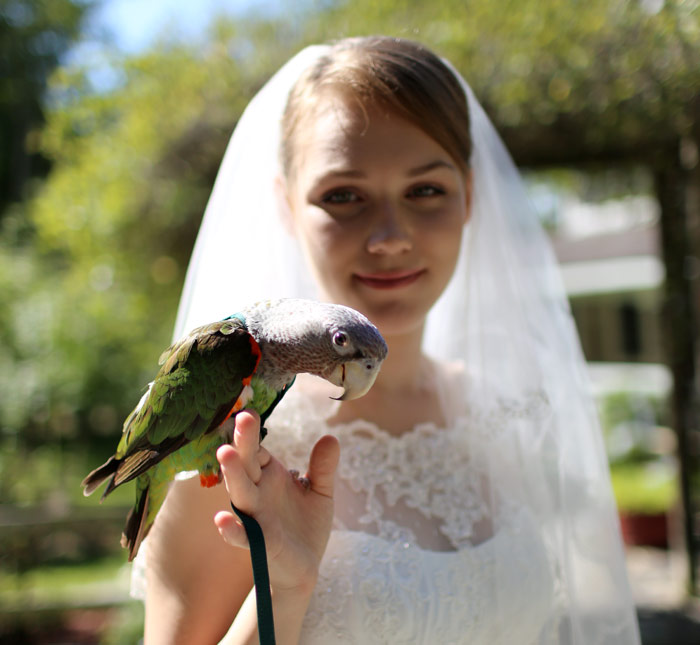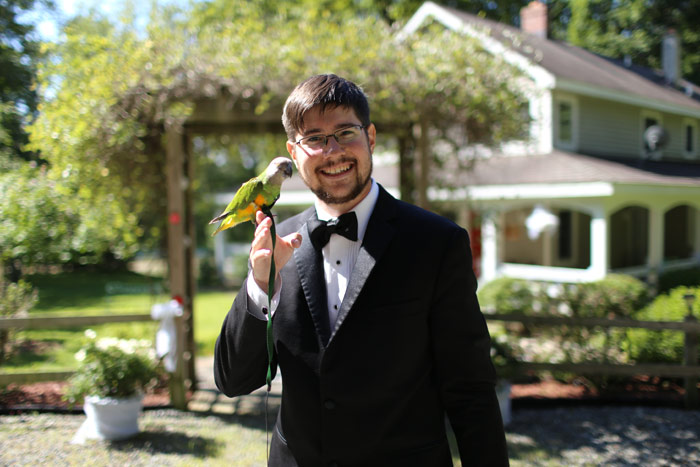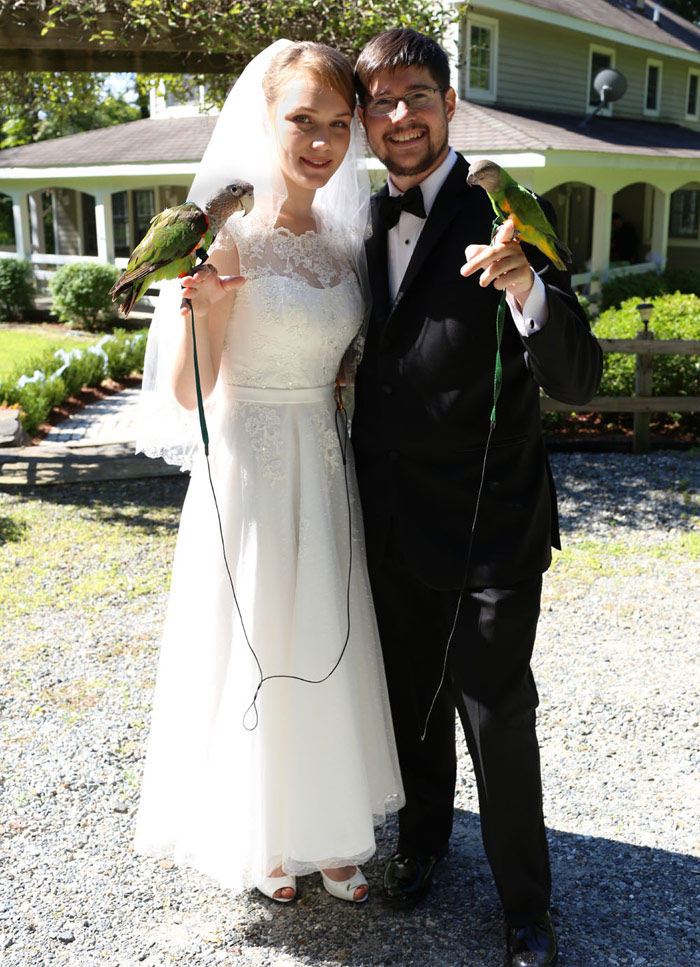 We continued taking photos with family and friends until the ceremony which started at noon. Kili and Truman not only were the ring bearers but they were also the wedding party. Kili was the best bird and Truman was the bird of honor. It is understandable that Kili would not allow to be any bird but the best. Rachel and Santina, the big macaws, were placed on specially decorated Training Perches at the sides.

At the lead of the bridal processional, Kristine and Ginger brought out the wedding party parrots. Then came the bride with her father. The ceremony was held on a shady peninsula that stretches into the lake. The ceremony went much like any other with the "I dos" and promises of eternity. Kili and Truman helped provide the rings.

At the ceremony's end, we had a video drone fly over to get aerial footage of the wedding ceremony. The birds welcomed the robotic whirlybird. It was no surprise to Truman as he had been exposed to flying drones before.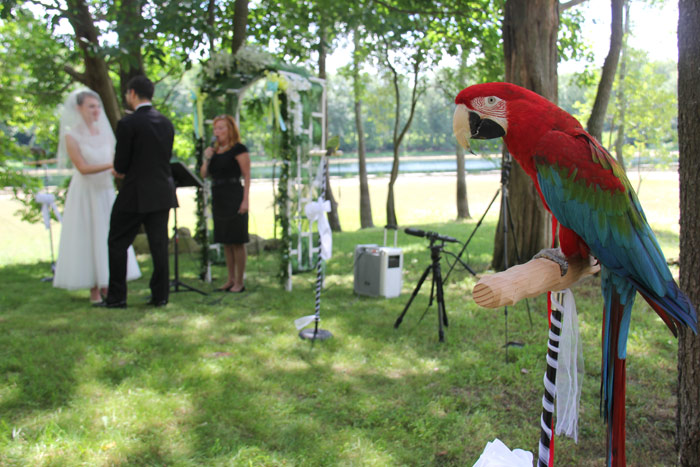 We had a tent erected over the deck for the reception. It provided cool shade in the August sun while everyone sat at one very long table. Bacon wrapped scallops, ginger lamb bites, and steak were catered to everyone's delight. For desert, guests dipped fresh fruit and marshmallows in a chocolate fountain. Blue and Jewel from the movie Rio, topped the wedding cake.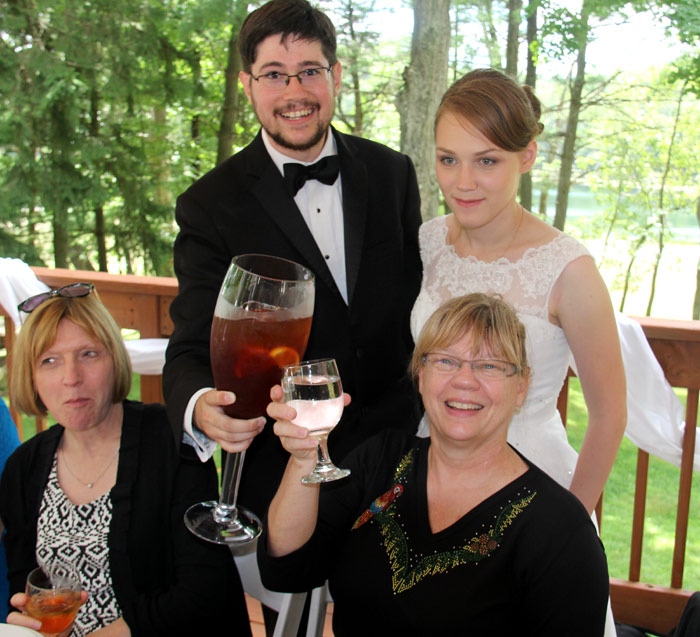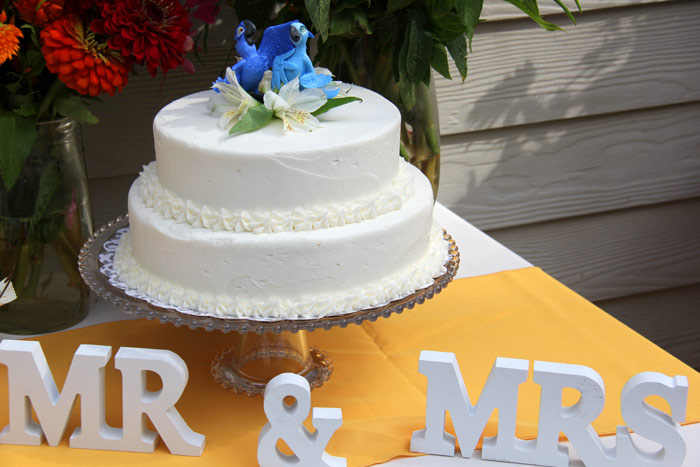 Marianna received Truman as a wedding gift. It was his calling all along. His purpose was to make a special someone in my life happy. And like wine, with age he gets better. When he was young, he was pretty difficult. Going through his terrible twos (and more like terrible twos, threes, and fours), he was a menace. But with those years behind him and lots of training, Truman is as good a pet as ever. Marianna was ecstatic to receive this feathered monkey of joy on her wedding day.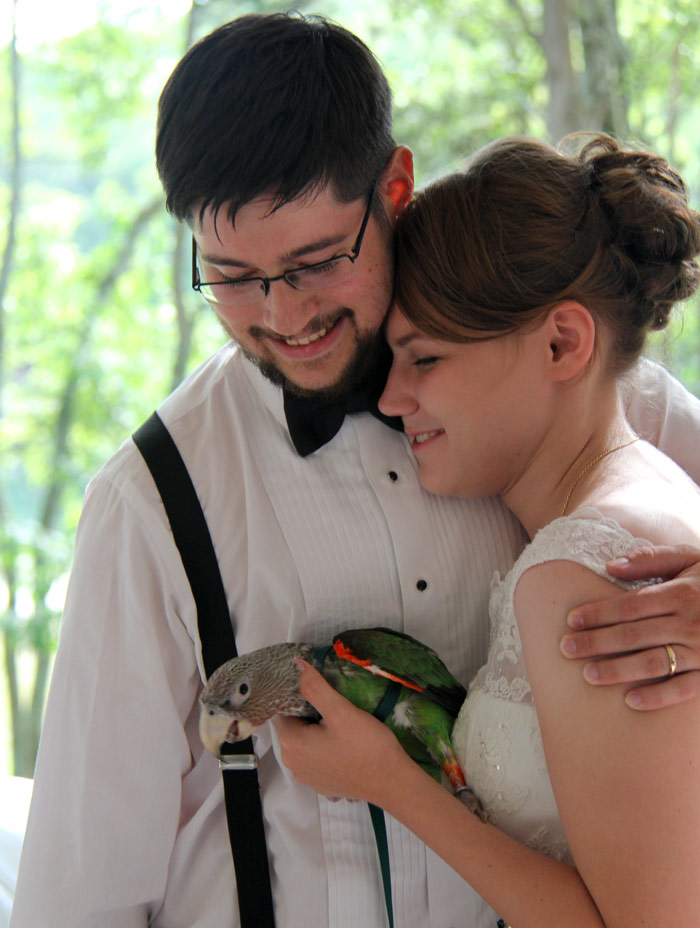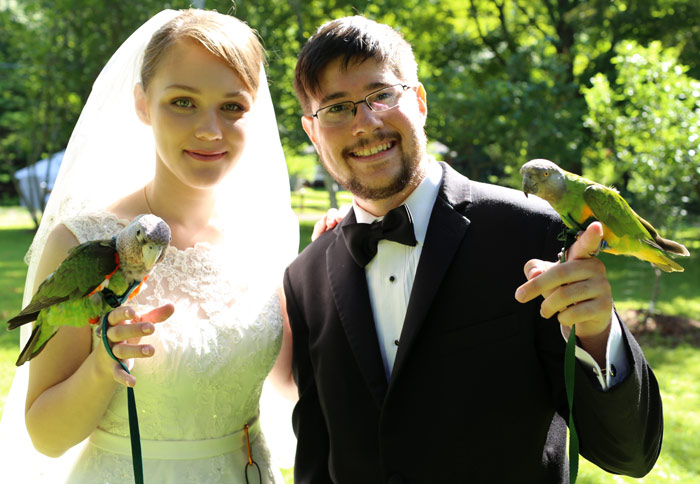 After the reception, my bride and I boarded a white stretch limo. It took the long scenic route to the airport while many of the guests took a shortcut to get there sooner. The limo arrived to the airport and drove across the runway. Our guests greeted us at my decorated airplane. We took some pictures and then transferred from our limo ride to the airplane. The guests waved goodbye as the newly married Mr. and Mrs. Sazhin flew off into the sunset. Dreams do come true!


| | | |
| --- | --- | --- |
| | | Saturday February 27th, 2016 |
Rachel the Blue and Gold Macaw loves getting sprayed from a water bottle. Marianna sprays mist on and around Rachel and Rachel just soaks it all in. She dances around her Training Perches with her wings flapping to catch the mist. This is pretty typical for a rainforest parrot. Parrots from dry climates on the other hand (like Senegal Parrots, Budgerigars, etc) don't really like to shower much.

While Rachel can get really excited about a shower, Truman the Cape Parrot prefers baths. Meanwhile Kili the Senegal Parrot and Santina the Green-Winged Macaw are pretty indifferent to water. Either they don't want to get wet and resist or at best they do nothing. They just never get into it like Rachel does but I figure that when they aren't mad about getting wet, that these are the times they like it.

The best way to get your parrot used to showering is with a gentle spray mister. Use slightly warm water. Squirt the mist above the bird and let it fall onto the bird. Avoid squirting at the bird directly unless it likes it. The important thing is never to use a spray bottle for punishment or make showering an unpleasant experience. As long as you keep it enjoyable, it will be a great activity for you and your parrot to enjoy together.

Here's a video of Rachel getting sprayed from a water bottle.


Parrots are birds and birds fly. Allowing parrots to fly free in our homes is exhilarating but also poses some challenges. Without going into too much detail about other important things about flight safety (these are covered in my book), I want to focus on the training element.

Teaching a parrot to fly to you actually covers two different dilemmas. The first is teaching a parrot to fly controlled within our home at all in the first place and the second is actually about coming to you. What you must realize is that the bird has to actually learn how to fly to you as much as teaching it to want to.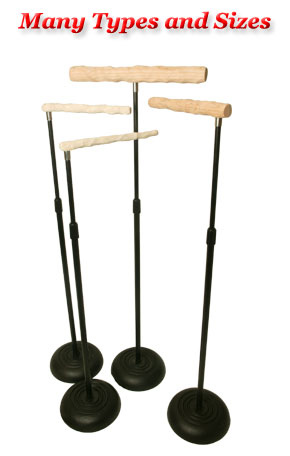 The two best tools for teaching this controlled form of flight are a pair of Training Perches and a target stick. Luckily the Parrot Training Perch Kit I offer includes a clicker and target stick in addition to two perches so you'd be ready to begin the flight training out of the box!

If you haven't already done basic clicker and target training with a walking parrot on a perch, go back and do that first. Flying is harder so without understanding what you are asking and a high level of motivation, there is no way the parrot will break ground for just a stick. Begin the flight training process with a reminder of the walking target training. Set up the two training perches in parallel but so close together that the parrot can step and target from one perch to the other.

Continue to practice targeting the parrots between the two training perches until you start to build up a rhythm. The parrot will begin to foresee that you will target one way and the other and maybe even jump the gun a little and go before targeted. This isn't really what we are after but it will show good motivation to continue. Begin to spread the gap between the two training perches ever so slightly. Continue targeting the parrot between the perches without letting it realize that the gap grows after subsequent targeting attempts.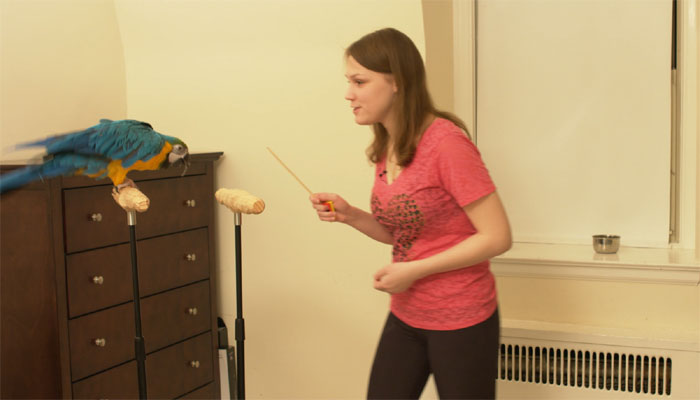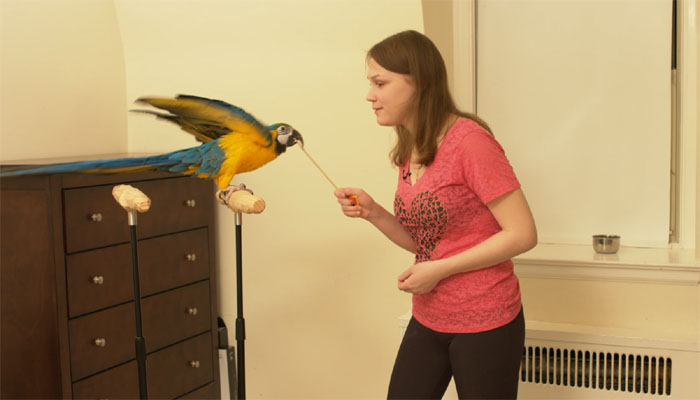 Eventually the gap will be big enough that the bird will have to jump or fly to get across. Hopefully the bird is a capable enough of a flyer to be able to realize to do this on its own. If it does not, you may need to trick the timid bird that won't fly into walking across but then spreading the gap enroute to cause the first flight to happen. A way to do this is to set the two training perches just slightly too far apart to walk. Then tip the remote perch toward the bird and target for it to walk. Just as the bird reaches the gap, return the distant perch to its original position. This will cause the bird to flap reflexively to catch its balance and make it across the gap. With sufficient rewards and motivation, after a few such attempts, the bird will begin to make the effort to fly across.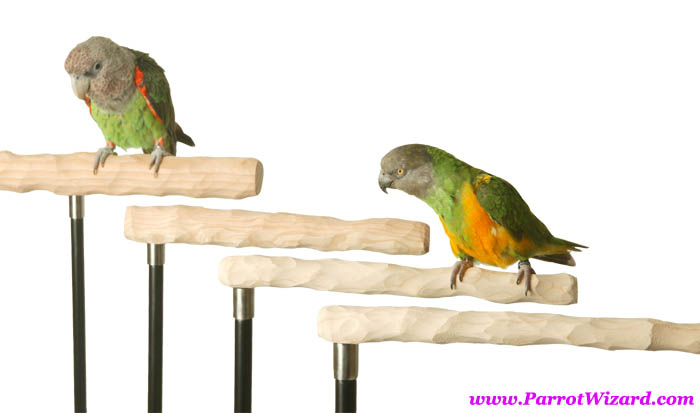 Progress will be slow at first but then pick up. At first the bird does not know what you want but also doesn't know how to control itself to make such a flight. Furthermore, the flight muscles may be atrophied or inadequately exercised. It will take time for the bird to regain the strength and motor skills before progress can be made. Continue spreading the gap between the two training perches and target the bird to fly bigger distances. The bird will develop skills and strength after a few days of these exercises. Adjust the height of the training perches to teach the parrot to fly up and down as well. Eventually replace the second training perch with your hand or arm. Phase out the target stick but continue giving treats for successful flight recalls. Instead of targeting, you can call your bird's name as a command to fly to you. Keep increasing the distance and challenging your bird and you will develop an excellent and reliable flight recall.

Keep in mind that very high levels of training motivation are required for flight training. You can use a combination of food management, trick training, and other techniques to achieve it. This is covered in great detail in my book, The Parrot Wizard's Guide to Well-Behaved Parrots.

Now get a Parrot Training Perch Kit and follow these steps and you will be on your way to flight recall training your parrot. More videos and information about this flight training method are available on the Training Perch site.

Now here's a video of Marianna following these same steps right out of my book with her Blue and Gold Macaw, Rachel.


For those of you following my blog, you might remember Rachel the Blue and Gold Macaw. I was watching her for a few weeks during the summer while Marianna was away. I know many of you would like to know what goes into owning and keeping a big parrot so here's a video where Marianna introduces Rachel and talks about her experience.

Rachel is a pretty unique Blue and Gold Macaw. She looks different than any Blue and Gold I've previously seen. She's a lot more petite in size and has this perpetual baby look. She's over two years old so I think it's pretty certain that this appearance will stay. She loves throwing her wings out for everyone to see. The first time I saw Rachel in Coney Island, it was a really windy day and she almost got blown away cause she wouldn't stop sticking her wings out. Here are a few pictures and video introduction of Marianna's bird: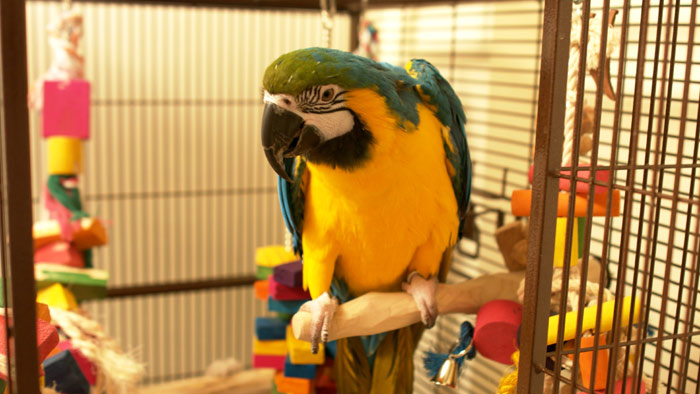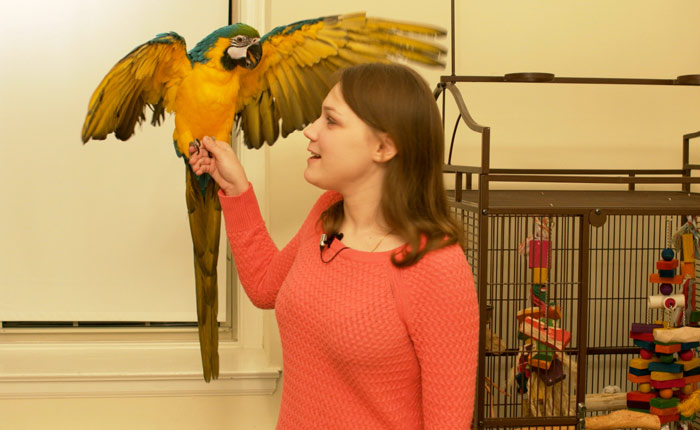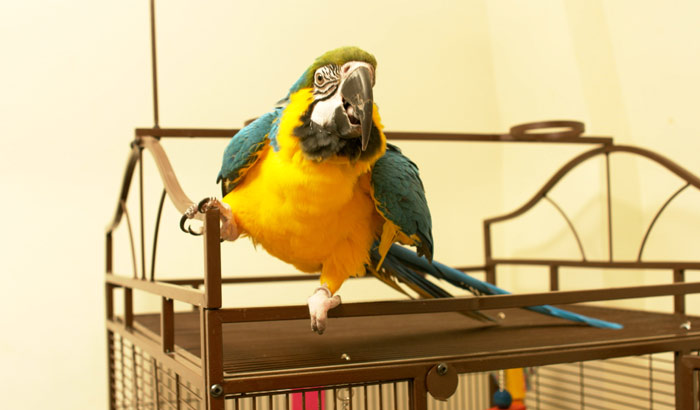 PS for those of you with 4K (also known as Ultra High Definition) TVs/Monitors, be sure to enable youtube output in 2160p for maximum quality. On an HD TV or computer screen, select 1080p. And on phones/mobile devices select 720p. These settings can be controlled by pressing the cog wheel in the lower right hand side and changing the Quality setting.
| | | |
| --- | --- | --- |
| | | Sunday November 2nd, 2014 |
Being single with parrots isn't easy. When it comes to dating, it's kind of like being divorced with kids. People look at you funny. They don't want to inherit your feathered children problems. I think I can speak for a lot of single parrot owners that it certainly makes things difficult.

My commitment is first and foremost to my parrots. They were there for me when I was alone, when I was happy, and just the same when I was sad. My parrots are family and you can't turn your back on family. So, if you want to be my lover, you've got to love my parrots too.

Yet, finding a potential match required that she would accept my parrots but not have other pets herself. A bit selfish, but what could I do when I was already committed to my birds? I wasn't looking for someone who has parrots or even necessarily likes them, but just someone who could accept them as part of me.

The kind of person that could say "it's me or the parrot" isn't even the kind of person I could have a relationship with regardless. If someone could think that way, then what would stop them from saying "it's me or the TV" or "it's me or your family" etc. No. The way someone feels about my bird family is how they feel about me.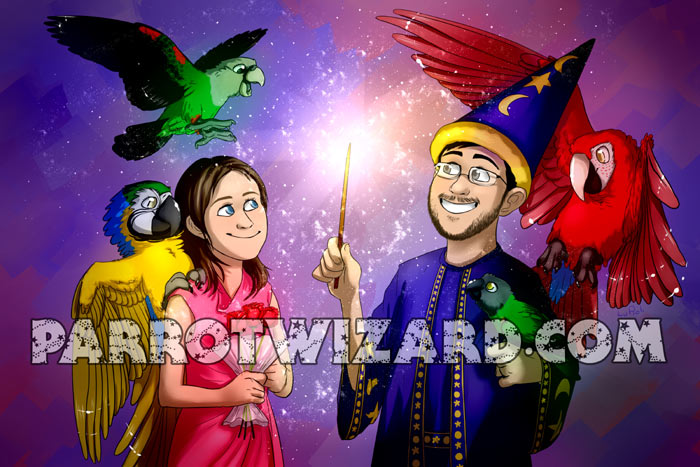 So here's the story of how I met my lovebird, my perfect match. The story goes back to this spring when my little rascal Truman went out on his city adventure. While Truman was lost, I got some help from a parrot loving guy called Ronen. Ronen didn't find Truman, but he helped give me spirit to go on searching after 2 hard days and he took me to the place where Truman would be found. Ronen and I became friends and began to take our parrots out together. We started the NYC Parrot Adventures Group together to invite even more parrot loving New Yorkers to join us with their birds.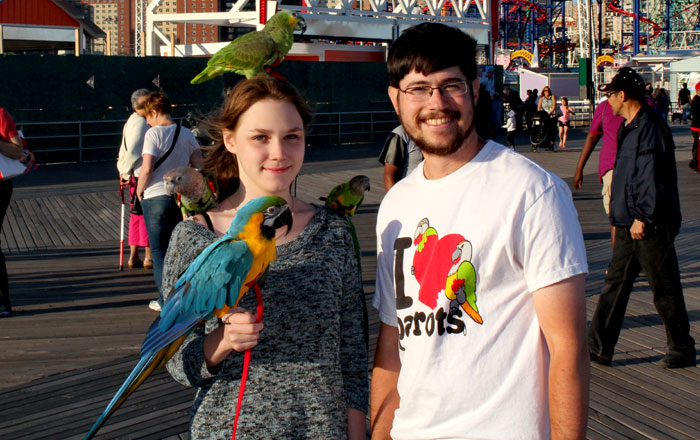 I remember the first day Marianna came out to meet us in Coney Island with her Blue and Gold Macaw named Rachel. She was late and rather shy. My first reaction was of annoyance. It was a cold gloomy evening and I was just anxious to take my birds home. I had Kili and Truman with me. She was so excited to meet the celebrity birds that she just couldn't get the words out or be herself. I guess I can say at that point, I didn't even like her.

Marianna came to further parrot group outings and the first time I really noticed her was the way she handled Truman. Truman would just melt away in her hands. I caught a glimpse of her kind and loving nature. She held and caressed Truman endlessly and he would close his eyes in delight. Although Truman will tolerate anyone, he is still choosing about who he actually likes. I've been passing that feathered monkey around long enough to be able to really tell.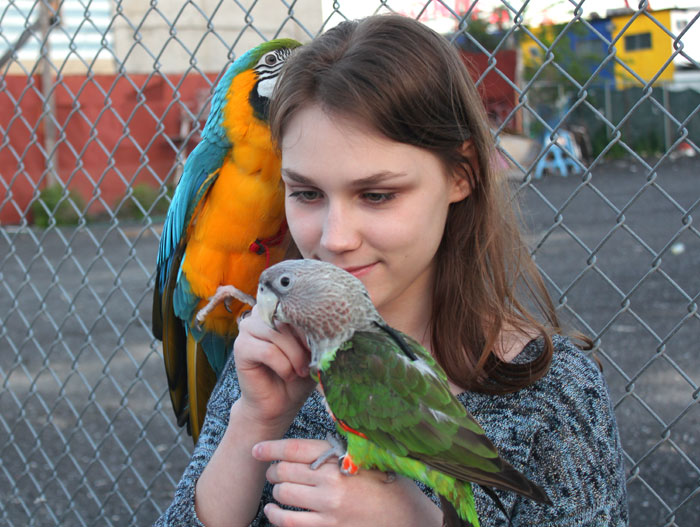 Like in a romantic comedy, when bumped together by others in our group (like sending us to get food), we would just stand there ignoring each other. It's easy to go on making a fool of yourself or talk about parrots to everyone else. But when it comes to talking to the pretty girl you have a crush on, you just end up looking mad because you don't know what to say. What Marianna couldn't say to my face, she told me through her love of my parrots. She communicated through them how she felt. Marianna volunteered to help me with Santina's Roar shoot and was a big help. With something specific to do together, we began talking and we began to discover how right we are for each other.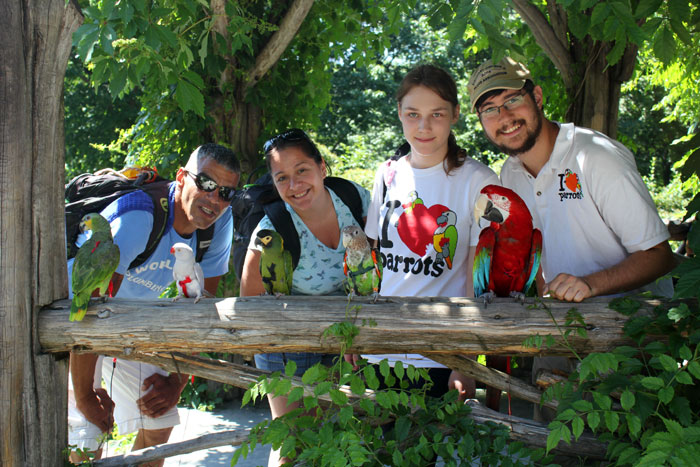 Marianna told me that she was leaving for 3 weeks on vacation and didn't even have a place arranged for her macaw to stay. She said that as a last resort she'd just board it at her local bird store. I thought about it and the next day called to let her know I'd board her bird for her! For 3 weeks, Rachel was a trained parrot! I didn't have time to teach her tricks but I focused on bonding and good behavior. Now Rachel is by no means a bad bird. She's only a 2 year old macaw so quite young. But in the last year as she has been getting older, she has begun to bite people other than her owner. I had previously worked on step-up with Rachel outdoors, so once under my influence, I had no trouble getting Rachel to step up. However, Rachel would not let me pet her head or hold her. So during the time Rachel stayed with me, I got her comfortable being pet, held, grabbed, and putting her harness on. As you can imagine, Marianna and I stayed in close contact about things while she was away. Marianna came back from her trip not only to find a tamer parrot, but also an invitation to go out on a date.

Things have really taken off ever since. Not only did it turn out we have a common interest in parrots but also just about everything else as well. It's a one of a kind match that started as something more akin to a rivalry. Now we do everything together.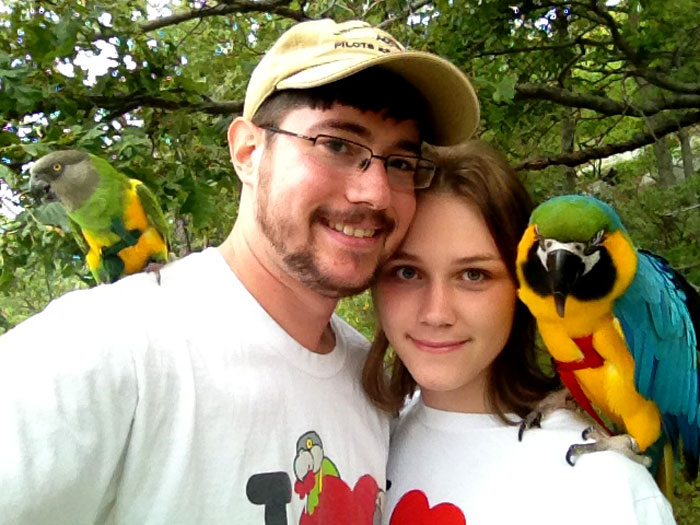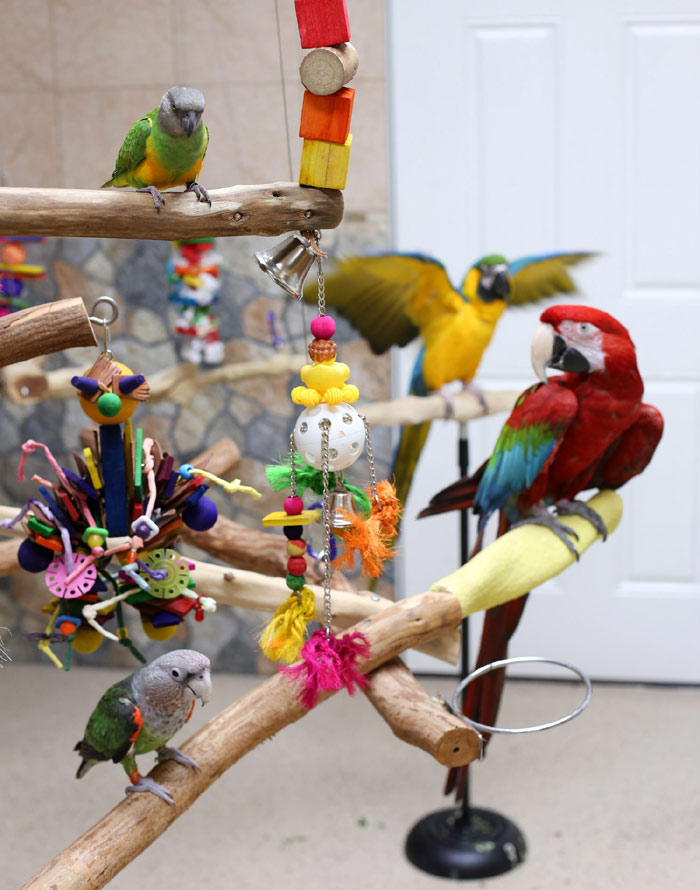 What's great is that our parrots get along with each other and with both of us. All of our parrots are great with both of us. Even Kili, who has a history of terrorizing people I'd invite home, likes Marianna and asks her for head-scratches. Truman may well like Marianna better than me. Kili, sitting on my shoulder, will let Marianna hug me and be near without any jealousy (for a Senegal, that is pretty unbelievable). Santina, although she doesn't want to be touched, likes Marianna too. Santina starts dancing and talking whenever Marianna is near. Also Santina gets along well with Rachel. And Rachel gets along with me. That's our awesome parrot family.

Getting the parrots to get along with each person and each other is no coincidence. It is the culmination of years of training, the right environment, and the right approach. Marianna and I make sure to include our parrots in our lives in such a way that makes them enjoy being part of this group in harmony rather than rivalry. They all get their special attention both privately and as a group. We include the birds on outings and in our daily routines. I left a big travel cage with Marianna so that Kili or Truman can come spend a week at a time with her and get even more used to things. Our parrots' approval is probably the most important of all and it is evident that we have it.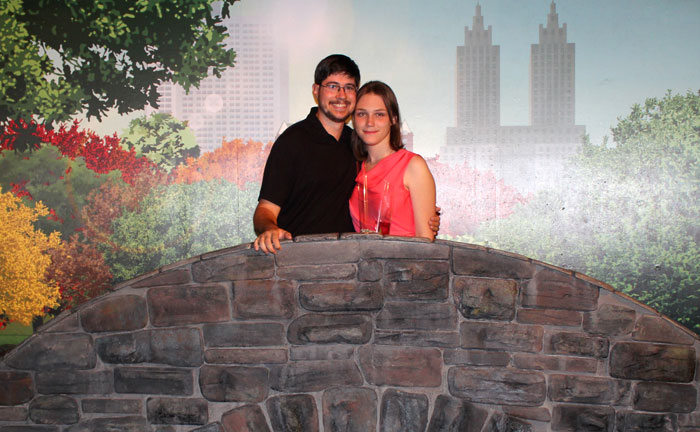 So all you parrot singles out there, I want to introduce you to a concept called parrot mingles. Join a parrot club, volunteer at a rescue, hang around your local bird store, start a parrot outing group. Who knows maybe you or your parrot will find their match!

I just want to mention Kristine who met her boyfriend Justin while taking her Senegal Parrot Qubit to the park. She's a member of our NYC Parrot Adventures Group and is working on taming Justin to be comfortable with her birdie. Show your parrot love and maybe some day it will help you find yours as well!