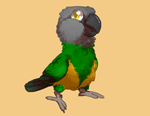 Kili
Type: Senegal Parrot
Genus: Poicephalus
Species: Senegalus
Subspecies: Mesotypus
Sex: Female
Weight: 120 grams
Height: 9 inches
Age: 11 years, 4 months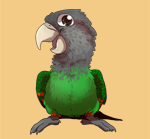 Truman
Type: Cape Parrot
Genus: Poicephalus
Species:Robustus
Subspecies: Fuscicollis
Sex: Male
Weight: 330 grams
Height: 13 inches
Age: 9 years, 7 months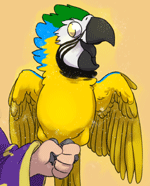 Rachel
Type: Blue & Gold Macaw
Genus: Ara
Species:ararauna
Sex: Female
Weight: 850 grams
Height: 26 inches
Age: 7 years, 4 months

List of Common Parrots:
Parakeets
:
Budgerigar (Budgie)
Alexandrine Parakeet
African Ringneck
Indian Ringneck
Monk Parakeet (Quaker Parrot)
Parrotlets
:
Mexican Parrotlet
Green Rumped Parrotlet
Blue Winged Parrotlet
Spectacled Parrotlet
Dusky Billed Parrotlet
Pacific Parrotlet
Yellow Faced Parrotlet
Lovebirds:
Peach Faced Lovebird
Masked Lovebird
Fischer's Lovebird
Lilian's (Nyasa) Lovebird
Black Cheeked Lovebird
Madagascar Lovebird
Abyssinian Lovebird
Red Faced Lovebird
Swindern's Lovebird
Lories and Lorikeets
:
Rainbow Lorikeet
Conures
:
Sun Conure
Jenday Conure
Cherry Headed Conure
Blue Crowned Conure
Mitred Conure
Patagonian Conure
Green Cheeked Conure
Nanday Conure
Caiques:
Black Headed Caique
White Bellied Caique
Poicephalus Parrots
:
Senegal Parrot
Meyer's Parrot
Red Bellied Parrot
Brown Headed Parrot
Jardine's Parrot
Cape Parrot
Ruppell's Parrot
Eclectus
:
Eclectus Parrot
African Greys:
Congo African Grey (CAG)
Timneh African Grey (TAG)
Amazons:
Blue Fronted Amazon
Yellow Naped Amazon
Yellow Headed Amazon
Orange Winged Amazon
Yellow Crowned Amazon
Cockatoos:
Cockatiel
Galah (Rose Breasted) Cockatoo
Sulphur Crested Cockatoo
Umbrella Cockatoo
Moluccan Cockatoo
Bare Eyed Cockatoo
Goffin's Cockatoo
Macaws
:
Red Shouldered (Hahn's) Macaw
Severe Macaw
Blue And Gold Macaw
Blue Throated Macaw
Military Macaw
Red Fronted Macaw
Scarlet Macaw
Green Winged Macaw
Hyacinth Macaw
| | | |
| --- | --- | --- |
| | | Thursday January 31st, 2019 |
Although you may have seen glimpses of the various special features of my bird room throughout my videos, I have never specifically done a video that shows everything in one place until now.

I had my custom purpose built bird room put in when I moved from apartment to house. I selected the back of the house, immediately off the bedroom as the best location. This puts the birds on the quietest side of the house and furthest away from the street. Also by keeping them close to the bedroom it is actually an effective noise mitigation strategy. The parrots sleep more hours than I do so it is guaranteed that they are quiet when I am in bed. On the other hand, it puts the bedroom (and other rooms) between them and me during the day time when I might choose to spend time in the kitchen or living room without them. This places the greatest distance and most noise reduction for those kinds of times. Keeping the parrots away from the kitchen also reduces the danger of potentially toxic fumes.

While I occasionally get nasty comments about how I "just keep those parrots in the bathroom" there is only a hint of truth to that. No, they are not in a bathroom. The tile walls were deliberately built to contain the mess! However, the current cage room was formerly a stand alone bathroom and the big bird room was at some point a kitchen. I had the house plan reorganized and it made the dimensions of those kitchen and bathroom be perfect for setting up as bird rooms. However, nothing, not even the original plumbing remained when it was rebuilt entirely to become the bird room.

I had to have the electrically wiring run with outlets throughout the room to code. However, I had those lines shut off and tiled over to avoid having exposed outlets near birds or water. The only accessible power outlets are inside the closet which is closed when a bird is out unsupervised. The light switch was initially wired just inside the room by the door like a normal room but then immediately rewired to outside the room on purpose. This way there are no light switches inside the bird room. Instead, I can control the lights to both the big bird room and the adjoining cage room without setting foot inside. Further still, the lights are controlled by a timer so that the birds could maintain a more consistent schedule and receive a more natural tropical duration of daylight and darkness. This way, even if I am away from home, the birds can maintain their familiar schedule.

However, just turning the lights on/off at a specific time would not ensure that the birds are sleeping when they are supposed to. At different times of the year the sun rise would wake the birds before the lights would come on. So, I have a second timer that controls the motorized gates across both rooms windows. Thus in the early morning, although it may be light outside, it is still dark in the bird room and the birds don't go waking up the house and neighbors.

I have an outside door dividing the bird room from my bedroom because it is waterproof and provides greater isolation from drafts and noise than a regular door. The entire bird room is tiled and has a concrete floor with drain. The walls and floor can be hosed down and washed on a regular basis. Except for the cages, nothing else stands on the floor. All of the bird stands are hanging so that it is easy to wash underneath them. The bird stands hang using stainless steel cable and not chain so that the birds could not climb up the cable to the ceiling.

The bird room is divided into the main bird room and the cage room so that a bird could be left out all day while the others are in their cages. Since my birds are different sizes and can't be left out together, this is the most effective way to give them a chance to take turns enjoying the big room on their own.

There are two large sliding doors which reveal not only a closer but also a countertop and sink for washing bird bowls and bottles. Several more closets provide plenty of storage space for bird supplies. The air conditioner is covered by a custom built stainless steel cover to ensure that the bird cannot chew on the air conditioner and more importantly the wires. This also covers the dedicated thermostat. The bird room has its own heating zone so that I can keep the temperature independent and consistent for the birds. The heat comes from the floor which helps evaporate water after washing. The tiles help keep the moisture in so in the winter it is like a natural humidifier, keeping the moisture level more comfortable as well.

Here is a video tour to show you these various features of the Parrot Wizard bird room:


Now you are familiar with the layout of my bird room. Check out the whole line of Parrot Wizard trees and stands to help you create your dream bird room as well!
I have now had Santina for over 3 months but because of her questionable health, I had to keep her separate from Kili and Truman on prolonged quarantine. Now that she has taken medication and her infection cleared up, things are all set for the introduction.

Since it is difficult to impossible to truly disinfect colored toys and large porous perches, I opted to play it safe and discard all of the old stuff. Having already spent thousands on her vet care, what is loosing a few toys to make sure this illness doesn't rear its ugly head again? Since Santina would need a new stand in the big room anyway, I took this opportunity to set things for the long run.




I bought a ton of different branches and got to work piecing them together for a macaw megastand. This one incorporates more branches than the original and is entirely free hanging for easy cleaning. I also think that hanging stands are ultimately more natural for birds because they incorporate some natural motion and sway. This stand is so big and heavy that it is stable enough that Santina was not bothered by it. In fact one of the first things she did was to climb up to a high swing mounted on the already hanging structure.

Santina spent all day watching me build her new housing so she was more prepared for it when the time came to try. A tour of the room and features coming soon but in the meantime here are photos and video of Santina's new crib.