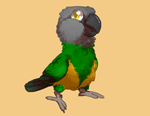 Kili
Type: Senegal Parrot
Genus: Poicephalus
Species: Senegalus
Subspecies: Mesotypus
Sex: Female
Weight: 120 grams
Height: 9 inches
Age: 14 years, 5 months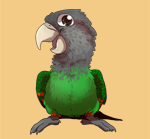 Truman
Type: Cape Parrot
Genus: Poicephalus
Species:Robustus
Subspecies: Fuscicollis
Sex: Male
Weight: 330 grams
Height: 13 inches
Age: 12 years, 9 months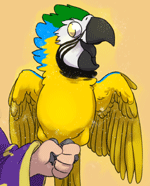 Rachel
Type: Blue & Gold Macaw
Genus: Ara
Species:ararauna
Sex: Female
Weight: 850 grams
Height: 26 inches
Age: 10 years, 5 months

List of Common Parrots:
Parakeets
:
Budgerigar (Budgie)
Alexandrine Parakeet
African Ringneck
Indian Ringneck
Monk Parakeet (Quaker Parrot)
Parrotlets
:
Mexican Parrotlet
Green Rumped Parrotlet
Blue Winged Parrotlet
Spectacled Parrotlet
Dusky Billed Parrotlet
Pacific Parrotlet
Yellow Faced Parrotlet
Lovebirds:
Peach Faced Lovebird
Masked Lovebird
Fischer's Lovebird
Lilian's (Nyasa) Lovebird
Black Cheeked Lovebird
Madagascar Lovebird
Abyssinian Lovebird
Red Faced Lovebird
Swindern's Lovebird
Lories and Lorikeets
:
Rainbow Lorikeet
Conures
:
Sun Conure
Jenday Conure
Cherry Headed Conure
Blue Crowned Conure
Mitred Conure
Patagonian Conure
Green Cheeked Conure
Nanday Conure
Caiques:
Black Headed Caique
White Bellied Caique
Poicephalus Parrots
:
Senegal Parrot
Meyer's Parrot
Red Bellied Parrot
Brown Headed Parrot
Jardine's Parrot
Cape Parrot
Ruppell's Parrot
Eclectus
:
Eclectus Parrot
African Greys:
Congo African Grey (CAG)
Timneh African Grey (TAG)
Amazons:
Blue Fronted Amazon
Yellow Naped Amazon
Yellow Headed Amazon
Orange Winged Amazon
Yellow Crowned Amazon
Cockatoos:
Cockatiel
Galah (Rose Breasted) Cockatoo
Sulphur Crested Cockatoo
Umbrella Cockatoo
Moluccan Cockatoo
Bare Eyed Cockatoo
Goffin's Cockatoo
Macaws
:
Red Shouldered (Hahn's) Macaw
Severe Macaw
Blue And Gold Macaw
Blue Throated Macaw
Military Macaw
Red Fronted Macaw
Scarlet Macaw
Green Winged Macaw
Hyacinth Macaw
Glossary of Common Parrot Terms
| | | |
| --- | --- | --- |
| | | Thursday January 26th, 2017 |
On a recent trip to South Africa, I had the amazing opportunity to see Cape Parrots in the wild. I also got to meet Sanjo from the Cape Parrot project to learn more about the project and about the wild Cape Parrots.

The South African Cape Parrots are restricted to a fairly small habitat, the subtropical cloud forests of the eastern Cape. It is a dense wet forest environment with frequent mist and rainfall. The temperatures are cooler because of the 3,000ft+ elevation. It can be fairly warm in the summer but in winter time, these birds can be dealing with below freezing conditions.

This is why it should be no surprise that it was very difficult to get to see them. Not only did we have to travel to a fairly remote part of South Africa, that was only the beginning! Their population is very small and they are quite hard to find. They are considered quite large for an African Parrot, however, they are still a medium parrot at best when you compare with Cockatoos and Macaws. Green parrot, green trees, misty forest, and a broad range makes them a tremendous challenge to see. They travel for many miles from roosting to feeding sites so there is only a brief span of time when you can see them where they live. At night they are sleeping and in the day time they are spread out feeding. Only in the early hours of morning and at dusk can you catch a glimpse of them heading out and coming back.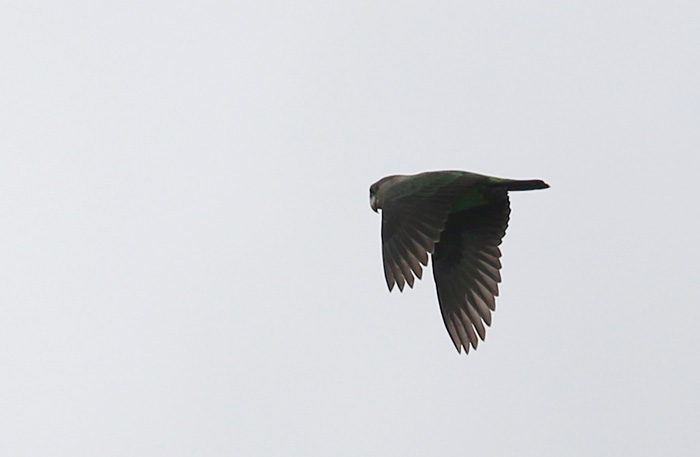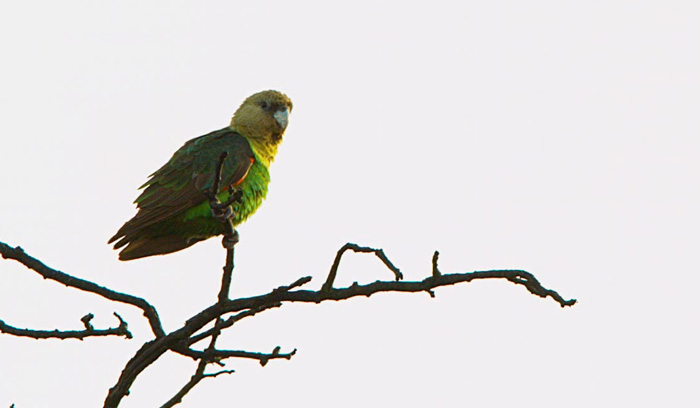 With the help of Sanjo from the Cape Parrot Project, we set out early in the morning looking for the birds. We woke up and were out by 5AM to catch them as the sun was rising. Unfortunately a thick fog blanketed the entire area. We drove to higher ground to break out of the fog but still could not find them. We walked around several places known to be visited by Capes before we so much as heard a single call from them. Following the calls we saw a small group flying and followed them to the tree they finally landed in. We were lucky to be standing in enough of a clearing to even see where they went. Standing in the forest, it would be impossible to track them.

It was a joy to watch flocks of Capes flying and to listen to their familiar calls. The beautiful South African Cape Parrots are truly a sight to behold. But finding and seeing them is extremely tricky. Although they stay in groups, they aren't quite a "flock bird." The trees they land on are high and dense. They aren't ostentatious like Conures and other parakeets I've seen in the wild. Nor are they shy like Senegal Parrots and other small Poicephalus. They really do fall somewhere in between. They are certainly more shy and prone to spook than other types of parrots but at the same time, they are the most courageous of the Poicephalus genus.

What does that mean? Well, in regards to how close you can approach them or how predictable their movements are, that is how I rank them to be somewhere in between. It was not impossible to get footage of them but it was quite difficult. You have to be very patient, know where to look, and be even more patient still. It took us hours of observation across two days to get to spend just about 15 minutes in their majestic presence. And then, as quickly as they had come, they were gone.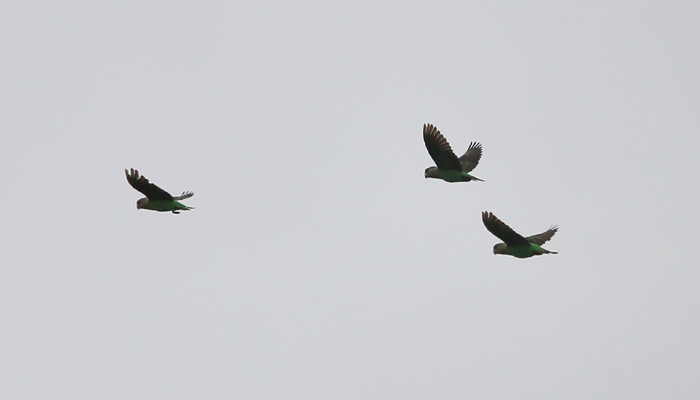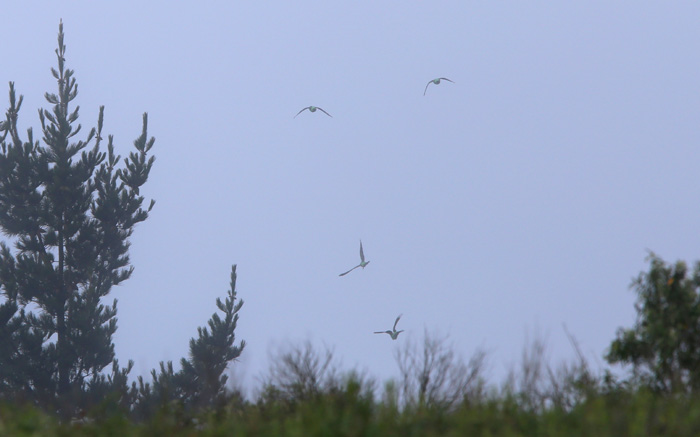 It was so exciting to watch the resemblance of these wild Cape Parrot to Truman, my pet Cape Parrot at home. I got to see preening, calling, and playing behavior in the wild Capes that was essentially identical to the behavior that Truman exhibits. It was just so familiar even though I had never seen a South African Cape in person before.

What is the difference between Truman and the Cape Parrots in South Africa?
Truman is a different subspecies. He is definitely not the Poicephalus robustus robustus subspecies. He is one of the other two and most likely the Brown-Necked subspecies (Poicephalus robustus fuscicollis) which is endemic to the semi-rainforests of Sierra Leone region of West Africa. You will notice in the pictures that Truman's subspecies is a bit larger while the South African Cape Parrots have an olive yellow head. Otherwise, they do look the same.

The South African Cape Parrots are extremely rare to find in aviculture or captivity. The ones you find as pets in the US and Europe are of the Brown-Necked Fuscicollis or Grey-Headed Suahelicus subspecies. They are more similar to each other than to the South African Robustus Cape Parrot. We encountered one Robustus Cape at a bird park in Johannesburg and heard that there are a few breeders of them in South Africa. I have yet to see or hear of any Robustus Capes outside of South Africa.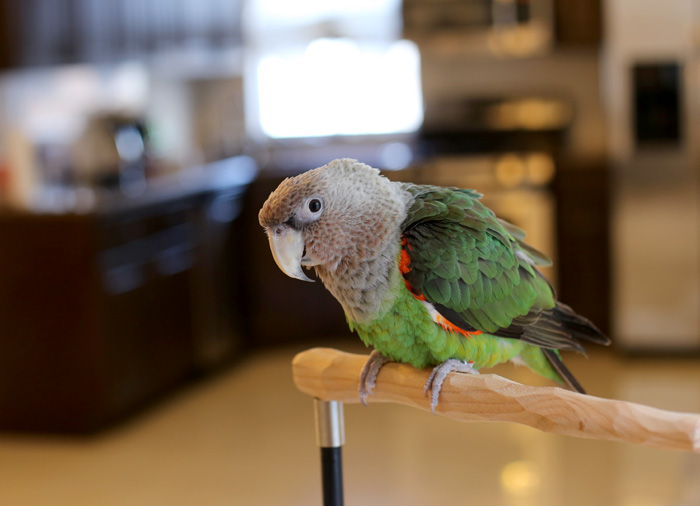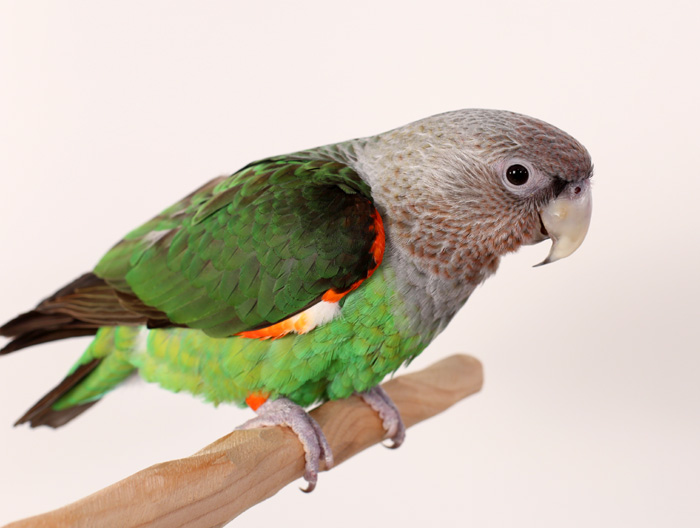 There has been research done by South African researchers and the Cape Parrot project to reclassify the South African Cape Parrot (P. r. r.) as a separate species from the two northern subspecies. They hope that by naming it a separate species, it could end up on the endangered species list and receive CITES protection. However, even as of 2016, Bird Life International and the IUCN Redlist, have not accepted there to be sufficient evidence to name them separate species. Heck, the differences between Timneh and Congo Greys or between Jardine's Parrot subspecies are far more significant than between the most distant Capes.

The biggest difference between South African Cape Parrots and the other two subspecies are not in their appearance but in their living habits. The South African Capes rely almost religiously on the yellowwood tree. They refuse to nest in anything but natural cavities of the yellowwood tree and they also rely on it for food. Not only do they eat the seeds of the fruit of the yellowwood tree, it has been discovered that properties of the yellowwood fruit help give these birds an immune system boost that helps them battle a beak and feather disease epidemic. Their survival depends on the yellowwood tree for fighting disease as well as for feeding and nesting.

Still, regardless of classification, science, politics, or what you call it, the fact that the South African Cape Parrot is critically endangered still stands. There are fewer than 2,000 known South African Parrot Parrots remaining. Deforestation of their peculiar habitat, widespread disease, and some remaining poaching is making their survival questionable. The Cape Parrot Project is performing research to learn more about these birds in order to focus best efforts on their protection. A main focus is replanting yellowwood forests to protect the Capes' natural habitat. The Cape Parrot project receives funding through donations to the Wild Bird Trust.

Here is an interview with Sanjo about Capes and the Cape Parrot Project along with my footage of Cape Parrots in the wild: