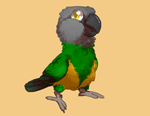 Kili
Type: Senegal Parrot
Genus: Poicephalus
Species: Senegalus
Subspecies: Mesotypus
Sex: Female
Weight: 120 grams
Height: 9 inches
Age: 15 years, 3 months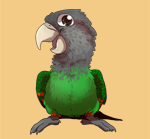 Truman
Type: Cape Parrot
Genus: Poicephalus
Species:Robustus
Subspecies: Fuscicollis
Sex: Male
Weight: 330 grams
Height: 13 inches
Age: 13 years, 6 months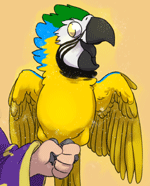 Rachel
Type: Blue & Gold Macaw
Genus: Ara
Species:ararauna
Sex: Female
Weight: 850 grams
Height: 26 inches
Age: 11 years, 3 months

List of Common Parrots:
Parakeets
:
Budgerigar (Budgie)
Alexandrine Parakeet
African Ringneck
Indian Ringneck
Monk Parakeet (Quaker Parrot)
Parrotlets
:
Mexican Parrotlet
Green Rumped Parrotlet
Blue Winged Parrotlet
Spectacled Parrotlet
Dusky Billed Parrotlet
Pacific Parrotlet
Yellow Faced Parrotlet
Lovebirds:
Peach Faced Lovebird
Masked Lovebird
Fischer's Lovebird
Lilian's (Nyasa) Lovebird
Black Cheeked Lovebird
Madagascar Lovebird
Abyssinian Lovebird
Red Faced Lovebird
Swindern's Lovebird
Lories and Lorikeets
:
Rainbow Lorikeet
Conures
:
Sun Conure
Jenday Conure
Cherry Headed Conure
Blue Crowned Conure
Mitred Conure
Patagonian Conure
Green Cheeked Conure
Nanday Conure
Caiques:
Black Headed Caique
White Bellied Caique
Poicephalus Parrots
:
Senegal Parrot
Meyer's Parrot
Red Bellied Parrot
Brown Headed Parrot
Jardine's Parrot
Cape Parrot
Ruppell's Parrot
Eclectus
:
Eclectus Parrot
African Greys:
Congo African Grey (CAG)
Timneh African Grey (TAG)
Amazons:
Blue Fronted Amazon
Yellow Naped Amazon
Yellow Headed Amazon
Orange Winged Amazon
Yellow Crowned Amazon
Cockatoos:
Cockatiel
Galah (Rose Breasted) Cockatoo
Sulphur Crested Cockatoo
Umbrella Cockatoo
Moluccan Cockatoo
Bare Eyed Cockatoo
Goffin's Cockatoo
Macaws
:
Red Shouldered (Hahn's) Macaw
Severe Macaw
Blue And Gold Macaw
Blue Throated Macaw
Military Macaw
Red Fronted Macaw
Scarlet Macaw
Green Winged Macaw
Hyacinth Macaw
Glossary of Common Parrot Terms
Kili and Truman are fantastic examples of how well-socialized a parrot can be. The concept of socialization is a broad scope of everything a parrot may encounter and how it reacts. Simply put, the socialized parrot doesn't get scared and even enjoys visiting new places, handling new objects, and meeting new people.

The main benefit of socialization is that it removes a parrot's fears across the spectrum. As the parrot is exposed to more objects, places, and people in a harmless way, the less fearful and thus better behaved it is in future encounters. Since a lot of biting is driven by fear, teaching a parrot not to fear novelty results in a tremendous reduction in overall biting. Furthermore, other forms of biting such as jealous, displaced, territorial, and possessive are diminished with socialization as well.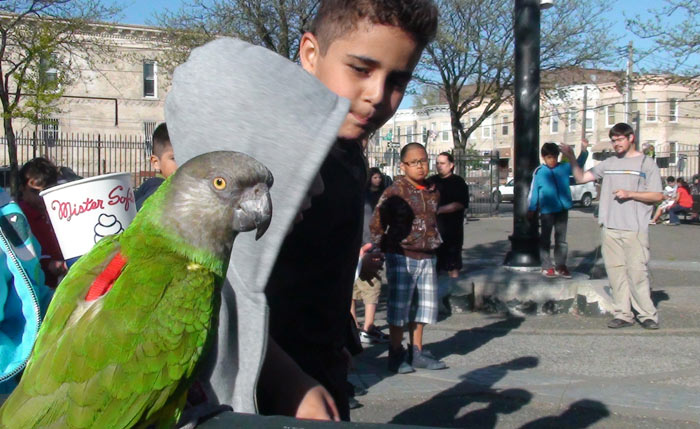 Taking parrots outdoors is a great way to expose it to a multitude of random objects, places, people, and situations. The more times the parrot is exposed to these, the less of a big deal these exposures are in the future. The parrot learns to handle situations with greater ease. Also, taking parrots outdoors is essential for their health and well-being.

One of the ultimate challenges is taking the parrot to a busy playground. Anything and everything can happen at a playground. Kids are running around, there's screaming, birds are flying around, bikes are zooming buy, cars are backfiring, you name it. But after several years of going to the park regularly, none of this bother Kili and Truman. They are calm and enjoy the situation. It is very rare for them to take off and even when they do they usually just fly over to me.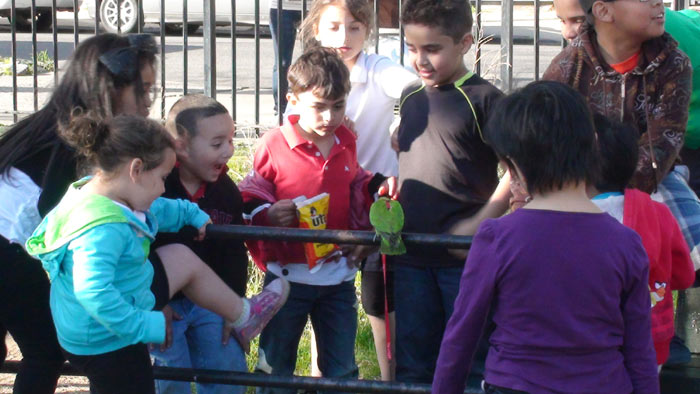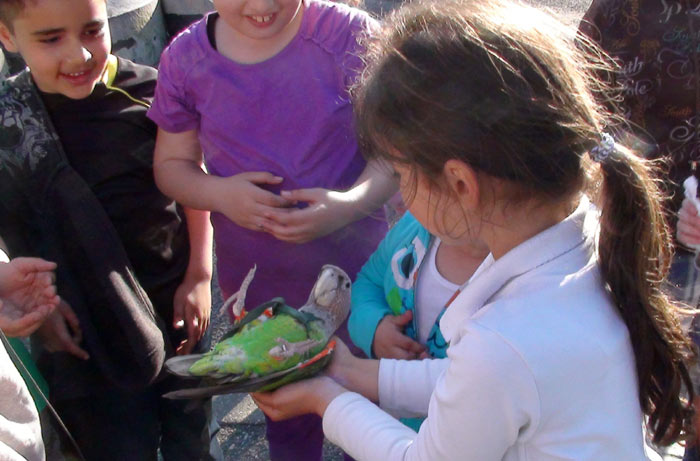 I spend a lot of effort teaching controlled outdoor harness flight. On one hand I am giving the parrots exercise and flight practice, but on the other hand I am also teaching them to stay. Since the harness, even with leash extension, isn't terribly long, the parrots have learned that there is no benefit to flying (unless called). Thus they have learned to be more stationary than they would normally be at home. If they kept trying to fly around while being harnessed, crashes and tangles would be rampant. But using the method of encouraging recalled flight only, I have been able to set some very reliable guidelines that make the harness less of a burden.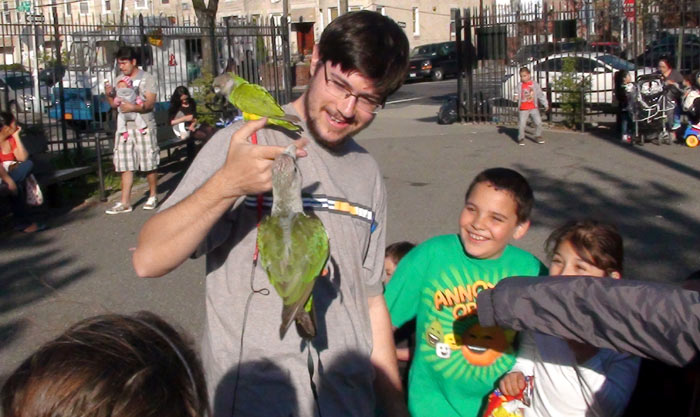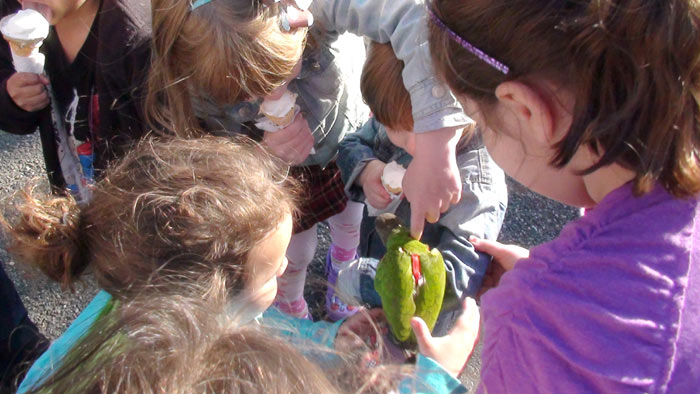 The training and preparations I do at home make the parrots more prepared to handle the park. But the socialization, desensitization, and extensive challenges of the park also make them better behaved at home.

Considering how Kili was becoming a tremendous biter (toward everyone but me), I have definitely come a long way. My socialization approach not only reversed the biting but made her the sweetest parrot ever. Anyone can walk up to Kili, grab her, turn her any which way, play with her, pet her, hand her off to someone else and all the while she does not bite. In fact I think she enjoys it and will show off her tricks (not for treats) in the process. Truman on the other hand never bit anyone. By using the same socialization approach with him from the start (as well as ignoring any remote attempts at biting), he has never developed a biting issue in the first place. Between solving Kili's biting and solving Truman's biting, I have really come to appreciate the importance of socialization and outdoor time with parrots.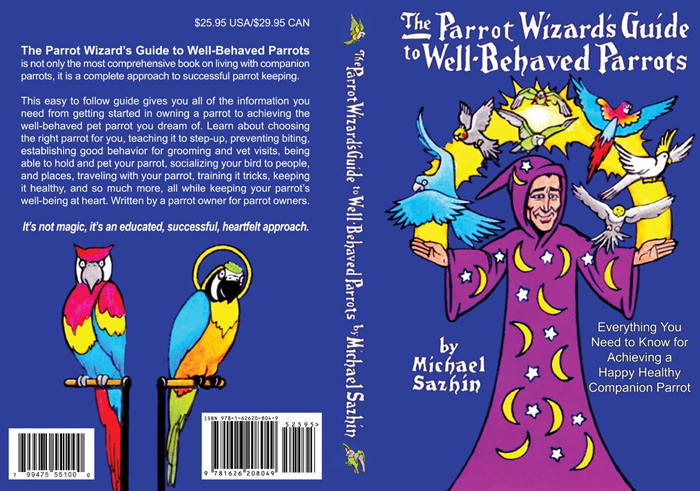 I think this park outing embodies the epitome of all my parrot training endeavors. I can have a fun time with my birds, they can enjoy fresh air, the birds are outgoing and fun, and everyone benefits. This special relationship that I have developed is the basis of my upcoming book, The Parrot Wizard's Guide to Well-Behaved Parrots. The book has now moved into the printing stage and will be coming soon. The book is 296 fun-filled pages about all facets of parrot ownership. But ultimately it is based on my experience achieving well-behaved parrots and helping others achieve the same. The 10 chapter book starts from how to choose a parrot and then goes through an extensive array of easy things you can do with your parrot to achieve the easy-going pet you've always dreamed of. You don't have to be a performer to be able to achieve a well-behaved parrot and that is what my book is going to teach you. If you enjoy my blog, you'll especially enjoy my book because it is written in a similar easy to follow style. But it covers many things I have not considered blogging about and it really ties everything together in one easy read.

Enjoy the following video of how well-behaved my parrots are and then please order my book when it is released. This park outing best embodies what I consider to be well-behaved parrots.