It has been about 3 months since I rehomed Santina (the rescue Green-Winged Macaw) to Lori. So, Marianna and I flew to Pittsburgh to visit Santina and Lori for the holidays.

Lori lives near Pittsburgh. This is close enough that we have the chance to visit her and Santina now and then, but from New York it is still quite far. By car, this is 6 hours each way, but by airplane just 2 hours. This is still a committed all day sort of trip, but a day drip nonetheless.

We were greeted in Pittsburgh with snow flurries and bitter cold after a challenging flight through the same weather. We agreed to stay quiet walking into the house to see how Santina reacts to each of us. Marianna went in first and I heard Santina greet her with an enthusiastic "Hi!"

I walked in and there was no denying that Santina remembered me. In no time she had her foot up, asking to step up. I was a little hesitant at first because if Santina forgot me, I could have been met with a vicious bite. She enjoyed some head scratches on my arm, danced around, and played with toys. While it was easy to get her to step up onto my arm, it was a bit of work getting her back off. She would cling on and be very reluctant to get off.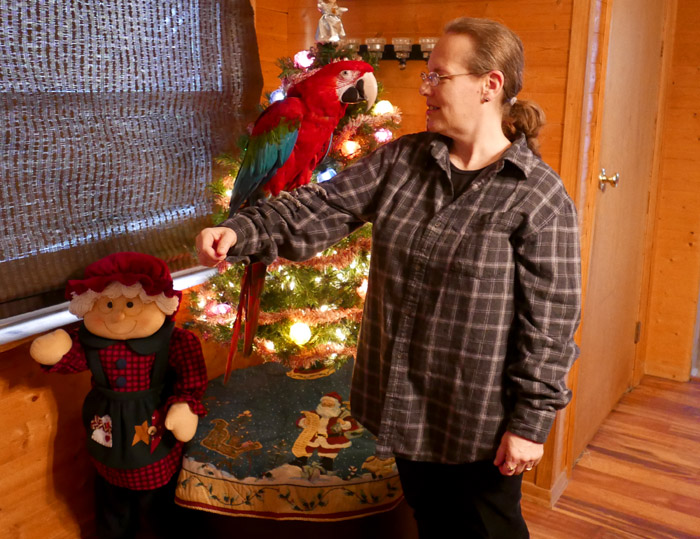 Lori walked in, and Santina couldn't be happier. All of her favorite people in one room. Incredibly, Santina was great with everyone. When I had her, Santina was much a one-person bird. Everyone else was so afraid of her that it was quite difficult to get other people to train her to open up to people. But, since Lori had no other choice but to train Santina, Santina finally got to learn to cooperate with multiple people. Once the bird is friendly with a handful of people, it's no longer a stretch for that bird to learn to be friendly to all people in general.

I could tell that Lori has done a fantastic job training Santina. It took Lori only a few weeks getting Santina to adjust and be good with her. Using training, treats, and patience, Lori had Santina stepping up and allowing head scratches in a very short time. All the time since was developing their own personal relationship and lifestyle. I can tell that not only has Santina adjusted to a new home but Lori has adjusted well to life with a parrot.

We weighed Santina and were really happy to see her weight is spot on. She has a good appetite and has been eating well. Lori has done a good job balancing the feeding Santina was accustomed to with her own variety of foods. Lori demonstrated how she cuddles Santina on the couch as part of their routine.

Then it was time to open presents. Santina was nervous of the wrapping paper so I let Lori try with her. They worked on it together and Santina grew the courage to open it herself. A giant foraging toy for sure! Santina ripped all of the wrapping paper to find a bag full of tasty nuts.

We exchanged gifts and enjoyed a special holiday dinner before heading back off into the sky. We were thrilled to see Santina doing so well and happy and we had a heart warming visit with our new friend. Here is a video of our visit with Lori and Santina the Green-Winged Macaw for the holidays: