On October 6/7 I had the pleasure of being the headline speaker at the 2018 Bird Paradise Parrot Palooza. The Parrot Palooza is the huge annual event with the biggest sale of the year at the Bird Paradise store.

Located in Burlington New Jersey, Bird Paradise is one of the largest bird stores in the US. They have an enormous selection of toys, bird food, and supplies to choose from. The annual Parrot Palooza event is one of the biggest parrot events in the country and the world. With over 2,000 attendees coming from far and wide, it's a parrot extravaganza like no other.

In addition to headline speakers, the Parrot Palooza also features: free food, door prizes, penguine races, face painting, chinese auction, parrot shows, make your own bird toy, pumpkin carving, cage building contest, toy making contest, vendors, and huge sale. Fun for bird lovers of all ages.

Now the first time I had gone to Parrot Palooza was back in 2010 when Truman was still a baby. Back then it was a smaller event and didn't have the enormous parking lot tent. I got to meet Dr. Irene Pepperburg from the Alex Studies and attend her talks. So now, 8 years later, it was my honor and pleasure to get to fill that same role as headline speaker at the Parrot Palooza as the Parrot Wizard.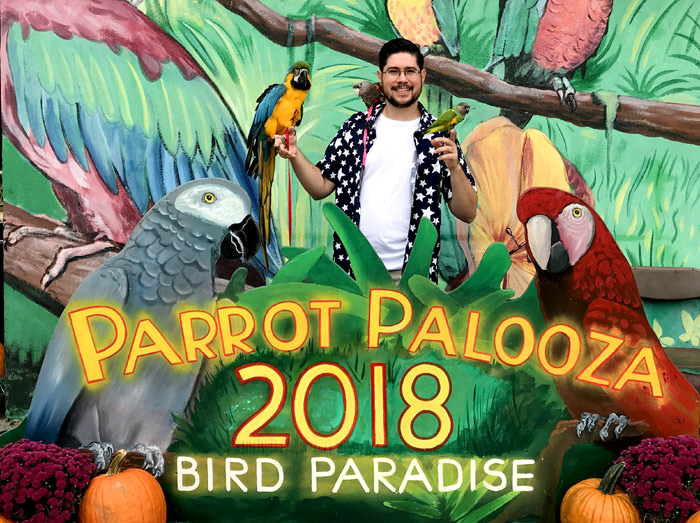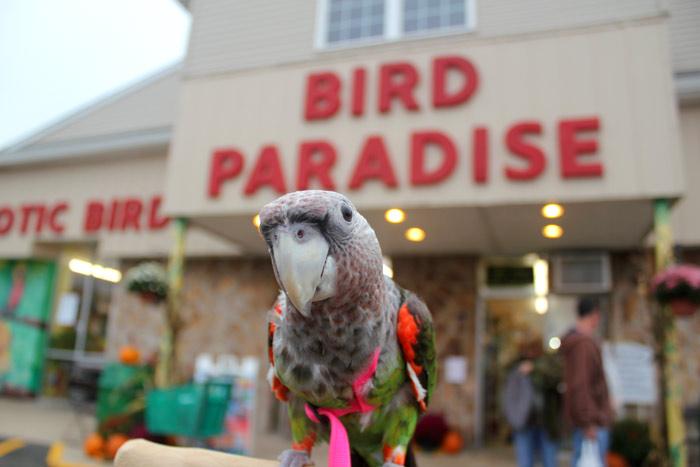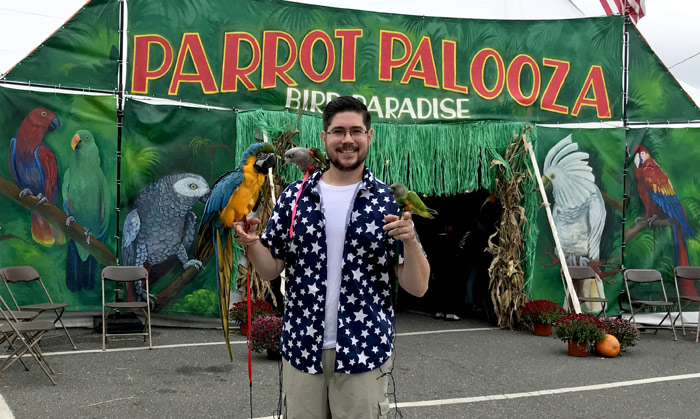 What can I say? The birds were good. Kili did all of her tricks like a champ. Truman was a chatter box as usual. Rachel was big and pretty and drew a lot of praise. All three wore their Aviator Harnesses all day long and were ambassadors for how a pet parrot should safely go outside.

Countless people asked me "how did you get that harness on them!?" or exclaimed, "my parrot would never let me stick one on it." Every time my response was, "we don't get the harness onto the parrot, they put it on themselves." When the parrot is trained how to put on the harness and wants to put it on, it looks something like this: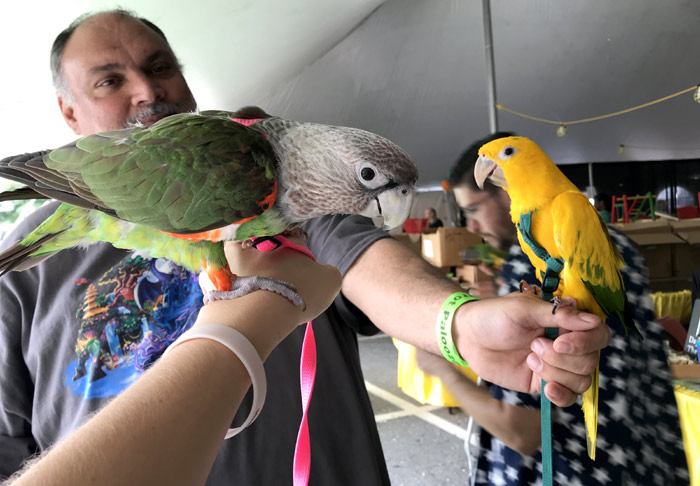 Truman meets a Golden Conure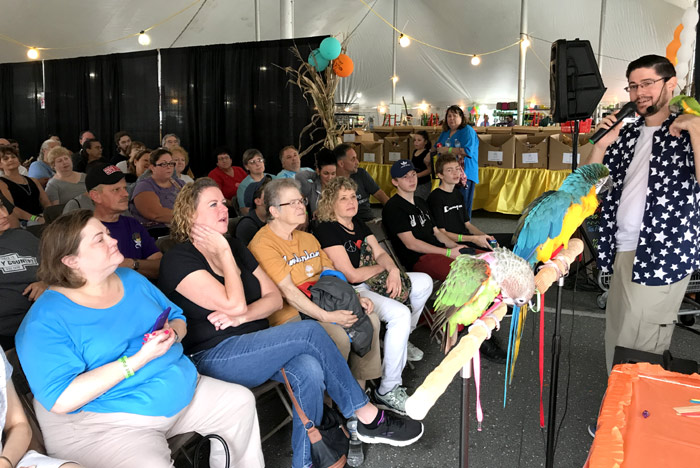 Michael presenting at Parrot Palooza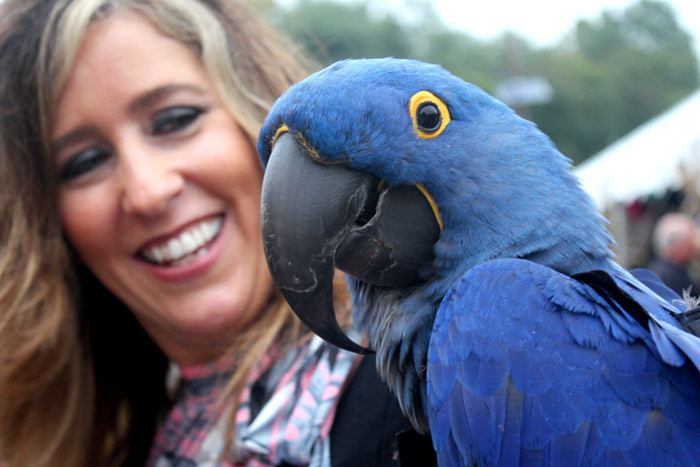 Parrotsrus with Curacao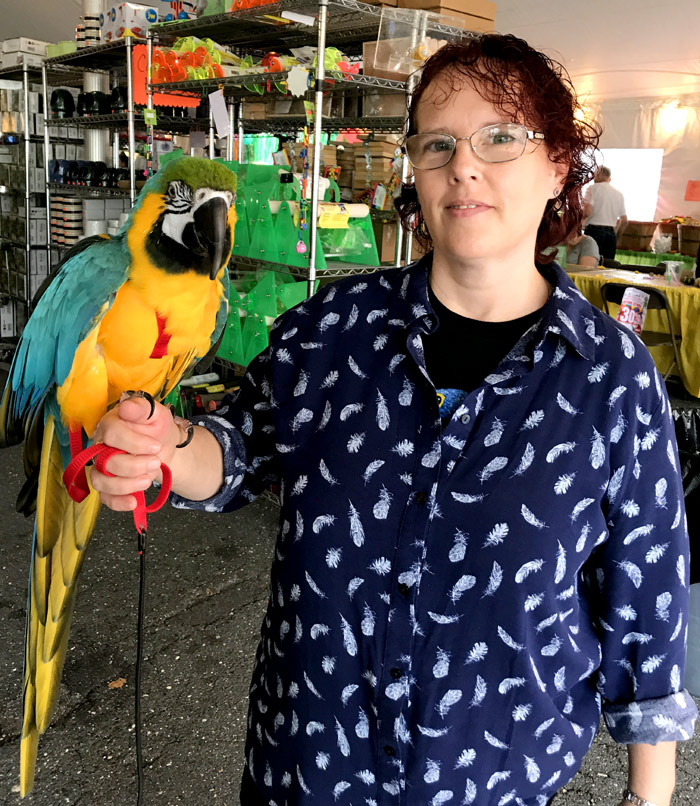 Lori with Rachel



Lori, the one who adopted Santina from me, came to the event to help us out. Rachel and Lori quickly became friends. Lori really enjoyed the Palooza and said she was "still grinning from ear to ear... Beautiful friends. Beautiful Parrots. Great time!!" She was thrilled to meet people she had been following online and mentioned, "for me, I enjoyed meeting instagram people."

It was a thrill getting to meet so many fans at the event. I signed books and chatted with parrot owners. My presentations were routine but enthusiastically watched by huge audiences. Kili helped me demonstrate how exciting trick training can be and Truman and Rachel helped illustrate how parrots can be taught to play with their toys.

All in all, it was an exciting event, great food, wonderful participants, big sales, and an all around fantastic way for people to be excited about their pet parrots. Here's a video recap of all the Parrot Palooza action: