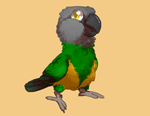 Kili
Type: Senegal Parrot
Genus: Poicephalus
Species: Senegalus
Subspecies: Mesotypus
Sex: Female
Weight: 120 grams
Height: 9 inches
Age: 12 years, 1 month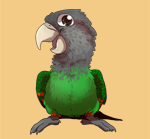 Truman
Type: Cape Parrot
Genus: Poicephalus
Species:Robustus
Subspecies: Fuscicollis
Sex: Male
Weight: 330 grams
Height: 13 inches
Age: 10 years, 5 months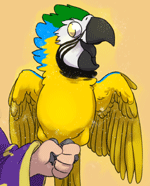 Rachel
Type: Blue & Gold Macaw
Genus: Ara
Species:ararauna
Sex: Female
Weight: 850 grams
Height: 26 inches
Age: 8 years, 1 month

List of Common Parrots:
Parakeets
:
Budgerigar (Budgie)
Alexandrine Parakeet
African Ringneck
Indian Ringneck
Monk Parakeet (Quaker Parrot)
Parrotlets
:
Mexican Parrotlet
Green Rumped Parrotlet
Blue Winged Parrotlet
Spectacled Parrotlet
Dusky Billed Parrotlet
Pacific Parrotlet
Yellow Faced Parrotlet
Lovebirds:
Peach Faced Lovebird
Masked Lovebird
Fischer's Lovebird
Lilian's (Nyasa) Lovebird
Black Cheeked Lovebird
Madagascar Lovebird
Abyssinian Lovebird
Red Faced Lovebird
Swindern's Lovebird
Lories and Lorikeets
:
Rainbow Lorikeet
Conures
:
Sun Conure
Jenday Conure
Cherry Headed Conure
Blue Crowned Conure
Mitred Conure
Patagonian Conure
Green Cheeked Conure
Nanday Conure
Caiques:
Black Headed Caique
White Bellied Caique
Poicephalus Parrots
:
Senegal Parrot
Meyer's Parrot
Red Bellied Parrot
Brown Headed Parrot
Jardine's Parrot
Cape Parrot
Ruppell's Parrot
Eclectus
:
Eclectus Parrot
African Greys:
Congo African Grey (CAG)
Timneh African Grey (TAG)
Amazons:
Blue Fronted Amazon
Yellow Naped Amazon
Yellow Headed Amazon
Orange Winged Amazon
Yellow Crowned Amazon
Cockatoos:
Cockatiel
Galah (Rose Breasted) Cockatoo
Sulphur Crested Cockatoo
Umbrella Cockatoo
Moluccan Cockatoo
Bare Eyed Cockatoo
Goffin's Cockatoo
Macaws
:
Red Shouldered (Hahn's) Macaw
Severe Macaw
Blue And Gold Macaw
Blue Throated Macaw
Military Macaw
Red Fronted Macaw
Scarlet Macaw
Green Winged Macaw
Hyacinth Macaw
Glossary of Common Parrot Terms
| | | |
| --- | --- | --- |
| | | Thursday September 19th, 2019 |
Everyone knows that bird stores sell birds, toys, food, etc., but here are some things you didn't know! Here are 8 bird store secrets that bird stores won't tell you exposed.

At the end of the article is a video of these bird store secrets being revealed at Bird Paradise in Burlington, NJ. But for those who prefer to read rather than watch, this article goes over those secrets in text form.

So here are 8 bird store secrets that bird stores won't tell you:

Secret #1 - Rugs have disinfectant on them

At least at Bird Paradise, they moisten the floor mats at the entrance down with a disinfectant solution to prevent avian diseases from hitching a ride into the store on the bottom of people's shoes. Who knows if those people have a sick bird at home or stepped in some wild bird poop on the way? Best to keep those shoes clean and disinfected before exposing the immune suppressed baby birds!

Different bird stores will have different measures or policies when it comes to preventing diseases. Not a bad idea to look into a bird store's policies and health guarantee on baby birds.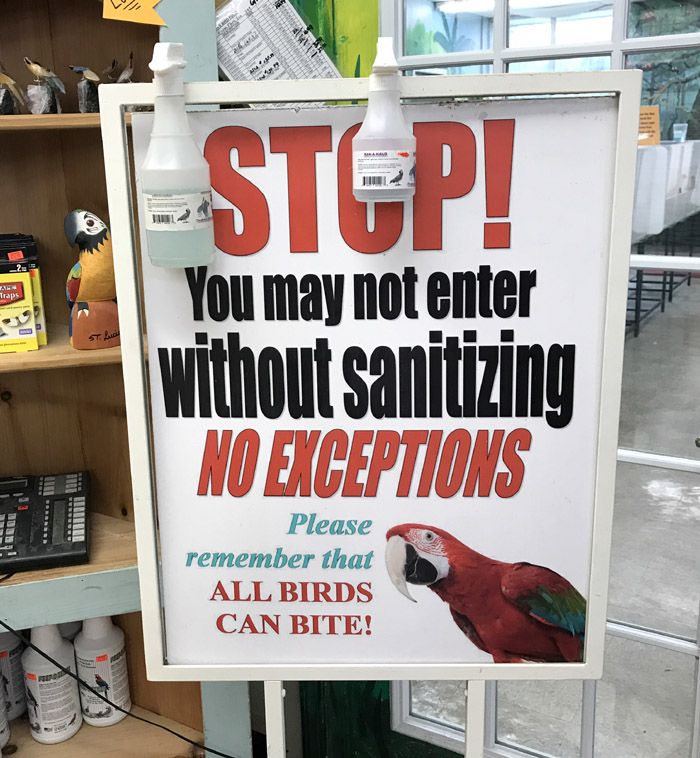 Secret #2 - Stores don't recommend bird shampoos

Bird shampoos don't serve a purpose. Unlike people and dogs, birds don't have hair so they don't need shampoo. In fact parrot's secret their own oils to serve as a conditioner for their feathers naturally so no shampoo needed. Stores sell those products only because customers keep asking for them.

Secret #3 - Food in bulk bins may be fresher than in packages

Some bird stores have a very high turn around on their bulk bin foods. Sometimes the food in the factory packaging is sitting around longer than the food in the dispensers or bins. On the other hand, at smaller stores it may be the other way around. Learn about package shelf life and keep an eye on what is being bought more at the cashier to ensure that you are getting the freshest food for your parrot.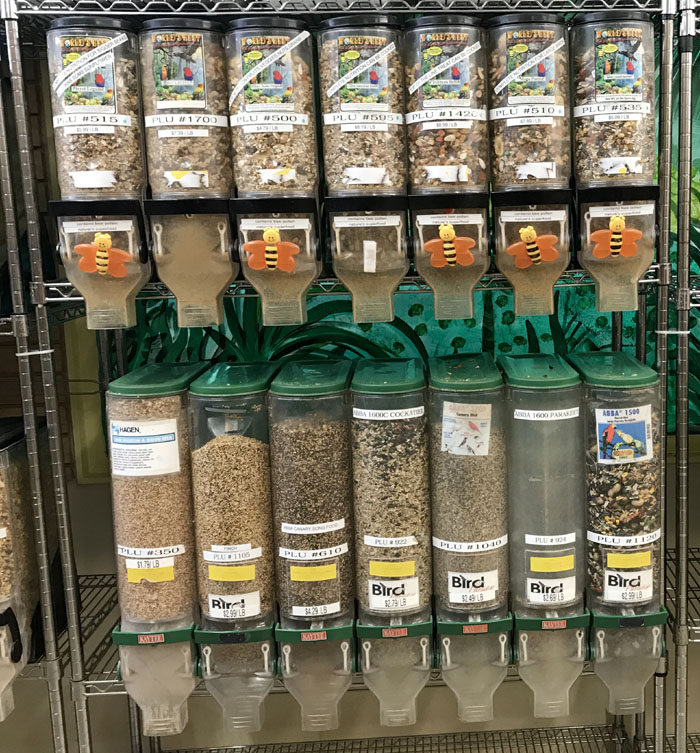 Secret #4 - Don't feed sunflower seeds

Even though bird stores sell them, I have not been to a single bird store in recent years that actually recommends that anyone feeds them to parrots. Everyone with any experience in the bird world will tell you that sunflower seeds are not a suitable diet and in fact unhealthy for pet parrots. Why do stores still sell them? Some customers have older birds that were fed sunflower seeds their whole life and are set in their ways. Other times there are younger birds with older owners that are too set in their ways. If you're going to give sunflower seeds to your parrot, only use them as training treats in extreme moderation (hint if you don't have enough fingers to count them, it's too much).

Secret #5 - Save money by making your own toys

Your parrot needs a lot of toys and activities to prevent boredom, screaming, and self-mutilating behavior while in the cage. This is an important part of parrot ownership and you shouldn't short change the highly intelligent parrot on these activities. However, this can also get quite costly. You can save money by making your own bird toys whether you buy bird toy parts at the bird store or find your own (bird safe, non-toxic) alternatives. But, there's nothing like letting your feathered friend indulge in a nice retail toy every now and then!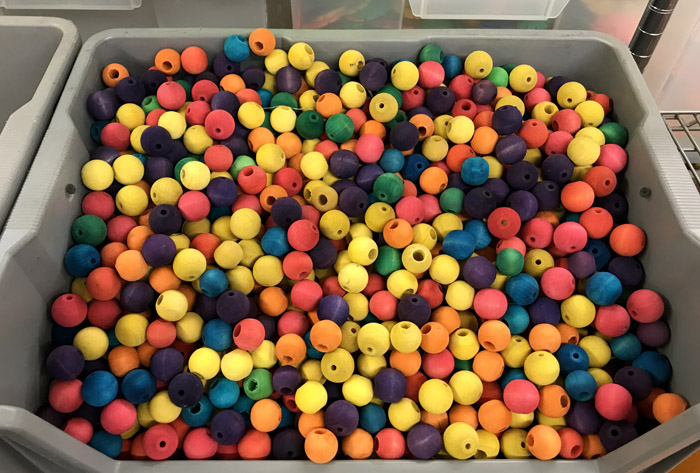 Secret #6 - Boarding can be hazardous to your bird's health

Boarding your bird when you go away can be challenging. Options may be limited and it can get pretty costly. However, take caution because many bird stores that offer boarding have no precautions or health requirements and your bird could pick up an illness from another bird boarding there. Even with a treatable illness, the vet costs are astronomical and many diseases are only preventable but not treatable. Only consider boarding at stores or vet clinics that have health testing requirements. While it may seem like a costly burden to get your bird tested to be able to board, using a facility that mandates this from every bird will help keep yours safe.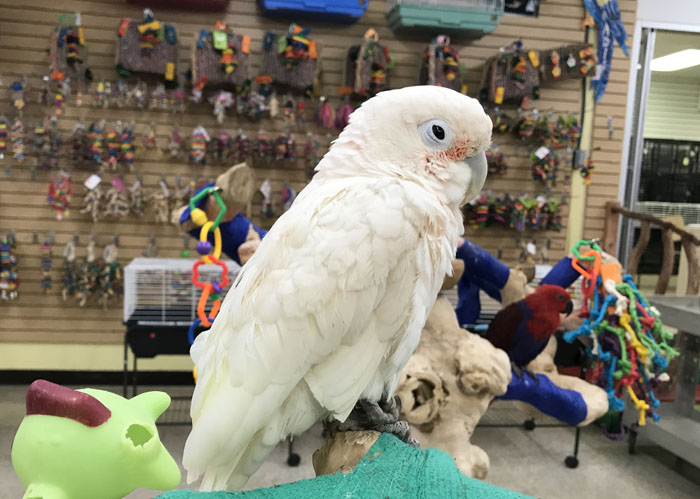 Secret #7 - Out of season parrots are "leftovers"

There are specific breeding seasons that vary by species. Although some like conures and greys will breed year round, most parrots will breed a certain time of year. If you come at the right time of year for the specific species, you will be met with the biggest selection of babies and get to choose the one for you. However, if you come out of season you may not be able to find the species you are looking for. But, if you do find the species, it may be a leftover baby that was passed over by others for one reason or another. Sometimes it is because it has a nastier personality, poor feathering, or a physical abnormality. Other times it could be nothing wrong with the bird at all and just excessive supply and insufficient demand. But whatever the reason, if you take your time and start looking for your baby in the right season, you will have the best chance of finding the one for you.

Secret #8 - Don't get a bird on the spot, plan ahead

Getting a bird from a store shouldn't be a spontaneous decision. You want to take your time and plan ahead. If you start your search early, you will be there when the new batch of baby birds arrives and you will have the best chance to get to know them and pick the one for you. You will get first "dibs" and get to choose the one you want instead of being left getting one only because it is the last one remaining. Put a deposit down early to hold your spot in the line and get first choice on the baby that is right for you.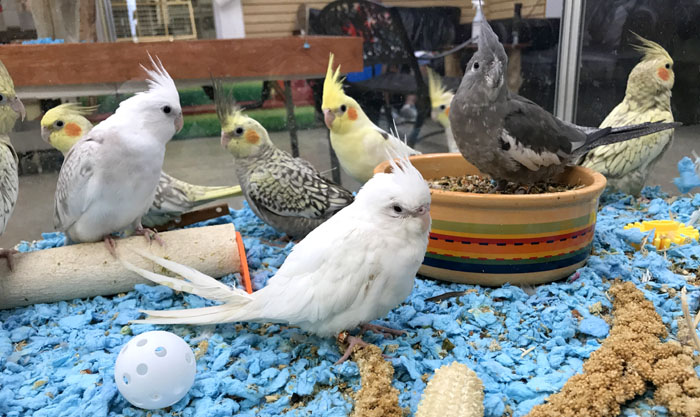 So there's 8 bird store secrets revealed. Feel free to share your bird store secrets in the comments. And watch this video of these bird store secrets exposed at Bird Paradise:



Come out to Bird Paradise October 12/13 2019 for the Bird Paradise Parrot Palooza and come to my free presentations, book signings, and Q&A.
I often receive questions about age for training parrots. People still have trouble believing that you can just as well train older parrots as younger ones. When I'm asked what kind of parrot can't you train? My response is "a dead one." All kidding aside though, age plays a far smaller role on training than people believe. Technique has far more to do with it than age. The right technique on an older rescue parrot is far more likely to be successful than poor technique on a younger hand raised one.

But given good training technique, there is one age of parrot that to me stands out as potentially the hardest to work with: young babies! Young weanlings with a poor upbringing have got to be the hardest parrots to keep (at least for the time being). Well raised babies can be a pleasure to deal with and almost too easy to be true (that doesn't mean you should assume they won't need training down the line to maintain that easy nature). However, a poorly raised baby that bites, doesn't step up, and is all around difficult puts the owner in a bind. The bird is too young to motivate with food/attention, too frail to food manage, too inattentive, and too inexperienced to know what to do.




For hand tame baby parrots, my best suggestion is to treat them like a baby. Instead of focusing on formal training, work more on exposing the parrot to anything and everything. Show it objects, take it around the house, let it try foods, let it feel different materials, etc. This will help it develop and make it more aware of its surroundings as it becomes older. The formal training that most of my blog covers is ineffective for wearnling parrots and even unnecessary. They are programmed to watch, mimic, and learn from their surroundings more so than adult parrots. This is your one opportunity to teach good habits and behavior without having to work too much for it.

Now when it comes to the dilemma of the untame baby parrot, things are tough. The bird won't work for food in training because it doesn't have to. You don't want to withhold or manage food because the baby is still growing. Heck, it is barely accustomed to eating hard food and it is important to let it eat and grow. On the other hand, since the untame baby bites, doesn't step up, and doesn't trust people, you won't be able to handle it the way you would like.

When it comes to the untame baby, patience is going to be your best tool. Waiting until the baby is old enough to become more interested in food - and when you can begin to manage the good to an extent - is when you can put a greater emphasis on formal training. Until then, work on building trust hands off by spending time around the bird and not forcing it to be handled. Since you cannot use food, attention, or pretty much anything else at this point as positive reinforcement, any handling you do will most likely result in punishment and only make the bird distrust further. Take things easy for a few months and wait for the bird to become more interested in food before beginning a target training based approach for building trust and teaching step up.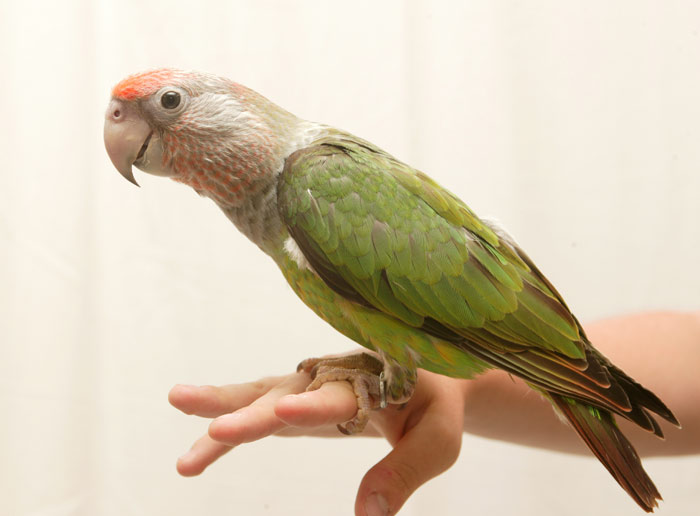 During the waiting period, work toward the bird accepting treats from you. Learn what its favorite treats are and begin to withhold them. Don't forget that the baby bird likely does not yet know what its favorite treats are so exposing it to a variety of foods to try is very important. As you begin to see which foods it prefers, stop giving them in the bowl and instead see if it will come over to you to take it. If it does, you can move on to target training (but keep in mind that the attention span of a young baby may be very limited so don't expect the kind of results you can get with an adult). If not, try laying foods down in places and removing your hand and seeing if the bird will at least eat the treat near your hand or in your presence. Keep working on trust so that the bird is comfortable eating around you and from you. With the untame baby parrot, it mostly comes down to waiting things out and then applying a formal training approach once the bird is of suitable training age. What that exact age is will depend on species and maturation process. Wait until the bird is at least a few months older and taking food from your hand.

Do not expect to be able to solve nipping, biting, and other issues with the baby parrot. A lot of people complain about nippy and even aggressive behavior in baby parrots but there just isn't a way around it. Those young birds don't know any better, are curious, and want try everything with their beaks. Punishment cannot be applied as it will cause major detriment to your relationship that has not even yet been established. The only thing you can do is avoid putting the baby in a position to be able to bite/nip and wait until it is old enough to apply a well-behaved parrot approach for the long term. Just one thing I want to assure you of is that the baby nippinesss usually wears off on its own or can later be solved. Don't feel that by not punishing it now that it will persist. Once you can begin formal training, it can fairly easily be solved.

I had plenty of trouble with Kili & Truman as babies. I wanted to teach them things but they just wanted to play or do something else. It was just a matter of patience and working through it in small amounts that eventually lead to the awesome pets they are now. But I've gotta say the two toughest times to work through are a parrot's adolescence and babyhood. Working with an adult parrot is much more consistent and predictable. This is why I often recommend an adult rescue parrot over a baby for many people. I think (despite common prejudice) that you can have quicker success with an average rescue parrot (merely in need of a new home) than a baby parrot that is too young to train.

In conclusion, since it is nearly impossible to train an untame baby parrot during that age, the best approach is to find a source for a mature rescue parrot or an already tame baby. This gives you the advantage of being able to start your bonding and training processes immediately. Given the amount of training you can have in the first few months you keep a rescue parrot, you may well find yourself ahead of where you'd be with an untame baby that forced you to wait until you can begin training. Keep these things in mind when looking for a parrot and try to avoid getting a baby parrot that isn't already accustomed to handling.
Sometimes I buy baby (human) toys and supplies for my parrots to play with. Often these can be cheaper than the ones made for parrots as they are mass produced. If you look for baby toys on clearance or at bargain stores, you may be surprised how much stuff you can get for your parrots to play with for the same money you spend on parrot specific toys. Human grade baby toys go through higher standards and will generally be safe for parrots. However, it is the owner's responsibility to make sure that the toy is safe. Our parrots can find ways to destroy these toys in ways never conceived by the original designers.

For about $5, I got a whole bag full of baby toys for Kili and Truman at a dollar store. Truman really took to the plastic fork and proceeded to chew it up. Kili took up a greater fascination with the rubber duckies which came in a pack of three for a dollar. I wouldn't leave these toys in the birds' cages but they make for some great foot toys to keep them busy when they are out. This way they can have something different to play with than the usual wood and plastic bird toys and it doesn't cost me too much.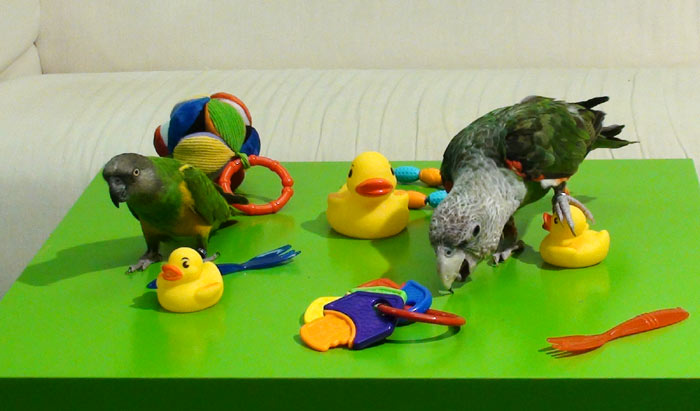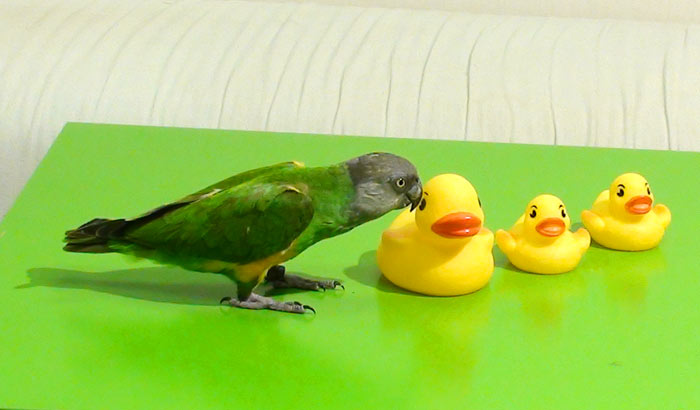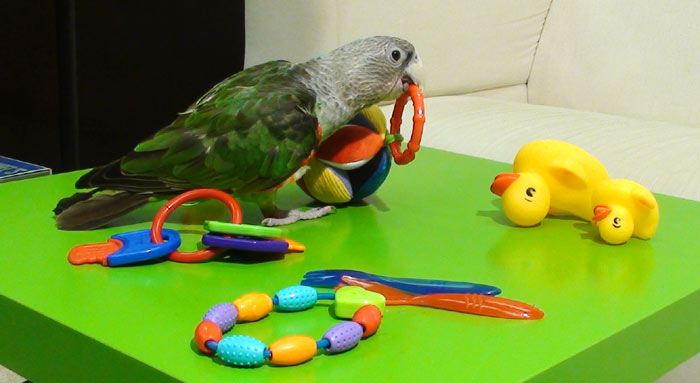 This morning I headed out to the airport two hours in advance with plenty of time to spare to pick up my parrot. I was nervous about getting stuck in New York City rush hour traffic on the way there but luckily I got there in just over an hour. However, the extra time did not go to waste as it took nearly 40 minutes to find the cargo terminal from which I was supposed to pick up my parrot delivery.

The flight departed on time and even arrived early. An hour after its arrival the parrot carrier was already handed to me. Not bad considering I've often waited even longer just to get my luggage. I was handed the carrier and took the first peek at my new lifetime companion. The little guy was standing right at the edge by the door and got excited to get some human attention albeit from a complete stranger.

I carried him back to the car and drove directly home. Upon bringing the carrier inside, I strategized how to get the parrot out of the carrier without scaring it. I cut the wire ties which kept the door locked shut. I opened the carrier door and waited to see if little Truman would come out on his own or if I'd have to reach in for him. Surely enough within 30 seconds he made his own way out of the carrier and made his way straight for my hand. He helped himself onto my hand and sat there happily opening and closing his beak.

I knew that he'd be really thirsty after the long flight so I decided to use this as the first opportunity to teach him to drink from his water bottle. I pressed the ball of the straw up against his beak and when he realized that water flows out the end, he made a determined effort to get some water out. I didn't make him drink from it for long but I was impressed how quickly he figured out how to work the steel ball with his tongue to get the water to flow.

Truman walked around on the floor but decided to try a flight. He took off and was up to the ceiling near instantly but didn't know where to go. He bumped into the walls and ceiling a few times before crash landing. I fetched him and he stayed on my hand the rest of the time. I hand fed some pellets to him and he happily munched on them. I was surprised, however, that he neither knew what to do with an almond nor had the strength to crunch it when I shelled it for him.

After some play with his toys and checking out his tree, I put Truman into his new home to take a break. Within a few minutes he went for his water and then ate some pellets on his own.


As I await the arrival of my new Cape Parrot, I would like to outline some of my goals with the new bird. The order is ballpark of how it would go but not a rigid sorting:

-Get parrot, let it get used to me and new surroundings
-Develop strong flock mate/trainer relationship bond
-Encourage independent play as well as social time
-Develop a daily routine that sets feeding regimes, flight time, out of cage time, and outdoor time
-Desensitize to wide array of household objects while naming each object
-Configure clicker as bridge and eventually a strong secondary reinforcement
-Teach target training through modeling rather than trial/error if possible
-Develop strongest flight recall possible (recall by visual, whistle, and name)
-Minimum dependence on food for reinforcement
-Develop strong alternative reinforcements
-Progressive taming to allow uninhibited touch of entire body
-Make minimum intrusion introduction between Kili and Cape
-Maximum comfort harness training
-Outdoor desensitization while wearing short harness
-Begin training outdoor harnessed recall
-Socialize parrot to as many people as possible both indoors and out
-Differentiate social time and focused training time
-Develop safe petting cue and method
-Reduce beaking, biting, and nipping by ignoring
-Ignore all unpleasant vocalizations and present acceptable alternative ones
-Train necessary maintenance behaviors through positive reinforcement
-Voluntary carrier training through empowerment
-Start training full trick routine
-Goal is to train each trick in the shortest and most effective manner possible
-Develop visual and verbal cues for every trick
-Take parrot on social outings, car drives, and airplane flights while still young
-Begin implementing variable ratio reinforcement on cued behaviors
-Say same words to encourage talking
-Develop special (not annoying) contact call specific for this parrot
-Combine flight and cued tricks
-Train highly complex trick behaviors to challenge parrot
-Test cognitive capabilities through challenging puzzle tricks
-Provide occasional foraging opportunities in/out of cage
-Continue flight training optimized toward outdoor freeflight
-Perfect each trick to develop best trained parrot role model

Having extensively learned trick training on Kili and Duke, I think I will be able to train the Cape more quickly and efficiently. At the same time, I would like to experiment with alternative training methods like modeling, empowerment, and differential reinforcement. I am going to make the strongest possible effort to do all training through positive reinforcement and avoid resorting to flooding, negative reinforcement, or punishment. I do know that these methods can be effective but I am curious to accept the challenge of trying to train without them.

Here are some my goals for the trainedparrot blog:

-Provide regular updates about the Cape's progress
-Post photographs/videos of every step of training the new Cape Parrot
-Write step by step articles about how I train every single trick/behavior
-Present my thoughts/opinions about parrot ownership and care
-Develop the training blog as an alternative to costly training products
-Write objectively about the good, the bad, and the ugly
-Cite outside sources where applicable
-Lead the parrot community by example
-Make all information public and hold nothing back
-Create a definitive source of parrot training knowledge from my own experience
-Eventually open the blog up to additional willing writers
-Turn training blog posts into a complete/organized training guide

Here is a progress update about the upcoming Cape Parrot. Originally I was supposed to get the older of the two babies. Jean expected the older one to end up bigger because it was born from a larger set of wild caught parents. However, as time progressed, it turned out that the younger baby not only caught up but grew bigger than the older one. The younger Cape comes from a domestic pair named Angie and Magnum. Jean said this baby not only turned out larger but also has a sweeter disposition. The older is now 295g but the younger is 315g. They are somewhere from one to two weeks apart. Jean has done the same extensive efforts with both parrots and I am currently the only paid buyer so I have the option of choosing either one. She taught both parrots to drink from a water bottle, eat the same pellets, and to wear an aviator harness. So based on everything Jean advised, as well as all the good things I've heard from someone else that bought a Cape Baby from the same breeding pair, I decided to go with the younger/larger Cape.

This Friday, Jean will be taking the Cape to her vet on my behalf. I asked her to get the vet checks for me because she has a very good vet and I don't like the one I worked with in my area. If the parrot checks out healthy before being shipped, I don't really see any need in duplicating the check afterwards. The visual inspection the vet did when I bought Kili I can so easily do myself now at this point. I'm quite confident in Jean as a breeder so the vet check is only precautionary. The vet will also take care of some final grooming and place an open band on the parrot's left (non-dominant) foot. Pending all results being good from the vet check, Jean should be shipping the Cape Parrot to me early Tuesday morning to avoid the Florida heat. Thursday is the back up day.

Here are more pictures that I just received from the breeder: