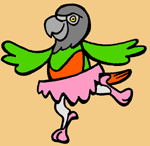 Kili
Type: Senegal Parrot
Genus: Poicephalus
Species: Senegalus
Subspecies: Mesotypus
Sex: Female
Weight: 120 grams
Height: 9 inches
Age: 9 years, 7 months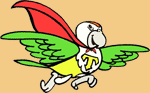 Truman
Type: Cape Parrot
Genus: Poicephalus
Species:Robustus
Subspecies: Fuscicollis
Sex: Male
Weight: 330 grams
Height: 13 inches
Age: 7 years, 10 months

List of Common Parrots:
Parakeets
:
Budgerigar (Budgie)
Alexandrine Parakeet
African Ringneck
Indian Ringneck
Monk Parakeet (Quaker Parrot)
Parrotlets
:
Mexican Parrotlet
Green Rumped Parrotlet
Blue Winged Parrotlet
Spectacled Parrotlet
Dusky Billed Parrotlet
Pacific Parrotlet
Yellow Faced Parrotlet
Lovebirds:
Peach Faced Lovebird
Masked Lovebird
Fischer's Lovebird
Lilian's (Nyasa) Lovebird
Black Cheeked Lovebird
Madagascar Lovebird
Abyssinian Lovebird
Red Faced Lovebird
Swindern's Lovebird
Lories and Lorikeets
:
Rainbow Lorikeet
Conures
:
Sun Conure
Jenday Conure
Cherry Headed Conure
Blue Crowned Conure
Mitred Conure
Patagonian Conure
Green Cheeked Conure
Nanday Conure
Caiques:
Black Headed Caique
White Bellied Caique
Poicephalus Parrots
:
Senegal Parrot
Meyer's Parrot
Red Bellied Parrot
Brown Headed Parrot
Jardine's Parrot
Cape Parrot
Ruppell's Parrot
Eclectus
:
Eclectus Parrot
African Greys:
Congo African Grey (CAG)
Timneh African Grey (TAG)
Amazons:
Blue Fronted Amazon
Yellow Naped Amazon
Yellow Headed Amazon
Orange Winged Amazon
Yellow Crowned Amazon
Cockatoos:
Cockatiel
Galah (Rose Breasted) Cockatoo
Sulphur Crested Cockatoo
Umbrella Cockatoo
Moluccan Cockatoo
Bare Eyed Cockatoo
Goffin's Cockatoo
Macaws
:
Red Shouldered (Hahn's) Macaw
Severe Macaw
Blue And Gold Macaw
Blue Throated Macaw
Military Macaw
Red Fronted Macaw
Scarlet Macaw
Green Winged Macaw
Hyacinth Macaw
| | | |
| --- | --- | --- |
| | | Thursday April 13th, 2017 |
Kili, Truman, and Rachel have been settling in the bird room together well. I have been getting back into flying them for exercise. For now, I'm just having them fly in the bird room.

All three parrots are at ease with each other and know their own perches well. They all already know their names and only fly when called. But now they are mixing it all together.

Flying three parrots for exercise can be quite intense. I alternate my attention between the birds. Each bird flies to receive food. While two parrots are busy chewing their reward, the third already finished and is ready to fly. This leaves at least one parrot ready to go at any time.

This routine not only keeps things moving for me - it sure does take a while to get three birds to fly enough to go through an entire meal - but it also gets a rivalry going between the birds that keeps everyone trying. If one of the birds gets lazy and doesn't come, I will simply move on to the next. The next bird is happy to have a sooner opportunity to come. Meanwhile the bird that didn't come gets punished by missing a turn and having to wait for the next chance to come around. This has been extremely effective and virtually eliminated disobedience.

In the past, flight training just one bird at a time, I would encounter a lot of frustration when the bird wouldn't come. I have limited time to spend on training, so when the bird isn't coming, the session will either take longer or the bird won't be exercised as much. Whenever the bird would stop cooperating to look around or worse yet just sit there for no reason, I would be powerless at that moment to keep things moving. But now with three birds training together, there is always a bird or two that will pick up the slack for the others. This keeps me from just standing around waiting for birds to resume cooperation. But not only that, it makes the lazy bird(s) realize that others are getting their treats! This fixes things in a hurry.

When the birds finish chowing down their food reward, they are attentively waiting for the next opportunity to be called. I occasionally mix up the order of the recalls to keep them on their toes. On the rare occasion that the wrong bird comes, it receives no food and is just sent back to the perch. They realize quickly that it is a 100% chance they won't receive a reward if they come when I call another, so they learn to stay put unless called. This is important when there is a bunch of birds so that they don't interfere with each other.

Starting out, Rachel was definitely the weak link. While Kili and Truman would come reliably from years of experience, Rachel would often not come or take too much time. Since the added competition of the other birds, Rachel's success has more than tripled! She is almost as good as the others. She has made years of solo improvement in a month with the added competition. I think the improvement was so huge because Rachel got both a dose of example as well as rivalry! She got to see how well the other birds do and how much they get rewarded. She realized that this is the way to be if you're a bird!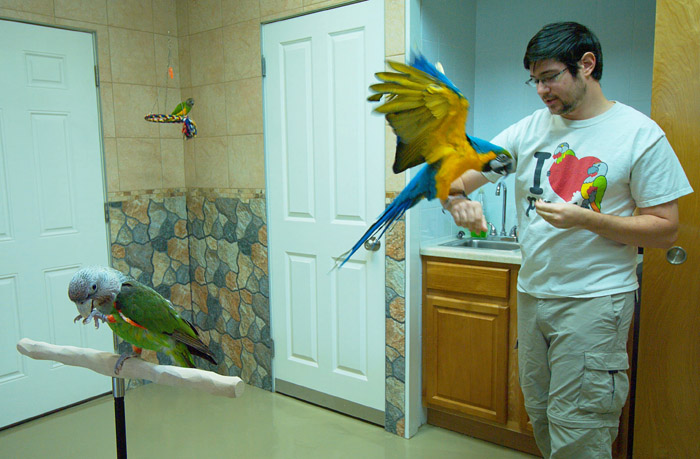 Another interesting improvement came in Truman. Truman has always been second rate to Kili in everything. If Truman flew 50 recalls, then Kili flew 100. When Truman improved to being capable of 100, Kili was at 150! Because he could never accomplish being better than her at anything (at least training wise), I don't think he ever really tried. But when Truman realized he could be better than Rachel, he was all over it! Truman became much more attentive and quick to respond. On the other hand, Rachel is now close on his tail with her improvement so I hope to keep this competition going.

There's no doubt that Kili is simply the best. Her mantra is anything you other birds can do, I can do better. Even when she's training solo, she'll work as hard as the other birds would in a competitive environment. But when the other birds are trying too, Kili can keep flying reliably even after she is completely full or not even hungry at all in the first place. I'm pretty sure that I could get her to fly as much as the other birds without any treats at all. She is just so competitive and has to be best!

Oftentimes toward the end of the flying session I am trying to compensate the bigger birds with extra food. Kili is already too full and clearly done eating. Truman and Rachel might have missed a few treats when they were being obstinate. Kili got every single one. So just to get the others to fly as much as Kili, I need to park Kili and give them a chance to catch up. Well, Kili keeps begging to come so I call her but don't give treats. I know she is full and can't/shouldn't have more. As long as the other birds keep coming, she does too, even when she is obviously getting nothing. But she plays a good model and it helps me keep the others going till they finish.

It is important to note that getting or training more birds is not necessarily going to improve things for other people. If you have a bird that is uncooperative or bad at training, I would first focus on your training techniques and the birds motivation. Only when that bird without doubt knows what it is doing, does it right most of the time, and does an overall pretty good job is it ok to think about training along another bird. Competitive training isn't a solution to poor training/motivation. Instead it is a superlative booster for already effective training.

So, check out this video of Kili, Truman, and Rachel's morning flying routine:

Kili has been a really bad bird so I threw her out the door. Isn't that the best way to solve any parrot behavior problems? Just chuck the parrot outside. It's not like I was going to shoot her for it or something! Bye bye birdie.


It was fun teaching Rachel the turn around trick because she picked up on it so quickly! Turn-Around is one of the most basic tricks that you can teach your parrot and a lot of fun. Teaching tricks like this helps build a relationship and a level of cooperation from your bird because it becomes accustomed to doing things you say. The once wild, uncooperative parrot, learns that cooperation is beneficial and fun.

Rachel, Marianna's Blue and Gold Macaw, is going to be five this year and is in the midst of her terrible twos (adolescence). Some days she's cute and friendly and other days she's a total brat. Doing some trick training helps maintain and improve the relationship as she's going through the troubling years. Although Rachel has always been good with Marianna, because she had her since she was a baby, I have had to do some work to earn Rachel's trust.

If you would like to learn how to teach your parrot to turn around, refer to this free trick training guide. In that article, I explain with the help of Truman how to teach Turn Around.

This video on the other hand is just to show for comparison what it's like to teach a Macaw to turn around. Pretty much the same! The only difference I would say, is that things happen more slowly and the Macaw has to lift its tail as it turns!

It took about 3 days to teach Truman to turn around. Rachel learned it well in 2. The first session, not pictured in the video, was much like the second. By the end of the first session, she knew how to follow the stick around but not much more. During the second session, as seen in the video, she had her "aha!" moment and figured out to turn around, even if I don't show the target stick. So simply put, teaching turn around is having a parrot follow a target stick in a circle and then reduce the importance of the stick till the bird can just do it on command.

I would say that all parrots learn the turn around trick about the same way. From budgie to macaw, the same method worked perfectly with all birds. The only difference is the pace. The smaller the bird, the faster it moves. The bigger birds move more slowly. The smaller birds can do more repetitions in a single session. The bigger birds will do fewer repetitions per session, but they will learn the final result in fewer sessions! It is interesting to observe these subtle differences, but they have little impact on the final result. Just follow the method and keep going till your particular bird figures it out and you'll be all set!

To learn the fundamentals of parrot training, how to develop training motivation, routines, and an overall outstanding pet relationship, please read my book, The Parrot Wizard's Guide to Well-Behaved Parrots.

Watch how I taught Rachel the Blue and Gold Macaw to Turn Around:

Today is Truman's Birthday and he is turning seven years old! Wow, hard to imagine he's been around so long. We've shared a lot of adventures together! Camping, flying across the country, going to the Carnival, and many more.

Truman is a Brown-Necked Cape Parrot that I got from a breeder seven years ago. He is named after Truman in the Truman Show (with Jim Carey) because, "While the world he inhabits is in some respects counterfeit, there's nothing fake about Truman himself. No scripts, no cue cards...It isn't always Shakespeare but it's genuine. It's a life." Like the Truman show, Truman Parrot's life has been shared with the world. Thousands of people have been following Truman growing up, learning tricks, and discovering the world of pet parrothood.

Before we get to the hatch day festivities, here are some highlights of Truman's life.

I remember it like it was only yesterday when Truman was a little bird. I had him "mail ordered" from the breeder in Florida.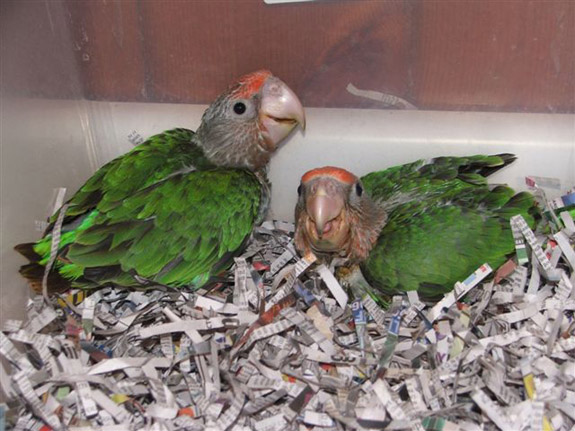 Although he was hatched exactly seven years ago, it was still a few more months until I received him. Here is my first encounter with Truman as I picked him up from the airport:



Truman and Kili always had trouble getting along but when they did it was quite a relief. Here's Kili sharing a perch with Truman for the first time:



And here's teaching Truman his first trick, how to wave:



Something unique about Truman is that he has never had his wings clipped. Unlike most parrots, he came fully flighted and has always stayed that way. He has always been an avid flier and here's a video of him flying around the house and doing good training:



I did a lot of advanced flight training with Truman including freeflight in a gym and outdoor freeflight. Unfortunately, one time freeflying outside he did not fly back to me and was missing for 3 days! I was so very happy and lucky to get him back.



And then Truman was the Bird of Honor at my wedding and inherited Marianna as his best friend:



You can find the full list of articles about Truman on his dedicated page. Scroll to the end of the list and start following them in reverse order to retrace Truman's path to stardom. And finally, here's Truman's seventh Birthday video with Marianna:

| | | |
| --- | --- | --- |
| | | Thursday February 23rd, 2017 |
Lovebirds are very popular parrots as pets because of their small size and large personality. If you are wondering what Peach Faced Lovebirds are really like and does a Peach Faced Lovebird make a good pet, then knowing a bit about what they are like in the wild may help answer your question. It was really exciting to get to see where their pet qualities come from during my trip to Namibia where I got to see Peach Faced Lovebirds in the wild.

Peach Faced, also known as Rosy Faced, Lovebirds (Agapornis roseicollis) are native to the southwest corner of Africa. Their habitat is woodland savanna bordering on semi-desert. It is a harsh dry climate where these birds come from. They have it pretty tough. These lovebirds go on various kinds of trees and on the ground. However, palm trees seem to be their favorite. They mainly stay in pairs and groups made up of pair units.

The birds stay in a more tight area (a lot like conures) going back and forth between their nesting trees and food sources, as opposed to Cape Parrots and other Poicephalus that make long commutes to food area. The Peach Faced Lovebirds are quite noisy chirping and calling to each other throughout the day. They definitely aren't shy and they make their presence known.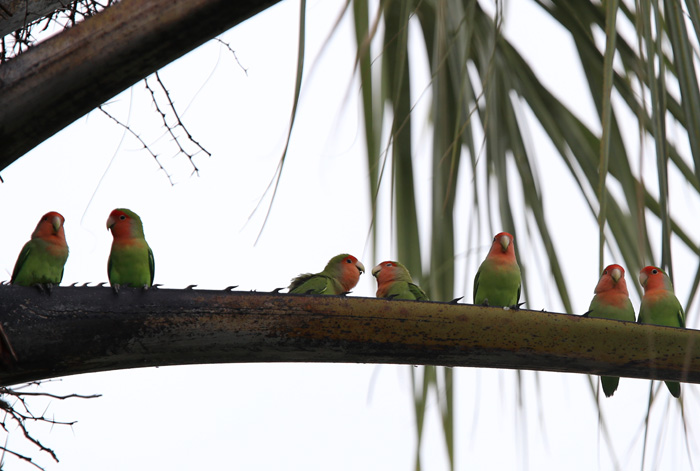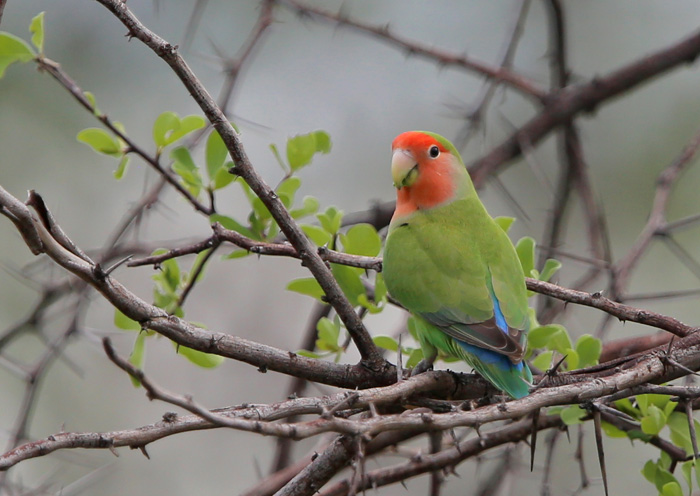 The boldness of the lovebirds is not just obvious by their calling and colors, they are bossy birds. They go after much larger birds to maintain their nesting and feeding areas. Lovebirds may be one of the smallest kinds of parrots but they act like they don't know this.

The wild behavior of these Peach-Faced Lovebirds should not be surprising to anyone who has seen them in captivity. They are high energy, active, bold, fairly aggressive birds in a small package. When considering lovebirds as pets, don't let their small size trick you into thinking that they are less trouble or require less responsibility. The only way their small size should impact your decision to get one should be that they can reside in a smaller space and that the overall costs are smaller (less food, smaller cage, smaller toys). Otherwise they can be aggressive, tough, noisy, and messy like any bigger parrot. In fact, it might be a surprise that a bird so small could create a presence of a much bigger bird.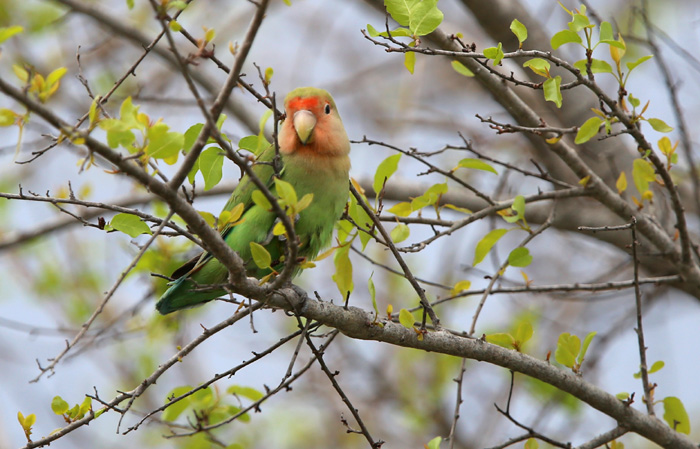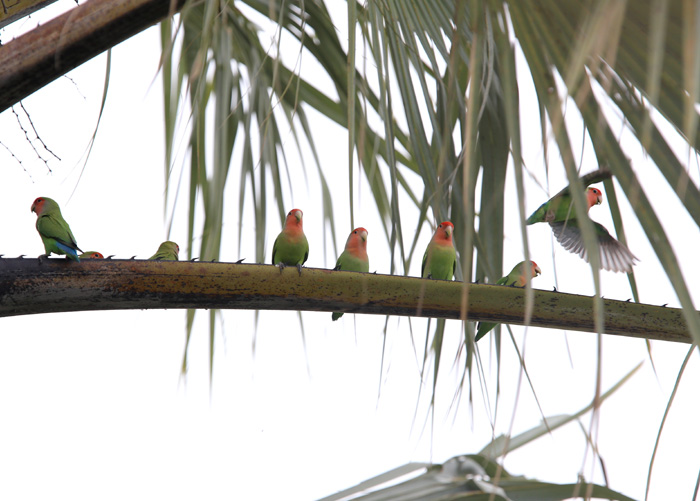 In some ways, lovebirds can be more difficult to keep as pets and train than larger parrots. They tend to be more poorly raised. Breeders put less effort into providing individual care and taming as they crank out many small birds. They grow up more quickly so the "baby stage" may already be over by the time you even get to purchase a weaned baby. Chances are that almost any lovebird you get, young or old, it will be quite a wild bird. Not only will it be more wild but it will do this at a high pace. Keeping up with a hyper bird jumping and flying about won't make it easy to have it on you or in your hand.

However, lovebirds are very intelligent. They may well be more intelligent than other small parrots and parakeets like budgies, cockatiels, and even parrotlets. This intelligence does not mean that they will comply with you or cooperate. In fact, if anything, it will mean they are more shy of human contact. Being shy of human contact does not mean they won't have the boldness to attack. Like the lovebirds I observed in the wild (you will see in the video below), household lovebirds may try to attack and drive humans away. Not the best recipe for a pet.

The good news is that their intelligence makes lovebirds quite trainable. They are opportunistic and driven. So if you properly set up your home environment, balance their diet, and get involved in their training, they have potential just as any bigger bird to be a great companion. Lovebirds can learn quickly and be taught many tricks. All of the basic cued tricks taught on the TrainedParrot Blog (such as Target, Turn Around, Wings, and Fetch) can be taught to lovebirds. They can even be flight recall trained. I recommend that lovebird owners read my book, The Parrot Wizard's Guide to Well-Behaved Parrots to learn the effective application of training and how to get their lovebird to become a wonderful family pet.

Here's a video of my experience watching Peach Faced Lovebirds in the wild: