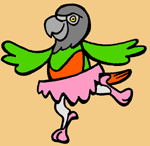 Kili
Type: Senegal Parrot
Genus: Poicephalus
Species: Senegalus
Subspecies: Mesotypus
Sex: Female
Weight: 120 grams
Height: 9 inches
Age: 10 years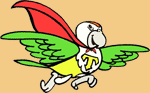 Truman
Type: Cape Parrot
Genus: Poicephalus
Species:Robustus
Subspecies: Fuscicollis
Sex: Male
Weight: 330 grams
Height: 13 inches
Age: 8 years, 3 months

List of Common Parrots:
Parakeets
:
Budgerigar (Budgie)
Alexandrine Parakeet
African Ringneck
Indian Ringneck
Monk Parakeet (Quaker Parrot)
Parrotlets
:
Mexican Parrotlet
Green Rumped Parrotlet
Blue Winged Parrotlet
Spectacled Parrotlet
Dusky Billed Parrotlet
Pacific Parrotlet
Yellow Faced Parrotlet
Lovebirds:
Peach Faced Lovebird
Masked Lovebird
Fischer's Lovebird
Lilian's (Nyasa) Lovebird
Black Cheeked Lovebird
Madagascar Lovebird
Abyssinian Lovebird
Red Faced Lovebird
Swindern's Lovebird
Lories and Lorikeets
:
Rainbow Lorikeet
Conures
:
Sun Conure
Jenday Conure
Cherry Headed Conure
Blue Crowned Conure
Mitred Conure
Patagonian Conure
Green Cheeked Conure
Nanday Conure
Caiques:
Black Headed Caique
White Bellied Caique
Poicephalus Parrots
:
Senegal Parrot
Meyer's Parrot
Red Bellied Parrot
Brown Headed Parrot
Jardine's Parrot
Cape Parrot
Ruppell's Parrot
Eclectus
:
Eclectus Parrot
African Greys:
Congo African Grey (CAG)
Timneh African Grey (TAG)
Amazons:
Blue Fronted Amazon
Yellow Naped Amazon
Yellow Headed Amazon
Orange Winged Amazon
Yellow Crowned Amazon
Cockatoos:
Cockatiel
Galah (Rose Breasted) Cockatoo
Sulphur Crested Cockatoo
Umbrella Cockatoo
Moluccan Cockatoo
Bare Eyed Cockatoo
Goffin's Cockatoo
Macaws
:
Red Shouldered (Hahn's) Macaw
Severe Macaw
Blue And Gold Macaw
Blue Throated Macaw
Military Macaw
Red Fronted Macaw
Scarlet Macaw
Green Winged Macaw
Hyacinth Macaw
Toys and perches are very important for your parrot's health and well-being. They're more than just for your parrot's entertainment, although that is a very important role as well. They provide necessary exercise to your bird's beak and feet!

Having a huge cage for your parrot is great. But if that huge cage isn't extensively filled with perches and toys, it is just as well a tiny cage. The main advantage of a huge cage is that there is an opportunity to put a lot of perches for your parrot to move around on and many toys to motivate it to come to. Without them, you'll just have a parrot sitting in one part of the cage all day doing the same as it would if it were in a smaller cage.

Perches are the foundation of your parrot's living space. The bird spends all day on its feet. Having a good variety of different perches provides diversity and comfort to your parrot's feet by allowing it to change and choose its perching. Forget about dowel and plastic perches. Throw them out. They are no good for your parrot. Take caution of natural perches that are straight and smooth as a dowel. Just because they are natural, doesn't do any good if they act the same way as a dowel.

The four typical kinds of perches are:

Natural
Rope
Cement
NU Perches

I would strongly encourage you to offer all four types so that your parrot has the most variety and choice. Wood perches should be the Natural perches are fun because each one is different. The diameter, texture, and shape will vary. This is great for your parrot. Unfortunately, you don't always know what you are getting when ordering online and some natural perches don't offer all of the advantages of being natural. Sometimes it isn't possible to make wildly wavy perches properly fit the rectangular orientation of a bird cage. For this reason, I came up with and patented the NU Perch. These perches offer the maximum amount of variation, choice, and comfort while also being totally safe and affordable. Provide a variety of different lengths, thicknesses, and hardness of perches so that your bird can experience different perching techniques as it moves about the cage.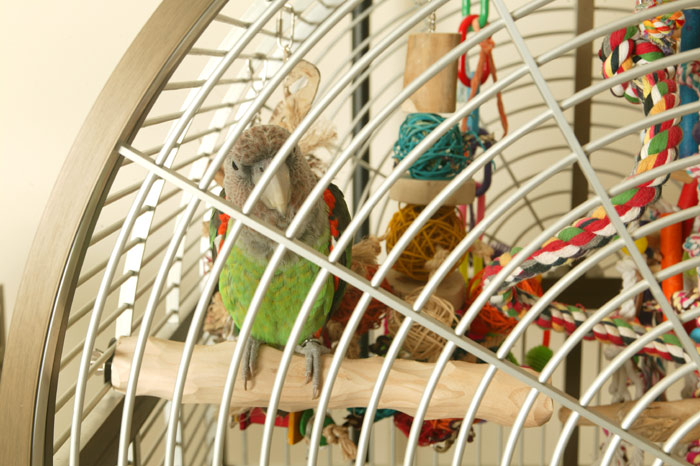 Rope perches and cement perches are good additions to wood perches but only in moderation. The cement perches can help keep your parrot's claws trimmed and it's a different texture than all other perches. However, excessive use of cement perches can greatly irritate the bird's feet. Never put a cement (or other sanding type) perch where your parrot sleeps. In other words, don't put the cement perch up high or where your parrot goes a lot. Ideally, place a cement perch in a place your parrot visits just a few times a day. For this reason, a cement perch serves very well by the bird's water (bottle or bowl). It only takes a few drinks a day but otherwise does not spend an excessive amount of time in that area.

Rope perches are the exact opposite of cement perches. Instead of being hard and harsh, rope perches are smooth and comfy. This is a good thing but in moderation. Rope perches can provide relief from firmer perches. But if used excessively, they may cause the bird's feet to be too sensitive on harder surfaces. Also, extreme caution must be taken if the bird chews on the rope perch. Two major hazards can be caused by chewed rope perches. First of all, some birds ingest the rope and can develop a crop infection. Another hazard is that the bird can get its foot or claw caught in the chewed strands of rope and get stuck. So, to avoid either case, inspect the rope perches regularly and replace preemptively if there is any sign of damage.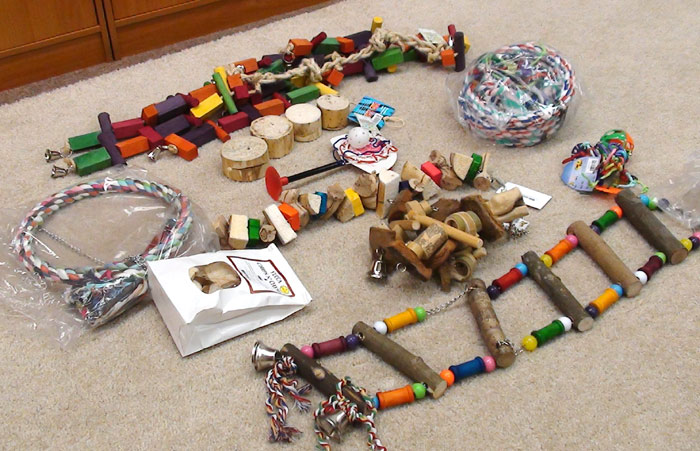 Just as perches are to your parrot's feet, toys are a health requirement for your parrot's beak. Parrots use their beaks quite extensively in the wild for feeding, nest cavity making, and playing. We won't be providing nesting opportunities to our pet parrots but we should nonetheless give them lots of chances to chew. Toys are a good human alternative to the chewing challenges that parrots would encounter in the wild. Abundance of toys is very important. Different shapes, textures, materials, and challenges will keep your parrot and its beak busy in different ways. Some materials such as plastic are tougher and will require harder chewing than softer materials like wood. Providing variety and abundance will improve your parrot's activity and provide the pleasure of choice.

Perches can also be a source of chewing pleasure and beak exercise. My parrots love the NU Perches in their cages not only because they are comfortable on their feet but also because they provide a reasonable chewing challenge. On one hand, the perches are soft enough that the birds can chew them if they choose to. On the other hand, they are tough enough that it takes them a while to really destroy them. I don't know why sometimes they leave perches alone and chew only toys and other times focus on the perches instead of toys. But by providing them the abundance and variety, I can ensure that they are kept busy, happy, and healthy in any case.

Keep in mind that the best deterrent against developing a feather-plucking problem is keeping the bird busy chewing things that are not on its body. Just because there are toys in the cage doesn't mean they are serving much useful purpose if they don't end up in a pile of splinters on the bottom of the cage. Looking, touching, and playing with the toys is only a small portion of their purpose. Getting the beak and mind exercised in the process of chewing them up is the biggest purpose. In the case of most parrots, something is going to get chewed up at the end of the day be it the bird's toys, perches, your furniture or stuff, or its feathers. In order to avoid it being the feathers or furniture, it is best to focus on toys and perches.



Some toys are just too difficult, thick, hard, or boring for your parrot to chew up. Offering a variety of different kinds of perches is a good way to improve the likelihood of the toys working out. However, sometimes the parrot just won't chew any of it up. The best way to get it started is to get smaller or easier toys that are meant for a smaller species than what you have. Letting the bird have success with a toy that is too easy can give it the motivation to tackle some of the tougher toys that are meant for its size. The toys gotta get chewed up in order to be serving their purpose.

Every parrot is different so what works for some parrots may not work for others. Let your parrot exhibit its own personality and develop its own preferences. Provide abundant variety of perches and toys so that it can make the most of them and grow its choices.

Here's a video of Marianna getting some new perches and toys for the flock and then rearranging their cages with the new goodies:


You are thinking of getting a parrot but you don't have any local stores, breeders, or rescues to consider so you turn to the internet. But, the internet is a mine field of scams. How do you find an internet vendor of parrots that will actually deliver a bird to you and isn't trying to scam you? Well, this article is about how to spot parrot scams on the internet!

I'm not going to get into how to find a good companion parrot or even the arguments for rescues vs baby birds. I'm going to focus specifically on avoiding internet scams that will run with your money and leave you empty handed entirely. Finding a good breeder or rehoming situation is a whole other topic.

Of course the absolute best way to avoid getting scammed online is not to get your parrot online. Any opportunity to find a parrot locally or even going somewhere far to see it in person makes for the highest chance that you won't get scammed. But if you have no choice but to deal with a breeder/seller remotely, here are 10 of the most common signs that a parrot breeder is really a scam!

1. The seller is not knowledgeable about parrots! Presumably a breeder or even someone rehoming their parrot should know some basic things about it. However, if they are talking complete nonsense or have major inconsistencies, it's likely a scam. It starts with the text in the listing talking about an entirely different species than the one depicted. The text appears combined from different sources/writers. Often times, the scammer does not even write the text but just copies it from other websites. If you copy/paste some text from the listing and find it on other sites, it's a scam. Also, keep an eye for similar inconsistencies or copying in the text of emails sent from them as well.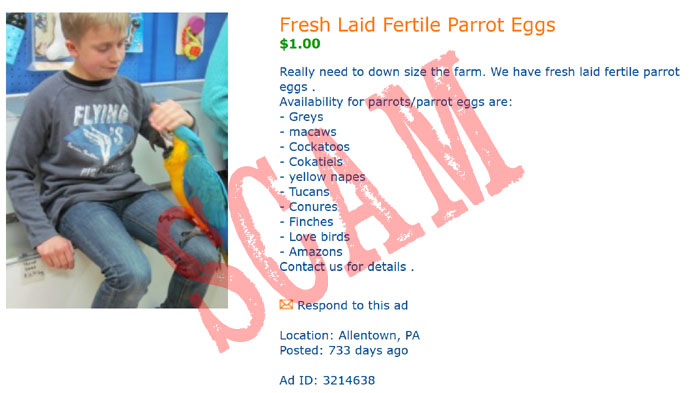 2. They are selling eggs! If someone claims to be selling parrot eggs on the internet, they are a scammer! Real parrot breeders sell live birds and not eggs. You cannot buy a parrot egg from someone, have it delivered to you, and pop a parrot out of it. Furthermore, legitimate breeders don't sell eggs that way. Even if you are thinking of purchasing a live baby parrot from a breeder, the presence or claim about selling eggs on their site or listing means it is a scam.

3. Using common pictures off the internet! A real breeder or someone rehoming their parrot should be able to provide an abundance of real pictures of the same bird. Scammers are often so lazy and incompetent that they copy one of the first pictures they find on a google search. Often times, these are pictures of well known celebrity parrots. If you can do a google search and find the same image on other websites, then you are witnessing a scam. The seller should be able to provide you with pictures from different angles of the exact same bird. And if you see any of my parrots in the listing and it is anywhere but my website, it is most certainly a scam!

4. Online communications only! If the seller insists on communicating to you only by email or via the messaging portal on a website, it's totally a scam. Legitimate breeders will talk to you on the phone and you will be able to get a sense of their experience in talking with them. Scammers don't know much about parrots so they can best hide this by cleverly putting together written responses at their leisure. Often times, these responses are copy/pasted responses they had previously written or that they copied entirely off the internet. Most of the scammers are from overseas so they can barely speak English and would not be able to talk to you on the phone. Insist on chatting on the phone before ever committing to an online purchase of a parrot.

5. Rush sale! Parrots are rarely available for immediate purchase from a real breeder. Since the breeding is seasonal, there are many months of the year when the breeder could not sell you a parrot. By the time the breeder has available breeders, they are usually already reserved by buyers from the low season. It is very rare that you can contact a breeder and get a bird immediately. You will usually have to wait for months or even a year for your baby to be laid, hatched, raised, and weaned. So, if the seller claims immediate availability of baby parrots, be suspicious. If the seller rushes you and tries to get you to make a quick decision and payment, it's a scam. A real breeder will give you time to think and decide about getting a baby and then after a deposit, you will be the one waiting for it to be ready.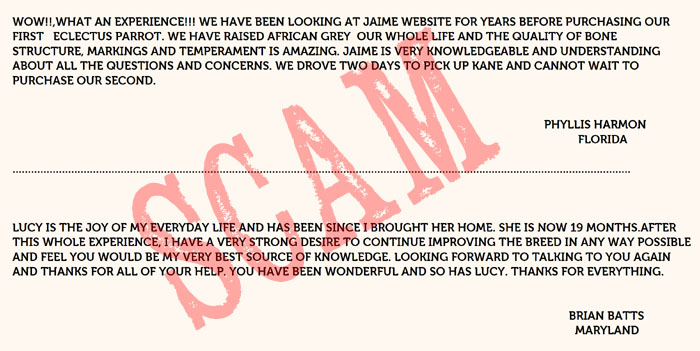 6. Fake testimonials! Most real stores, breeders, and sellers of parrots couldn't be bothered to post testimonials on their website. They understand that anyone can post a bunch of fake testimonials on their site and nobody will fall for that. They are too busy raising real birds, because after all this takes a lot of effort, and promote their reputation by their results. You should be able to find mentions of that breeder on public parrot forums, social media, and other places online and not just read fake glowing testimonials on their page. On the other hand, by searching the internet for the seller's name or alias, you might be able to come across others who already mentioned that this seller is a scammer. Ask the seller if they could get one of their past customers to call you and tell you about the baby rearing experience. A scammer surely won't be able to provide that.

7. Worldwide shipping! It's hard enough shipping parrots to new owners around the US. Claiming to ship all over the world is most like a scam, particularly if the breeder doesn't even claim to be located in the US. The cost and complexity of shipping parrots between countries is so high that it isn't worthwhile to most breeders. In fact, the cost would be so much, that you would not end up agreeing to it. However, if someone is trying to convince you that they will ship a parrot to you from another country and it won't cost a crazy high amount of money, it's a scam!




8. Seller is outside the US! Most, but perhaps not all, of the parrot seller scams originate outside of the US. If the seller claims to be outside the US, don't even go there. If the seller claims to be in the US or does not make it clear where they are located, further investigation is certainly necessary. Try to find out where the seller is. Ask what city they are in. Offer to come and pick up the bird yourself (even if you will end up having it shipped) to see how uncomfortable the seller is with this idea. If the seller absolutely refuses for you to pick the parrot up in person, it is most likely a scam. Check if the business and website domain are registered in the US. If they are not, it is a scam. Poor English, misunderstanding of US geography, and strange time of emails (coming from a remote timezone) are also signs of a foreign scammer.

9. Requiring a money transfer by anonymous means! If the seller requires you to send money via a western union or similar transfer, it is definitely a scam!!! Legitimate sellers will accept or even insist on a personal check, cashiers check, credit card, or paypal payment. These can be traced as well as stopped. There are buyer protections when paying by credit card or paypal. These are useless to a scammer. If you are getting close to the payment part of your negotiations with an online parrot seller, insist on using a payment method like paypal and see their reaction. If they are completely against it, run for the hills cause it's a scam! Gift cards, bitcoin, money orders, and other anonymous payment methods all smell scammy the same way.





10. It sounds too good to be true! If it sounds too good to be true, it probably is too good to be true! If you come across a seller that claims to be selling a parrot species that you know is typically much more expensive, they are probably claiming a low price to trick people into their scam. A typical scam is an offer of a free parrot where you only have to pay for the shipping. Watch out for very exotic/expensive species being offered for cheap. This just doesn't usually happen. There is a pretty high demand for baby parrots so a breeder just isn't going to appear desperate to sell you a bird. If you are offered a cheap, quick, easy, exotic, unbelievable sale on a parrot, it's a scam!



So there you go. Ten ways to avoid falling victim to common internet parrot scams. Be smart. Look for clues. Ask unique questions. Take your time! You'll be well on your way to finding a legitimate parrot breeder and get the bird you really paid for.

Ever been scammed by a parrot vendor? Leave a comment so that others know scammers to avoid.
I visited the Gabriel Foundation outside of Denver recently. This is a spectacular parrot rescue that should serve as a role model not only for other rescues but even stores and private owners as well!

The Gabriel Foundation was started by Julie Weiss Murad over twenty years ago. The foundation is more than just a rescue. It is a parrot welfare center. They take in relinquished birds, they find homes and adopt out birds, they rescue abused birds in emergency need, and the provide lifelong sanctuary to birds that cannot be adopted to homes. But their efforts extend beyond the birds. They offer educational programs, assistance, and volunteer opportunities to people so that they could become better connected with their parrots.

I found several things extremely impressive during my brief two day visit to the Gabriel Foundation. The most noticeable thing is how incredibly clean everything is! The cages there are cleaner than those at any bird store, rescue, or even most private homes I have ever visited. And I know parrots well enough to tell you that it's not because the parrots aren't making a mess. It's the endless cleaning efforts of the staff that make this happen.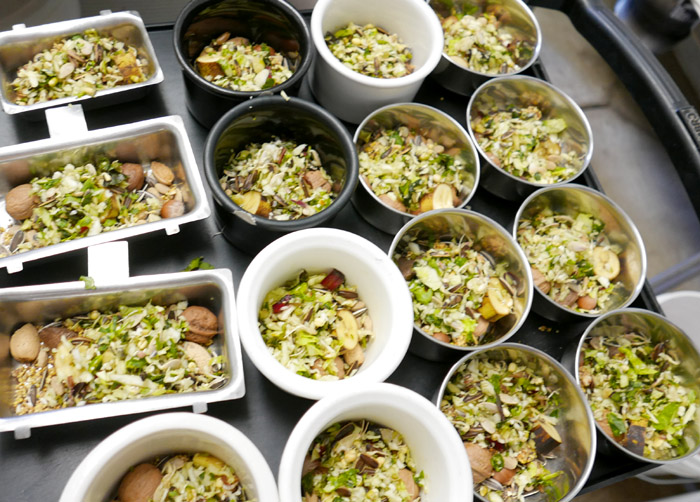 Every cage is filled with a multitude of perches and toys suitable to the parrot enclosed. Again, a better and more suitable effort than even many parrot owners in their home. The same holds for the feeding routine. They feed an extensive variety of foods on a twice daily schedule with proper portion sizing.

Perhaps the most impressive thing of all is that none of the parrots have their wings clipped! You cannot find a store or almost any other rescue where the birds don't have their mobility hindered for the convenience of the care takers. Yet, at the Gabriel Foundation, the birds are given the chance to be birds! Off the bat this ends up solving many of the problems that the birds may have been relinquished to the rescue for in the first place. Most parrot behavioral problems come as a side effect of wing clipping and the owner's misunderstanding of how to properly keep a bird.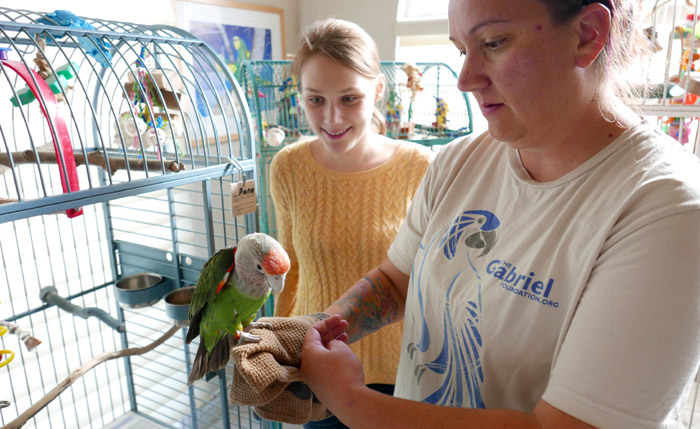 One more thing that the birds at the Gabriel Foundation get that most other rescue, store, and even home pet birds don't is outside time with access to direct natural sunlight. This is as important for the birds' mental well-being as it is to their physical health. I am so impressed to encounter such a large scale organization that really gets it. The Grabriel Foundation is doing things right. They are not taking any shortcuts. They are providing the birds in their care with the kind of care the bird's should really be receiving in a home. Things are almost too good to be true and begs the question, why even adopt a parrot from the Gabriel Foundation if they have it so good there?

Well, according to Julie, the parrots are better off in a home because of the greater human contact. These parrots were domestically bred and raised in homes with people. Although they might have a grand time in aviaries with other parrots of their species, ultimately, they are more comfortable in the human environment in which they were brought up. The Gabriel Foundation simply offers those birds the best possible interim solution until they can find the right home. This also frees up a space at the foundation so that another parrot in need could have the opportunity to make it through the system as well.

By setting the standards so high and so right at the Foundation, it makes it a bit challenging for adopters to meet those kind of standards. The good news is that they are not without help. The foundation goes through great lengths to educate and assist adopters as much as they require so that they could continue the wonderful legacy that the Foundation had started.

I have to say that most times I visit a parrot store or rescue, I end up leaving with a painful feeling in my gut. I get quite upset at the dark, dirty, insufficient perch, insufficient toy, clipped, and ignorant conditions that I come across. Frankly, I tend to avoid visiting stores and rescues to shield myself from the distress that they cause me over the treatment of the birds. Coming to the Gabriel, I had heard good things, but didn't really know what to expect. Incredibly, it was the exact opposite of the typical experience. I would like to encourage any parrot owners, bird store owner, breeder, or rescue staff/volunteer visiting the Denver area to pay the Gabriel Foundation a visit and learn about how good parrot care and parrots themselves can be.

Ginger's Parrots Rescue is following a similar model but on a smaller scale and specifically focused on Senegal Parrots and Cockatiels in the Phoenix area.

Here's a video tour of a portion of my visit to the Gabriel Foundation:

| | | |
| --- | --- | --- |
| | | Thursday April 27th, 2017 |
Looking for a fun and easy trick to teach your parrot? Wondering how you can teach a parrot to bowl? This free trick training guide is about how you can train the Birdie Bowling trick to your parrot!

I love the Birdie Bowling trick because it looks a lot more impressive than the effort it takes to teach it. This is a trick that suits virtually all kinds of parrots and is easy to teach (basically everything except budgie, lovebird, or parrotlet because it is too big for them). This was the first prop based trick I ever taught to Kili and I recommend it to people as their first prop trick.

So here's a step by step guide on teaching a parrot to bowl:

Step 1: Get the Birdie Bowling Set for your parrot from ParrotWizard.com.

Step 2: Make sure that your parrot is target trained. If it isn't, teach it to target before you start teaching the bowling trick. If it is already target trained, just do a quick review to remind it what to do.

Step 3: Desensitize the parrot to the bowling toy. Most parrots get scared of new stuff. The good news is that the more tricks you teach, the more the bird will get used to accepting new things. The best way to desensitize the bird to the bowling toy is to target it near the toy. Place the bowling toy on a table beforehand. Bring your parrot and set it on the table far from the toy. Get the bird into a rhythm targeting. Target it randomly in different directions and not strictly toward the bowling or it may get suspicious. Target it around randomly but little by little, more and more toward the bowling. Let the parrot pay more attention to the targeting exercise and forget about the bowling until you are able to target it right by the bowling at ease. It is better to take the time to do the desensitization exercise even if the bird didn't get scared than to scare the bird with the toy first and then try to change its mind.

Step 4: Target the bird toward the bowling ball with your target stick. Set the pins aside for now. Place the ball on the ramp and use the target stick to direct the bird to the ball. Say "target" and when your bird touches the stick, click and reward. After the bird gets good at this, point to the ball with your finger and say "target." The bird should do the same as before but touch the ball instead of the non-existent stick. If it doesn't catch on, keep practicing with the stick some more.





Step 5: Get the bird to push the ball. This part is a bit tricky and requires careful scrutiny on your part. Saying "target" and pointing to the ball should get the bird to come to the ball and touch it. But we're not trying to get the bird to just touch it. We want the bird to push it. This is where some clicker training really comes in handy. Using the "target" command, we can get the bird to touch the ball. In the beginning, accept by click/rewarding any touch of the ball. However, as the bird continues to improve, require firmer touches and presses of the ball to receive a click/treat. What you will most likely encounter is the bird getting a bit frustrated when it touched the ball and got nothing, then it will start attacking or shaking the ball in an attempt to get the touch to work (like pushing the dysfunctional elevator door close button a million times). This is your chance to watch for the moment of maximum pushing to click/reward. At some point, the bird will push the ball hard enough that it will roll of the ramp and this is the time to click and give a jackpot reward to mark success. If the bird never overcomes pushing it over the bump, you can try holding the ball just over the bump and encouraging it to push. Let go when it does so that the bird can realize that pushing it to move is what gets the click/treat. Eventually it should learn to push harder and be able to push it on its own.

Step 6: Set up the pins, set up the ball, tell your parrot to "bowl," and enjoy! Click the moment the parrot pushes the ball off of the ramp and give a treat. Eventually you won't have to click because the bird will learn that getting the ball rolling is the entire purpose.

Here's a short tutorial I made with Kili to illustrate the key steps of the process:

| | | |
| --- | --- | --- |
| | | Thursday April 20th, 2017 |
During my recent visit to Phoenix Arizona, I took Kili & Truman in to see Dr. Driggers. His is the first exclusively Avian and Exotic veterinary clinic in the country to have a CT scanner. He took some time to tell me about the machine and how it works.

It's really fascinating. The scanner takes 720 images in the span of about 30 seconds. The computer reconstructs these images into a full 3 dimensional display of the animal. The doctor is able to look through the organs and bones without ever hurting or cutting the animal open in the process.

I decided to get Truman scanned to check on how his prior injury has healed and also to check just in case for new ones because he is very accident prone. So they gassed him for a few minutes to anesthetize him. They need the animal to lay perfectly still during the capture so that all of the images line up for the final 3D image. Then they laid Truman out on the bed of the scanner. A team of several vet techs works together to make the process go as quickly and smoothly as possible. They hyperventilate the bird prior to the scan and then stop the breathing during the scan. It's like holding your breath to go underwater. Everyone gets out of the room while the scanner is going. The moment it stops, they were already getting a stethoscope on Truman and checking his condition. Once the scan was complete, they used a hand pump to get him breathing room air again.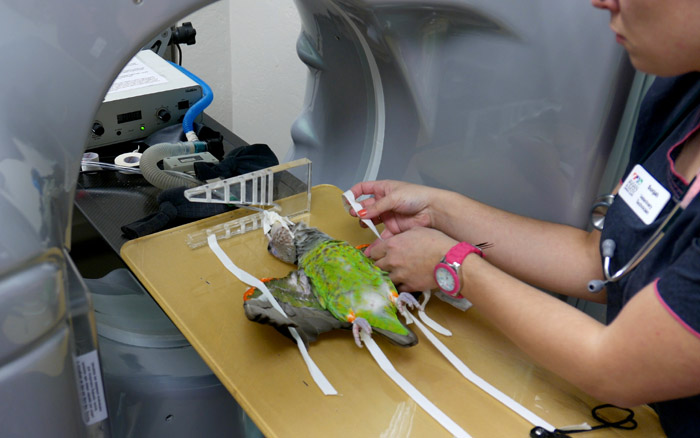 The analysis of Truman's bloodwork and CAT scan showed him to be healthy and organs in good shape. A 3D look at his skeleton showed that his original injury has healed well and is barely visible any more. On the other hand it also revealed that he has a slightly crooked keel and that he has busted his tail at some point. Nonetheless, these do not currently affect him but it's good to know what's going on. It is also reassuring to know that the previous injury has not worsened and that his organs look healthy.

I am glad to see the new CT scan technology moving along so well. I bet in a case where there is organ issues, something lodged inside the bird's gut, or a hard to locate injury, being able to use this CT scan technology will drastically improve avian medicine.

Since the Avian and Exotic Clinic is the first in the country to have a CT scanner and since Truman is their first ever Cape Parrot to be scanned, most likely this is the first and currently only 3D CT scan of the internals of a Cape Parrot (Poicephalus robustus fuscicollis). Check out this video of Dr Driggers explaining the technology and Truman, the first Cape Parrot to get CT scanned, showing us how it's done: