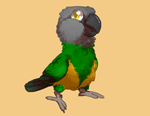 Kili
Type: Senegal Parrot
Genus: Poicephalus
Species: Senegalus
Subspecies: Mesotypus
Sex: Female
Weight: 120 grams
Height: 9 inches
Age: 14 years, 5 months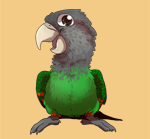 Truman
Type: Cape Parrot
Genus: Poicephalus
Species:Robustus
Subspecies: Fuscicollis
Sex: Male
Weight: 330 grams
Height: 13 inches
Age: 12 years, 8 months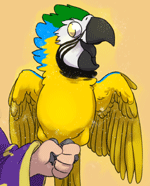 Rachel
Type: Blue & Gold Macaw
Genus: Ara
Species:ararauna
Sex: Female
Weight: 850 grams
Height: 26 inches
Age: 10 years, 5 months

List of Common Parrots:
Parakeets
:
Budgerigar (Budgie)
Alexandrine Parakeet
African Ringneck
Indian Ringneck
Monk Parakeet (Quaker Parrot)
Parrotlets
:
Mexican Parrotlet
Green Rumped Parrotlet
Blue Winged Parrotlet
Spectacled Parrotlet
Dusky Billed Parrotlet
Pacific Parrotlet
Yellow Faced Parrotlet
Lovebirds:
Peach Faced Lovebird
Masked Lovebird
Fischer's Lovebird
Lilian's (Nyasa) Lovebird
Black Cheeked Lovebird
Madagascar Lovebird
Abyssinian Lovebird
Red Faced Lovebird
Swindern's Lovebird
Lories and Lorikeets
:
Rainbow Lorikeet
Conures
:
Sun Conure
Jenday Conure
Cherry Headed Conure
Blue Crowned Conure
Mitred Conure
Patagonian Conure
Green Cheeked Conure
Nanday Conure
Caiques:
Black Headed Caique
White Bellied Caique
Poicephalus Parrots
:
Senegal Parrot
Meyer's Parrot
Red Bellied Parrot
Brown Headed Parrot
Jardine's Parrot
Cape Parrot
Ruppell's Parrot
Eclectus
:
Eclectus Parrot
African Greys:
Congo African Grey (CAG)
Timneh African Grey (TAG)
Amazons:
Blue Fronted Amazon
Yellow Naped Amazon
Yellow Headed Amazon
Orange Winged Amazon
Yellow Crowned Amazon
Cockatoos:
Cockatiel
Galah (Rose Breasted) Cockatoo
Sulphur Crested Cockatoo
Umbrella Cockatoo
Moluccan Cockatoo
Bare Eyed Cockatoo
Goffin's Cockatoo
Macaws
:
Red Shouldered (Hahn's) Macaw
Severe Macaw
Blue And Gold Macaw
Blue Throated Macaw
Military Macaw
Red Fronted Macaw
Scarlet Macaw
Green Winged Macaw
Hyacinth Macaw
Glossary of Common Parrot Terms
| | | |
| --- | --- | --- |
| | | Thursday November 27th, 2014 |
Happy Thanksgiving! In the spirit of giving thanks, I would like to announce Ginger's Parrots the Movie. It's about Ginger and the Cockatiels and Senegals in her rescue. This is a great time to show your appreciation for the work that she does with the birds and for raising the bar for the concept of parrot rescue.

Please make a donation to the 501c3 rescue to support the birds and get a free copy of the Ginger's Parrots DVD. It's a 76 minute movie about the day in the life of this small private rescue. Follow Ginger as she takes care of the Senegals, Cockatiels, and other animals that she rescues. See how much goes into giving these creatures the high quality care they deserve. Check out the trailer and please make a donation from the rescue's page to get your free DVD.


| | | |
| --- | --- | --- |
| | | Wednesday October 22nd, 2014 |
There's no such thing as a free parrot. I get offered other people's parrots for free all the time and yet I do not accept them. People who offer will look at me in shock and think I'm crazy to turn down a $500 (retail) bird for free. The thing is, I don't see pets the way they do. To me, they are a part of the family and will cost a lot in terms of time and money to take care of. I don't want to have more than I can afford.

Now when it comes to the "price" of a parrot, the price up front is really a tiny part of the overall cost of owning a parrot. The costs of ownership far outweigh the acquisition costs of any parrot, including one from a store. Costs of keeping a parrot include vet bills, cage, food, perches, toys, cleaning supplies, house modifications (like bird proofing), and replacement of personal possessions destroyed by the bird. This does not even include the cost of educating yourself about parrot ownership because this will vary for people.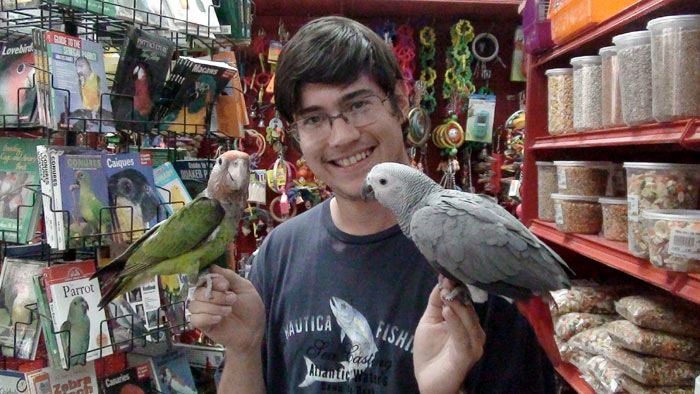 Walking around any bird store or rescue, I've been finding that the tameness of available birds is not much different. You'd be lucky to find a bird store where even 1/4 of the available birds are tame to the point of just stepping up on your hand.The ratio isn't much worse at a rescue.

Now when it comes to rehoming a parrot, I want to point out why you should never give it away for free (unless you personally know who the bird is going to). There are plenty of cases where con artists take free birds that they get and then sell them to make a profit. If you give away or sell a bird for less than the baseline market price for it, there is the possibility of it being resold for a profit. Who's hands it ends up then is entirely uncontrolled. Sometimes, an even worse fate awaits "free" birds being given away (especially budgies). Owners of snakes or other exotic pets will take free parrots and use them to live feed their exotics. Some might argue that it's the circle of life and natural. But there is nothing natural about being cornered in a glass aquarium with no chance of escape.

Because people get overly fixated on the price of exotic parrots, they become shortsighted about the far greater costs of keeping them. Giving away a parrot for free or for too cheap, gives the false impression that this is not only a worthless creature but also that it is easy to afford. Given the high expense of specialized products like food, perches, and toys to keep a parrot healthy, it is unreasonable to keep one on an extremely tight budget. While other types of pets may handle depravity better, parrots are known to self mutilate and develop major problems when void of adequate care and supplies.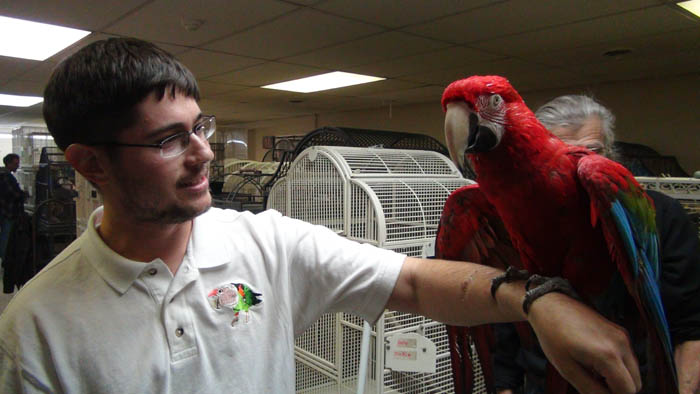 Although there are many good reasons to acquire a parrot from a rescue, being cheap is not one of them. If a certain species of parrot will cost $1,500 at a store or $500 at a rescue, in the grand scheme of things, this is a negligible difference in cost and should not play a role in which to get. The initial vet visit can easily run $500-$1000 when done properly. A cage will be $500-$1000 either way. And on a parrot of that size, toy can easily expect to spend $1,500 every year thereafter for basic supplies to do an adequate job of caring for that bird. Even if kept for just 10 years at a cost of $1,500 per year, the total of $15,000 dwarfs the $1,000 saved by going to a rescue.

The adoption fee, price, or what have you of a parrot helps to establish a baseline cost of keeping such a creature. It also ensures the pay-worthiness of the adopter/buyer to being able to pay the costs of keeping the animal in the future. A parrot given away for free can easily get passed around by people because they have no financial or emotional investment so it is important to always include a reasonable rehome/adoption fee whether you need the money or not. Better still, find information, do training, and find ways to keep your parrot in the first place without the need to give it away. Just remember, there's no such thing as a free parrot. It will always involve a lost of cost and time to keep these creatures successfully.


| | | |
| --- | --- | --- |
| | | Wednesday August 27th, 2014 |
It has now been about eight months since Santina's adoption and things are going splendidly. She has taken to her new living conditions, diet, cohabitants, training, and fits right into the trained parrot family. In just a few months, the 14 year old rescue macaw has been changing many people's perceptions of what a rescue bird can be.

I hope Santina can serve as an example and a role model in the adoption of rescue parrots. On one hand, may she show that even "second hand" birds are worthy of care and love. But on the other hand, she serves to show what a training minded approach can achieve. Without teaching her a single "trick," I have been able to tame Santina and build a relationship as well as the cooperation that is necessary to be able to keep this pet.

Kili came from a store, Truman from a breeder, and Santina from a rescue. Not only do I frequently speak to owners of parrots from these differing sources but even my own birds come from each. So I know what these are all like. Ultimately what I have found is that it doesn't matter where you get your parrot, what matters is what you do with it.




The myth that you have to get a parrot as a baby so that it would like you is downright untrue. All you have to do is visit a rescue to see all the adolescent parrots that were relinquished because the owner couldn't get along with it. This has nothing to do with the bird and all to do with the owner not taking the time to teach, train, and take proper care. On the other hand, there are plenty of people who have adopted parrots from rescues and had tremendous success with parrots that even as babies couldn't develop a relationship with their owner. What this goes to show is that it is not about age or source but what you can do with the bird.

The best reason to adopt a parrot from a rescue is not out of sympathy. Many rescues and people will try to convince you that you should adopt/rescue because you feel bad for the bird. The problem with this approach is that it is very shortsighted. At first, there certainly is the temptation to save a living creature from a bad situation. But in the long term this will wear off and there will be infinitely more parrots that need rescuing. So while compassion should play a role, it is not a good reason to adopt.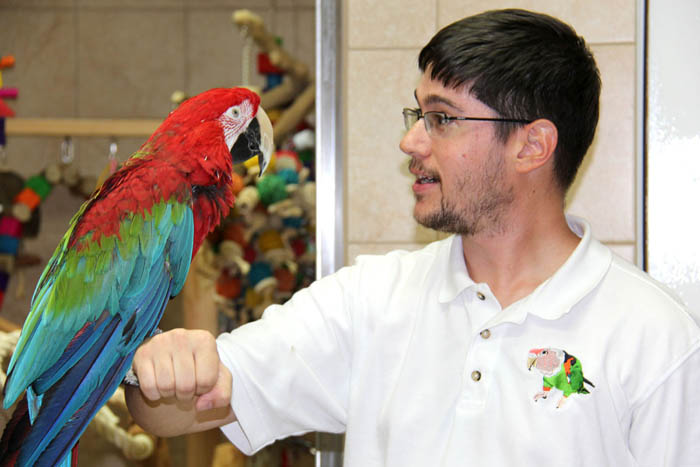 In reality, the best reason to adopt a parrot is because you and the bird will have the freedom of choice. Unlike the arranged marriage of "buying a baby" - where the grown adult personality is not yet known – when you visit and mutually choose an adult parrot, what you see is what you get. Adoption allows you to see the adult parrot as it is and likely will remain (at least in general, a lot of behavior can be shaped with training but personality won't change). If you like the parrot and the parrot likes you, you've really got a good shot with this bird. On the other hand, a baby's allegiance may drift with time as it matures.

Having one of each, a parrot from a store, breeder, and rescue, I have come to realize that it makes far less difference where you get the bird from and that it all comes down to the training and relationship you develop. Thus I encourage anyone looking for their first or another parrot to consider adopting. Check out my book to learn about my complete parrot owning approach that has worked on all three of my parrots regardless of their source.




To promote rescue and awareness of how wonderful rescue birds can be, I made this video. I hope you enjoy and share it with everyone you know. It is not only important that people know that there are rescue birds that need help/adoption but also that they can become absolutely wonderful pets and deserve a chance.

Here is your chance to help a rescue parrot find its roar. To help the rescue cause and get the word out there, I am running a contest along with this video. Simply nominate your favorite rescues in the video comments (on youtube). When the video exceeds one million views, I will be holding a random drawing to select a rescue from the comments to receive $1,000.00. There will also be a second and third prize of wizard merchandise for rescues as well. Second prize is 3x 25lb bags Roudybush pellets (small, medium, and large). Third prize is a Parrot Wizard Gift Set.

I also have some prizes for participants as well! Another set of drawings will take place along with the rescue drawing. Viewers who nominate rescues will be eligible for a first prize of a Parrot Training Perch Kit, second prize Parrot Wizard Gift Set, third prize a signed copy of the Parrot Wizard's Guide to Well-Behaved Parrots.

Briefly, here are the contest conditions. Viewers can nominate as many parrot rescues as they would like in the video comments, one comment per rescue. First put the name of the rescue and then below you are welcome to talk a little about the rescue. What you say about the rescue won't affect its chances of winning but may help encourage other readers to donate or rescue from there. Please no spamming. Genuine nomination of many rescues is encouraged but if you post the same rescue over and over again, youtube will automatically block it as spam. Only US based Parrot rescues are eligible for the contest. For the cash prize, only a 501c3 non-profit rescue is eligible. For the other prizes, they only need to be a verifiable parrot rescue that accepts donations and adopts out parrots (even if unofficially). Random drawings will be held consecutively until an eligible winner is drawn. For the participant prizes, the participant simply needs to nominate an eligible rescue for their comment to count as a raffle ticket toward the random prize drawings. Free-shipping to US based participants only. Participants from outside the US are welcome to receive their prize if they pay the international shipping costs. When Santina's video roars for the millionth view, the drawings will be held to celebrate so much exposure for parrot rescue.

Nominated rescues will be added to a list at the back of the video and on this page to help viewers learn about all the local adoption options and where to donate! Help rescues win, and I'm not talking just about prizes but about awareness and donations, by sharing and spreading the word.

Watch Santina's Roar video and then help another rescue parrot find its roar by:

1) Comment, Like, and Share Santina's Roar Video
2) Donate to a parrot rescue
3) Adopt a rescue parrot


A little over a week ago I took Santina outside wearing a harness for the very first time. In fact, it was the same day that Kili & Truman went to Coney Island for the first time. In the morning I took Santina for a short walk around my neighborhood and then later that afternoon I took her to the park. Throughout the week I alternated walking local streets and taking her to the park.

At first Santina was a little nervous, but nothing terrible. At least not for her. For me, a nervous Santina is very painful because she has a killer grip on my arm. The more nervous she gets, the tighter she chokes my arm! A bird of that size can leave quite the scratches and bruises with just its feet! But as I continued taking Santina out, she became more and more relaxed and my arms suffered less for it!

By the second Sunday, one week since her first outing, I was able to take her to the park and have an easy time with her. Here are some photos and video of that adventure.






Only a few days since Santina's park outing, I decided that it was time to take her to Coney Island. It was just the perfect opportunity. The weather and temperature were perfect, it was a week day so the boardwalk wouldn't be too crowded, and a friend of mine already happened to be there and could help out. My biggest concern was not Santina freaking out but someone trying to touch her and getting bit! Having extra eyes on her would be helpful as well as burly individuals to socialize her on.

Well in the two hours Santina spent at Coney Island, she made a year's worth of socialization progress. She went from trying to bite others and refusing to step up to being calm and having a great time. I was even able to put her on people's arms to pose for pictures and she spent over 15 minutes on my friend's arm. She had a fantastic time and came out a more social bird at the end of it. Check out the photos and video of Santina's Coney Island adventure.


I took Santina to the vet for her first checkup. Whenever taking in a new bird, it is important to have it checked by an avian vet. But when adopting from a rescue or other bird-crowded place it is even more important because the potential for communicable diseases is greater. In fact, many rescues require that you take the adopted parrot to the vet within a certain period.

During the first week and a half I've had Santina, all training efforts were focused toward preparing Santina for this vet visit. I knew a visit to the vet would be inevitable and I preferred it to be sooner than later for the peace of mind knowing she is healthy or dealing with issues as they come. However, I do not believe in manhandling parrots or traumatizing them. The phrase "it's better someone else groom the bird so it hates them instead of you" is a load of baloney. The parrot shouldn't be put in the position of hating anyone. These traumatizing experiences on the parrot come back to bite the owner. If not directly, then through the parrot's distrust of all other people.

Shortly after acquiring Santina, I called the clinic and pre-arranged all the tests that we'd be doing. I wanted the first visit to go as smoothly as possible and did not want to be spending time with the bird there discussing tests or prices. By having a list arranged in advance, it would cut the bird's exposure time significantly. I decided to go full board and get most tests done because it is my obligation to ensure that Kili & Truman are not infected by an outsider. I requested the physical exam, CBC blood panel, Chlamydia test, PDD test, and XRays. The XRays aren't mandatory but they are good for establishing a baseline on a new older bird. Perhaps it swallowed something, has a tumor, enlarged liver, calcium seepage, punctured air sack, etc. It's better to know up front. I would be much less concerned about an XRay on a baby.

I knew that Santina is carrier-phobic from the rescue, so I established a backup plan with the vet. Since I knew she steps up but doesn't go in carriers, my worst case scenario plan was to bring her loose in the car and have the towel her while still inside and bring her in. Since they would have to towel her inside or out, that would make little difference. Having this plan in place took all the pressure off of me to carrier train her and allowed me to focus on that task.




In the first few days, I noticed that walking around the room with Santina, so much as going near the carrier would send her into a panic. She would jump off my arm or run up my shoulder out of fear of being shoved into the crate. Thus my first task was desensitizing her to the carrier. I intentionally did not hide it. But I did leave it at the furthest corner of the grand bird room. Santina would be exposed to the sight of it from her smaller cage room and even more so whenever I took her out.



Then I proceeded to teach Santina to climb insider herself. I realized she began to really like the carrier when I put her in for a walnut and she didn't want to come back out. From that point I've been able to just put her in or take her out as needed. Thus I had no trouble loading her up to go to the vet for her checkup.



Lorelei, the chief nurse and office manager came out to get Santina out of the car. She was shocked to find that a week since we talked, the bird was safely in the carrier and did not need to be grabbed out of the car. Santina stepped up for Lorelei and allowed her to handle her. This all changed with the towel came into play so toweling is something we'll need to work on. Lorelei has a great feel for handling birds and is the main reason I take them to the Center for Avian and Exotic Medicine. I am not bringing my pets to the clinic to be tortured. It is really important for me to know that they are in good hands and will receive not only a good health evaluation but also proper handling. Lorelei treats animals with respect and dignity and that's why they in turn like her.




The vet performed a physical examination of Santina and asked some questions. Then they brought Santina down to the lab and proceeded to perform some Xrays. I won't get into much detail about how they perform the process. I videoed it for those who are interested in the behind-the-scenes of how a bird is Xrayed and tested. When the anesthetics began to wear off, Santina looked like she was drunk. She wobbled around on the floor but walked toward me for safety. I picked her up and held her but also made sure that she'd go back to Lorelei and make up. I stayed at the center for another forty minutes to let Santina come to her senses but also to show her that being at the vet is not all bad. Less than half the time she spent in the clinic was discomforting so she has less reason to hate it than if she were brought in, handled, and then immediately taken out.






Santina had no problem stepping back into the carrier for me. In fact I think she was relieved to go in. And that concluded Santina's first vet checkup. I'm still waiting for the test results but on xray and physical examination she appears to be healthy.