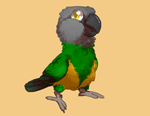 Kili
Type: Senegal Parrot
Genus: Poicephalus
Species: Senegalus
Subspecies: Mesotypus
Sex: Female
Weight: 120 grams
Height: 9 inches
Age: 11 years, 2 months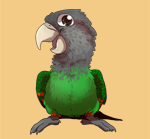 Truman
Type: Cape Parrot
Genus: Poicephalus
Species:Robustus
Subspecies: Fuscicollis
Sex: Male
Weight: 330 grams
Height: 13 inches
Age: 9 years, 5 months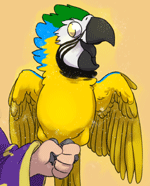 Rachel
Type: Blue & Gold Macaw
Genus: Ara
Species:ararauna
Sex: Female
Weight: 850 grams
Height: 26 inches
Age: 7 years, 2 months

List of Common Parrots:
Parakeets
:
Budgerigar (Budgie)
Alexandrine Parakeet
African Ringneck
Indian Ringneck
Monk Parakeet (Quaker Parrot)
Parrotlets
:
Mexican Parrotlet
Green Rumped Parrotlet
Blue Winged Parrotlet
Spectacled Parrotlet
Dusky Billed Parrotlet
Pacific Parrotlet
Yellow Faced Parrotlet
Lovebirds:
Peach Faced Lovebird
Masked Lovebird
Fischer's Lovebird
Lilian's (Nyasa) Lovebird
Black Cheeked Lovebird
Madagascar Lovebird
Abyssinian Lovebird
Red Faced Lovebird
Swindern's Lovebird
Lories and Lorikeets
:
Rainbow Lorikeet
Conures
:
Sun Conure
Jenday Conure
Cherry Headed Conure
Blue Crowned Conure
Mitred Conure
Patagonian Conure
Green Cheeked Conure
Nanday Conure
Caiques:
Black Headed Caique
White Bellied Caique
Poicephalus Parrots
:
Senegal Parrot
Meyer's Parrot
Red Bellied Parrot
Brown Headed Parrot
Jardine's Parrot
Cape Parrot
Ruppell's Parrot
Eclectus
:
Eclectus Parrot
African Greys:
Congo African Grey (CAG)
Timneh African Grey (TAG)
Amazons:
Blue Fronted Amazon
Yellow Naped Amazon
Yellow Headed Amazon
Orange Winged Amazon
Yellow Crowned Amazon
Cockatoos:
Cockatiel
Galah (Rose Breasted) Cockatoo
Sulphur Crested Cockatoo
Umbrella Cockatoo
Moluccan Cockatoo
Bare Eyed Cockatoo
Goffin's Cockatoo
Macaws
:
Red Shouldered (Hahn's) Macaw
Severe Macaw
Blue And Gold Macaw
Blue Throated Macaw
Military Macaw
Red Fronted Macaw
Scarlet Macaw
Green Winged Macaw
Hyacinth Macaw
When I was visiting Arizona for my seminar, I spent a lot of time with Ginger and her flock. Her living room is full of foraging trees for her expansive flock of rescue parrots. She has a large climbing tree that she custom built for her Congo African Grey Parrot, Ozzy. On several occasions I let Truman loose on this tree (while its occupant wasn't around) and he was absolutely thrilled. He was just climbing all around and checking the different toys out. I'd never seen him get more excited about a playstand. Since it was built for an African Grey, it was the perfect size for a Cape Parrot. Truman navigated his way through the expanse of branches and found toys that he was able to snap with ease.

Toward the end of my stay we had my birds and her (clipped) birds out at the same time. I put Kili and Truman on an unoccupied stand while the other birds were out. Truman was getting bored so he flew over to a seemingly unoccupied tree. However, its Senegal Parrot occupant came charging at him with open beak! It didn't take long for Truman to realize that not only was he unwelcome but that his assailant looked a heck of a lot like the one back home that kicks his butt. He flew off in the nick of time and headed for his favorite tree in the house, Ozzy's. Little did he know, however, Ozzy was actually out on his tree. Truman landed on the tree not far from Ozzy and the two Psittacinae came face to face for the first time.


Ozzy the African Grey on his custom built tree


The stand off ensued. Truman was like "who are you?" Ozzy was even more shocked, "I cannot believe you are on my tree. Don't you know this is my tree? What are you doing here?" For a while the two parrots stood dumbfounded, waiting for the other to make the first move. Eventually, Truman in his playful nature went for a toy and proceeded to play. Ozzy, still staring in disbelief at this uninvited stranger was unsure whether to attack or flee. Truman saw a toy near Ozzy and began walking toward it. Ozzy got a bit defensive and flashed his hooked bill in warning and Truman demonstrated his. In a moment it was all over and Ozzy retreated to a sulking corner of the tree while Truman roamed freely from toy to toy as he wished. This was the first and only time Truman won a fight. He is used to being bullied by Kili but here he did not even have to fight. The skittish Grey yielded his beloved tree to the uninvited guest with a bowie knife for a beak.

Thus I was persuaded to seek a bigger tree back home for Truman. I never bothered buying a large tree for him because at first I did not want it to block of his flight space but later because I got an aviary for him to spend time outside. Kili and Truman each had their own little table top tree at home but never gave much mind to them. One of the benefits of a larger tree that I learned from Ginger is that you can hang swings from them.

I spent some time searching for a ready to go Java tree. But not only are they very expensive, but none are perfect. Since they are all natural trees, there are a multitude of compromises in each. The thickness of the branches, the spacing between branches, the overhang of branches to hang toys from, and the size/shape of it all play major roles. However, after looking at dozens of trees, I realized that the only way to have one the ideal size, shape, and thrill for Truman, would be to engineer it myself. Thanks to Ginger, I realized that building a custom tree is a possibility.

I bought a variety of Java branches meant for mounting in the cage, some swings, and new toys. I also bought a cheap coffee table to mount this tree on to get it elevated without the cost of more branches. From the moment I was picking the branches, I was seeking ones that would be able to join together well. Deciding which branches would connect to other ones posed the biggest challenge. I had to find ends that would mate with the limbs of other branches and align it so higher branches could serve as toy hangars for lower ones. The tree also had to fit a specific contour of the space I had set aside for it.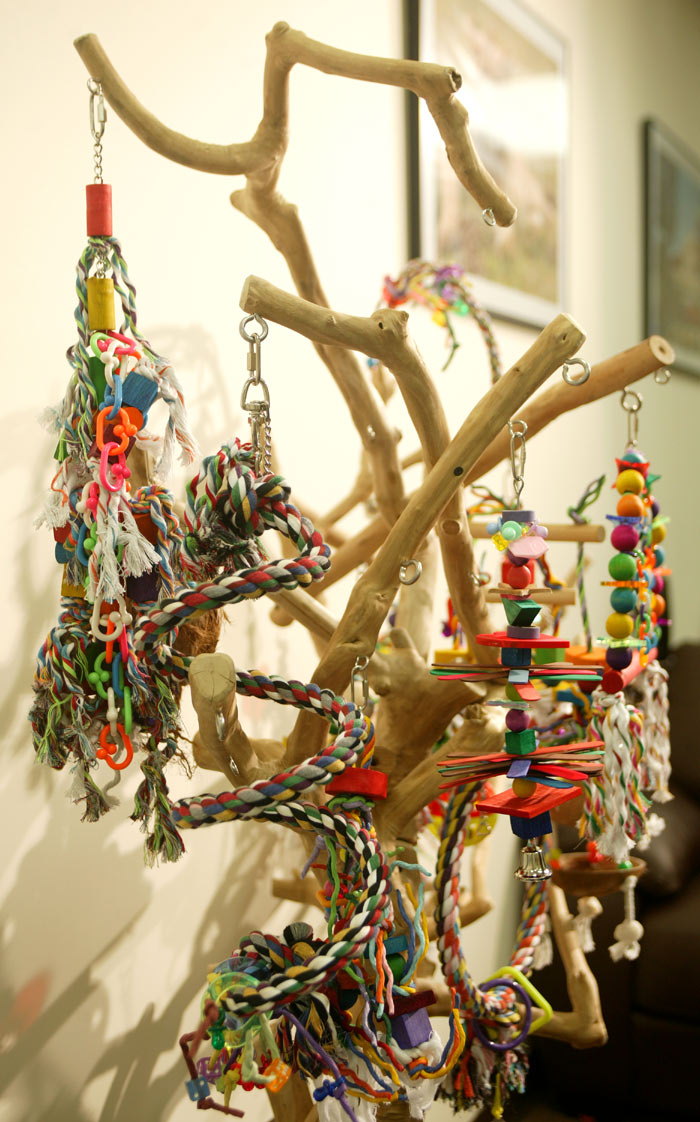 Unlike most trees/stands for sale, I bolted an extensive series of stainless steel eye screws throughout the tree. This stand was engineered from start to finish to be a parrot dreamhouse. Large eye hooks suitable for mounting entire swings were factored into the original design. The tree was partly built in my workshop but then had to be completed on location because it would not fit through the door. What was extremely difficult was that I could not build further branches until prior ones were mounted but I needed to see the prior ones to know where the further ones would end up. So there was a lot of back and forth work assembling and disassembling the tree in order to be able to put everything together.

It took the greater part of a day to complete assembly of this deluxe custom built foraging empire. 4 swings and 11 toys completed the expansive mosaic of climbing locations for the parrots. Unlike the random branching of natural foraging trees, this one is layered in a way that guarantees the parrot can access every level. If Truman can't get to a specific branch from another, he can always climb up a toy or swing to get there. This may not be a huge tree, but it's highly accessible and efficient.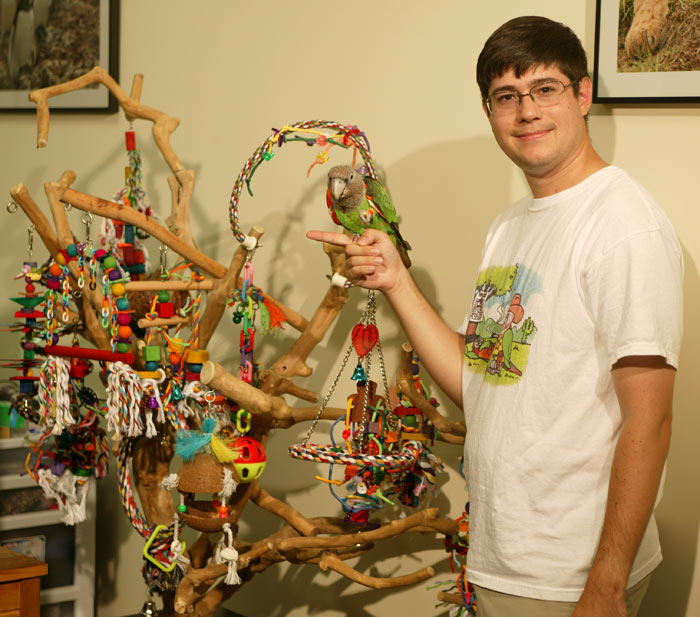 This morning I took Truman out to see his tree for the first time. He was like a little boy on Christmas morning. He ran around from perch to perch to try each toy. His eyes were running wild and he couldn't decide what part he wanted to play with first. Ironically he laid greatest preference to the two cheap toys I built for him myself rather than all the ones I paid good money for.

Kili was a bit weary of jumping straight on the tree at first. She watched from a safe distance but later decided to join. I put her on a perch at a distance from Truman and she proceeded to check things out as well. The tree is big enough and convoluted enough that the birds can play at opposite ends without the proximity to fight. Kili preferred some of the thinner swings and rope perches while Truman searched for tougher things to destroy.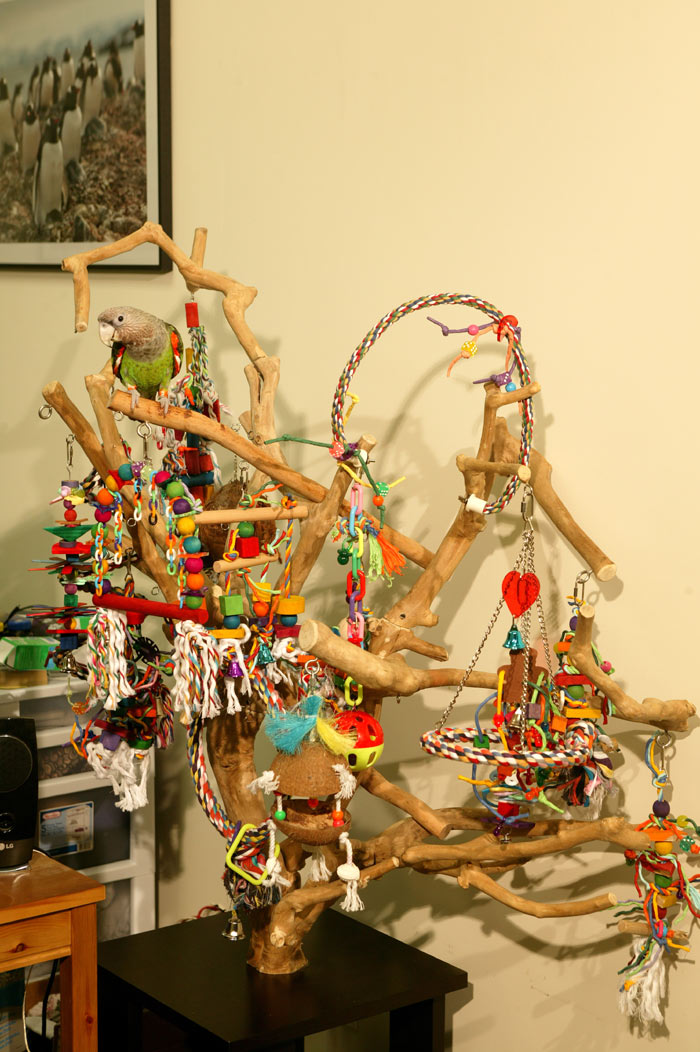 Now with this homebuilt parrot amusement park I am hoping to be able to leave Truman out for longer spans of time. In the past I would inevitably have to put him away because he'd get into too much mischief. By concentrating everything a playful parrot could want on one tree, it will hopefully contain his attention for more time. Today he has spent hours playing and napping in his tree while I took care of other things. Yet, despite his expansive fun house, he still flew over to me from time to time to cuddle. This is an important balance. Truman is able to spend hours having fun independently, yet remains a cuddly people friendly bird.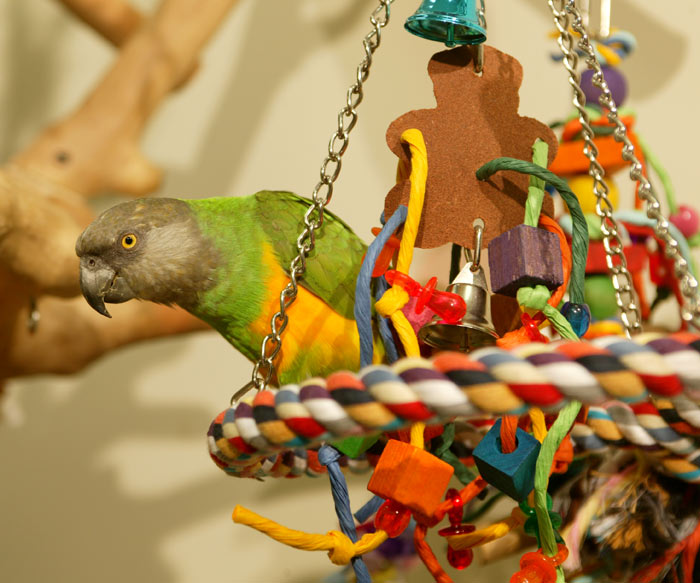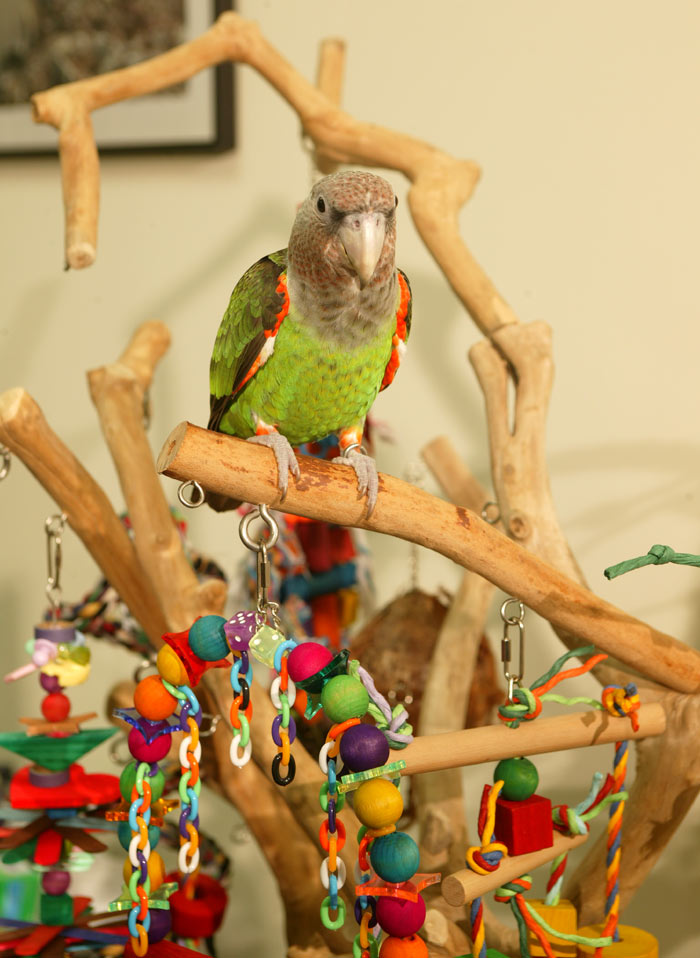 After visiting Ginger's flock, rescues, and parrot stores on my Phoenix trip, I realized the pressing need for affordable parrot trees. With my experience building training perches, trees, and toys I intend to launch a new line of practical, affordable, quality parrot play stands with the busy parrot in mind. Stay tuned for an announcement about this new line of stands on the Parrot Wizard website. In the meantime, enjoy this video of Kili & Truman in their new custom built climbing tree:


| | | |
| --- | --- | --- |
| | | Thursday April 26th, 2012 |
If you recall my trip to southeast Asia, you'll remember that I brought back a bunch of really cool parrot coins that I picked up in Indonesia. After a little clean up and product development work, I now have an awesome gift set for parrot owners.

Until now, everything I've sold on the Parrot Wizard Store website was specifically meant for parrots. However, now for the first time I have an item that is specifically for parrot owners. This is a gorgeous 100 Rupiah Palm Cockatoo Coin from Indonesia. The coin demonstrates the country's pride in providing a native home for the majestic Palm Cockatoo which inhabits Indonesia in New Guinea.

I encapsulated the coin in a clear plastic capsule for protection and then put this inside a stylish leatherette gift case. But this set features more than just a coin. Parrot artwork decorates the box and certificate inside which explains the origins of the coin as well as some facts about the Palm Cockatoo. But that's not all. 10% of every sale of this coin will be shared with the World Parrot Trust to promote conservation of endangered parrot populations. It is most suitable that some of the proceeds from the Palm Cockatoo Coin go to the World Parrot Trust which embodies the Palm Cockatoo as its logo mascot.



This Palm Cockatoo Gift Set makes a great gift for any parrot lover. I'm sure any parrot owner would appreciate the conservation contribution as much as the excitement of having a coin with a parrot on it! So go ahead and order the Palm Cockatoo Coin for yourself, parrot owning friends, or as a gift for someone in your family that loves parrots.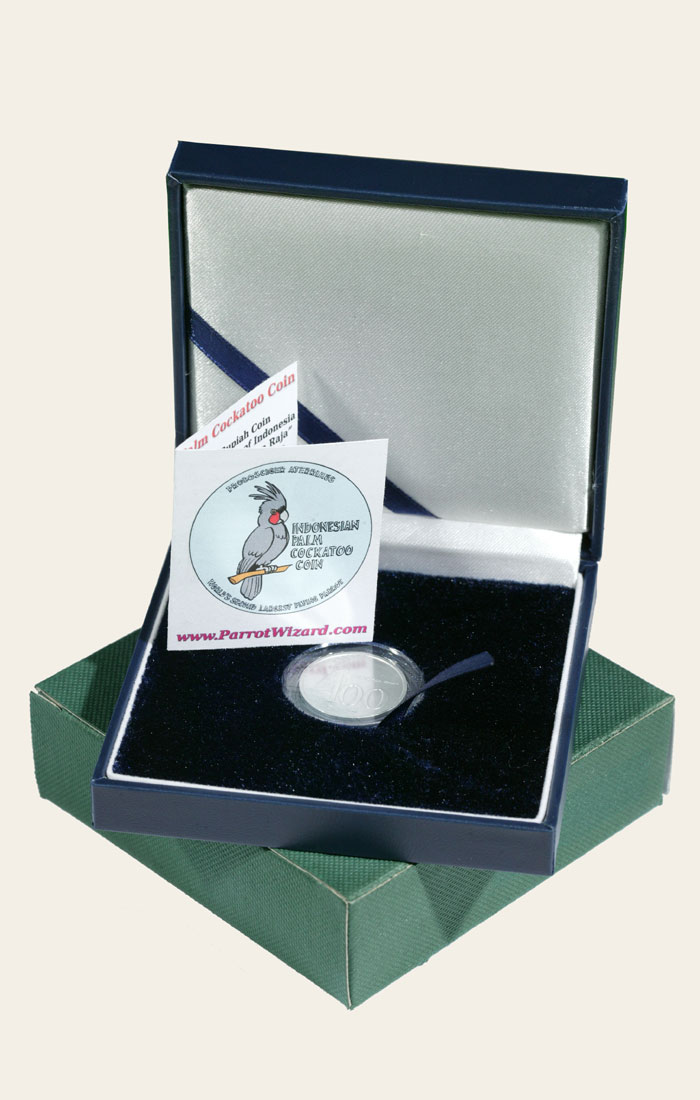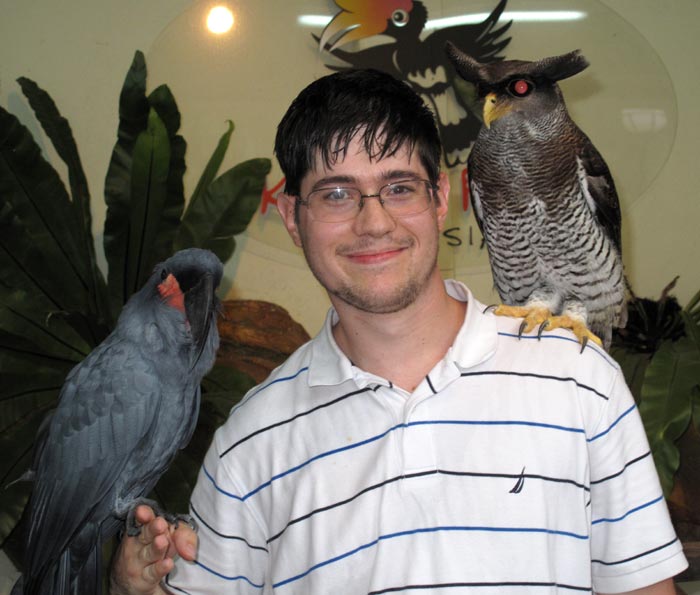 Keep in mind that it pays to order multiple items when shopping the Parrot Wizard website. Shipping on most items is $3.49 for the first item you buy but then just $1.75 for any additional items. So buy a coin for yourself and another for a friend. Or better yet, get a toy for your parrot too while you're at it! For more pictures/details about the coin and to place an order, visit the product page:

http://ParrotWizard.com/Coin

International shipping will be available for just $5.00 USD more than the standard US listed price. If you're interested in ordering this from outside the US, contact me directly on the Parrot Wizard Website. For any kind of bulk or special request orders, just contact me and I'll see what we can do. Here's a promotional video of Kili and Truman helping me feature the coin.


I haven't made a new toy in a while so Kili and Truman were especially excited about the new Popsicle Paradise toy. For nearly an entire minute they put aside their differences checking out the toy together before getting in a fight over who'd get to play with it first. Of course Kili was the one left standing but I let them try it in turns.

The Popsicle Paradise toy is not only great for small parrots and parakeets but also for any parrot that isn't into toys. The pieces are easy enough to break that it is encouraging to any parrot. Yet there are so many pieces and the structure is durable enough that it will keep them busy for a long time and provide hours of chewing pleasure. I don't want to downplay my previous toy designs, but I think this is probably the best one yet. The color combinations and poofy design should as much appeal to owners as parrots themselves.

I'm good at coming up with toys for parrots because I can get feedback directly from my guys about whether they like it or not. But whether or not it appeals to owners to actually buy them is a whole other story. Hopefully this one will be a big success with everyone. So consider buying a Popsicle Paradise Toy for your parrot:

ParrotWizard.com/Popsicle_Paradise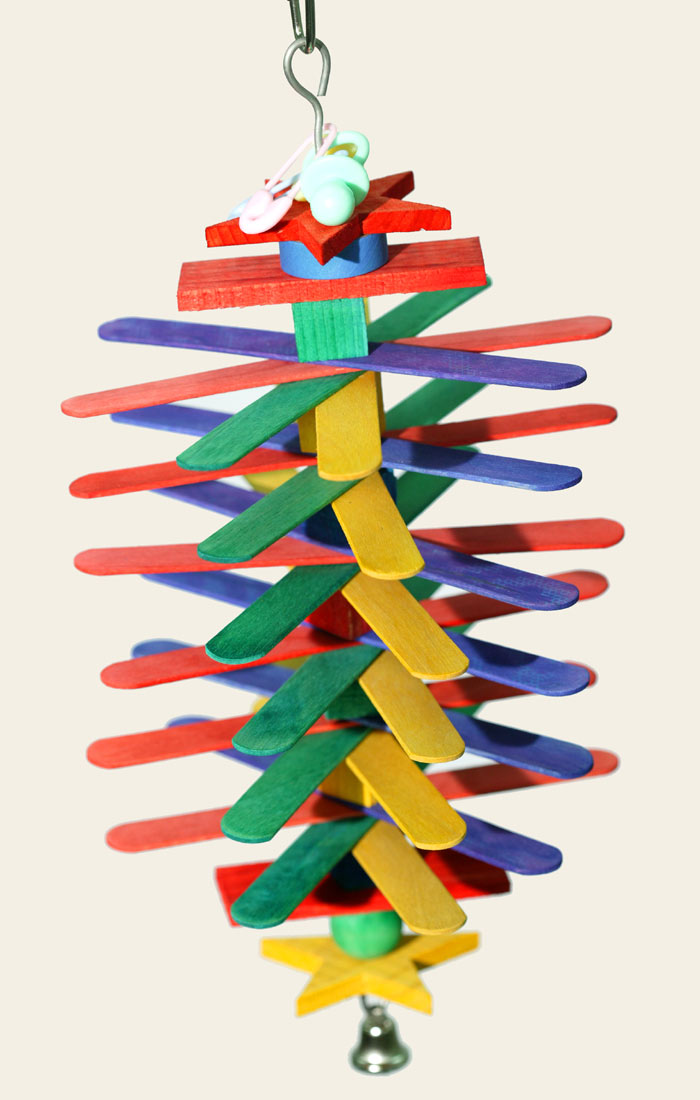 | | | |
| --- | --- | --- |
| | | Thursday February 2nd, 2012 |
Truman is really looking forward to the Superbowl now that he thinks he's a star quarterback. Not only is he good at passing the ball around by flinging it with his beak, he can also hold the ball for kicking a field goal. Check out these photos, cartoon, and video of my Cape Parrot playing with his football!

Then Truman becomes the football himself! He's just about the right size come to think of it. I can play the role of both quaterback and receiver! We started playing a game with Truman where I hold him like a football and throw him and he turns around and comes back to me. Originally this started out as me just trying to get rid of him when he was being annoying not letting me get things done but he'd just turn around and come back to keep bugging me. But then we realized the trick potential and I began encouraging these boomerang flights with treats.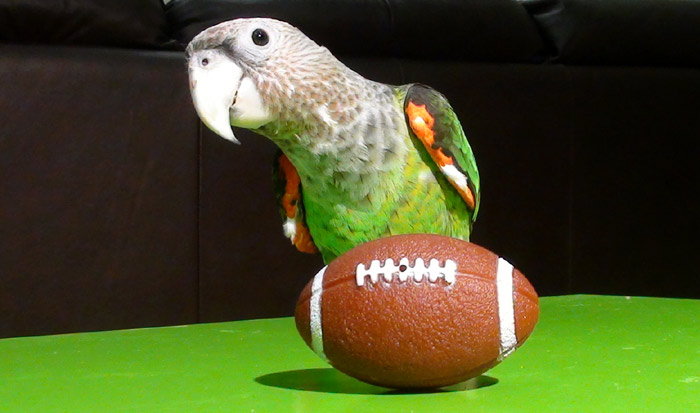 Truman the Cape Parrot lining up to play some football. Set...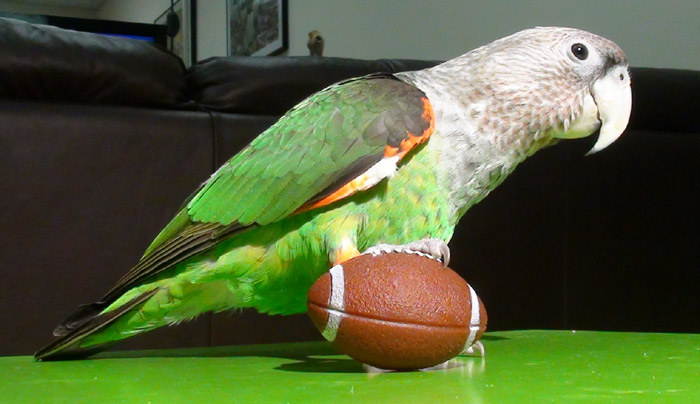 ...Hut! Truman snaps the football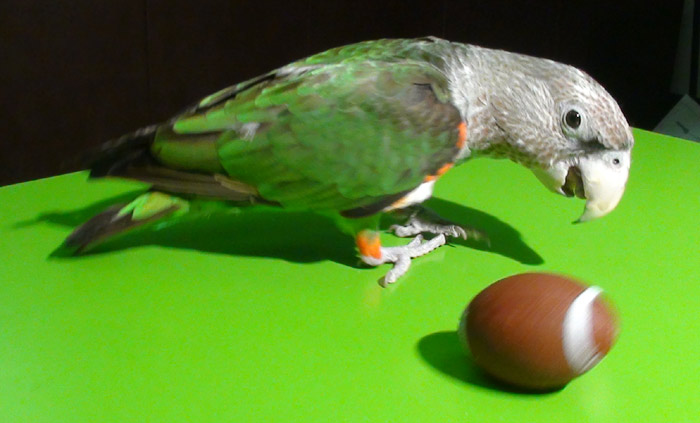 It's a fumble! Quick, recover the ball!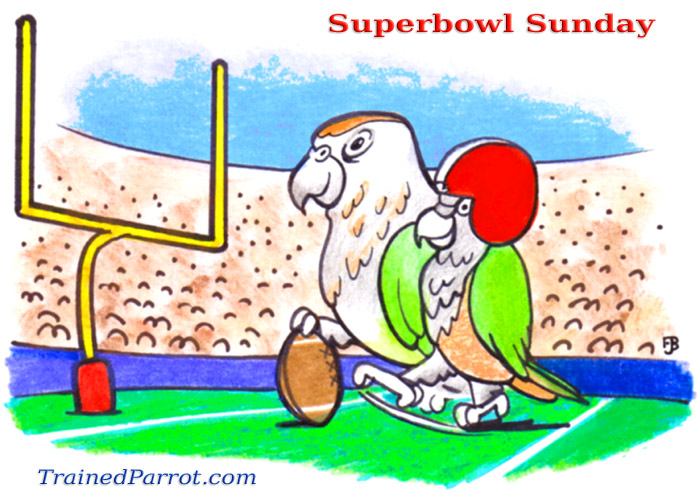 Ok, let's play it safe and go for the field goal! Cartoon of parrots kicking a field goal.
| | | |
| --- | --- | --- |
| | | Wednesday February 1st, 2012 |
I heard that February is National Pet Dental Health Month so I bought a toothbrush for Kili and Truman to brush their beaks with. I knew that Kili wouldn't care but that Truman would go bonkers for it. I took Truman to the pharmacy with me and picked out the cheapest/simplest toothbrush they had. Truman was already wide eyed over the selection so you can only imagine how he felt when he could get his beak on one!

I didn't even have to open the package, Truman lost no time figuring out this toy within a toy! With exquisite dexterity, Truman eagerly chewed the package open and got his prized toothbrush out. I showed Truman how to brush his beak but he grabbed the toothbrush away from me to do it his own way. He felt the bristles with his tongue and chewed the toothbrush from all sides. This must be the greatest one dollar parrot toy he has ever played with!