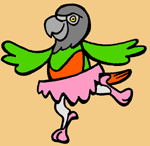 Kili
Type: Senegal Parrot
Genus: Poicephalus
Species: Senegalus
Subspecies: Mesotypus
Sex: Female
Weight: 120 grams
Height: 9 inches
Age: 10 years, 1 month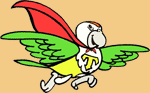 Truman
Type: Cape Parrot
Genus: Poicephalus
Species:Robustus
Subspecies: Fuscicollis
Sex: Male
Weight: 330 grams
Height: 13 inches
Age: 8 years, 4 months

List of Common Parrots:
Parakeets
:
Budgerigar (Budgie)
Alexandrine Parakeet
African Ringneck
Indian Ringneck
Monk Parakeet (Quaker Parrot)
Parrotlets
:
Mexican Parrotlet
Green Rumped Parrotlet
Blue Winged Parrotlet
Spectacled Parrotlet
Dusky Billed Parrotlet
Pacific Parrotlet
Yellow Faced Parrotlet
Lovebirds:
Peach Faced Lovebird
Masked Lovebird
Fischer's Lovebird
Lilian's (Nyasa) Lovebird
Black Cheeked Lovebird
Madagascar Lovebird
Abyssinian Lovebird
Red Faced Lovebird
Swindern's Lovebird
Lories and Lorikeets
:
Rainbow Lorikeet
Conures
:
Sun Conure
Jenday Conure
Cherry Headed Conure
Blue Crowned Conure
Mitred Conure
Patagonian Conure
Green Cheeked Conure
Nanday Conure
Caiques:
Black Headed Caique
White Bellied Caique
Poicephalus Parrots
:
Senegal Parrot
Meyer's Parrot
Red Bellied Parrot
Brown Headed Parrot
Jardine's Parrot
Cape Parrot
Ruppell's Parrot
Eclectus
:
Eclectus Parrot
African Greys:
Congo African Grey (CAG)
Timneh African Grey (TAG)
Amazons:
Blue Fronted Amazon
Yellow Naped Amazon
Yellow Headed Amazon
Orange Winged Amazon
Yellow Crowned Amazon
Cockatoos:
Cockatiel
Galah (Rose Breasted) Cockatoo
Sulphur Crested Cockatoo
Umbrella Cockatoo
Moluccan Cockatoo
Bare Eyed Cockatoo
Goffin's Cockatoo
Macaws
:
Red Shouldered (Hahn's) Macaw
Severe Macaw
Blue And Gold Macaw
Blue Throated Macaw
Military Macaw
Red Fronted Macaw
Scarlet Macaw
Green Winged Macaw
Hyacinth Macaw
| | | |
| --- | --- | --- |
| | | Wednesday April 2nd, 2014 |
Kili & Truman are moving to the new house where Santina has already been in quarantine. Now that Santina is clear of infection and moved to the big room, the smaller room - originally planned for cages - is now vacant. Having had a powder coat steel cage for Kili and aluminum Kings cage for Truman, I knew immediately what I'd be getting the birds at the new house.

After having Truman and his cage for 4 years, I continue to stand by the original review I did of the aluminum cage. It's expensive and it's not perfect. But it's the best cage for the money hands down. Powder coat cages just aren't sufficient in quality. Inevitably after a lot of use and washing, the coating comes off and they rust. Stainless steel cages are unbearably expensive. The aluminum cage is lighter in weight, easy to assemble, and overall good quality.

For the price, I think the aluminum cage line provides the best bang for the buck. At roughly double the price of a comparable powder coat cage, you get the benefit of non-corrosiveness that you can get from stainless steel at even twice more. As you folks probably know by now, I'm more value driven. I don't mind spending more but I hate spending more when I don't feel a sufficient benefit to justify the price. That's why I think a cage made from aluminum is the perfect compromise.

When you think about the long lifespan of a parrot and estimate the value you will get out of a cage, paying more up front for a cage makes more sense. Let's say the parrot will live 20+ years but the cage won't even make it that far. Depending on how bad you're willing to let the cage get before replacing it, I'd say it is reasonable to say that 5-10 years is realistic for the powder coat and 10-20 for the aluminum. Stainless might last even longer but if it's poor quality stainless it might not. Usually the hardware, hinges, food doors, etc will fail before the bars and the hassle will make the cage need replacement regardless. So if the aluminum cage can solidly last twice as long, at about twice the price it's a good deal. This is because you're getting a better cage with thicker bars during that time. There won't be any rust or chipping even when the cage begins to be less than desirable to keep.

Only one company makes aluminum parrot cages so there's no shopping around, Kings Cages. There is only one cage design to choose from but two sizes. I just call them the small aluminum cage and the big one. Kili is getting the small one which measures in at a sizable 25"x22"x45". This cage has 5/8" bar spacing and is great for Senegal Parrots, Conures, Cockatiels, Quakers, and other similar sized parrots. Considering that Kili is moving up from a 18x18x32 powder coat cage, it's an immediately obvious improvement. Back when I got Kili and that cage, I didn't know any better and until I was moving didn't find the chance to replace it. Truman on the other hand is getting a new version of the same cage he used to have as well. This one is 33"x25"x49" and makes a good sized cage for a Cape Parrot, Timneh Grey, Galah, or Smaller Amazon. I'm not sure if I would keep a CAG in this cage though. Maybe a smaller CAG yes but not the really big 600g ones.

The Aluminum Kings cages in 2 sizes come in 3 styles: standard, arch top, and play top. To me, all but the dometop are a waste of money. The playtop is expensive and not beneficial. Parrots will play on top of their cages with or without one and frankly a separate tree or stand is much better to have. The standard cage loses a lot of good living space without the archtop (playtop version included). For just a few $100 more and not a substantial amount in proportion to the main price, the living space is greatly expanded. There is a downside to the dometop though. Clumsy and baby birds can have trouble climbing around on it. When Truman was a baby he used to have trouble getting around and would fall off. But for agile adult birds this is no factor. It's also a bit of a pain trying to reach up and around to clean the dometop from inside.



I am handy with tools so the fact that the Kings Cage is so easy to put together plays little role. But, for most consumers this is a huge plus. It comes in just 8 pieces and all but the top two of the arch just snap together. The arch top connects with just 4 standard screws. Assembly is easy but you must pay attention that alignment is perfect or it won't come together. It only took 10 minutes to assemble the small cage by myself and then 10 minutes to assemble the big one with the help of my brother.

As I said in my first review, I don't like the wood dowels and plastic food cups.I immediately replace these with stainless steel cups and natural or NU Perches. The cage is actually a bit harder to clean than the powder coat one but not substantially enough to make it less worthy. The lighter weight and mobility make up for that. Another issue is plastic handles for the food doors can potentially be chewed off by any parrot. Most of the flaws are little nit picks and nuisances whereas the cage overall is solid, durable, and reliable.

So is it my dream cage? Does it have every feature/quality I'd want in a bird cage? No. But it is by far the best quality and value cage I have encountered and the one that I choose for my parrots Kili & Truman.


| | | |
| --- | --- | --- |
| | | Thursday January 16th, 2014 |
I haven't given much thought to what Kili & Truman prefer as treats in a long time. The initial process for discovering a bird's favorite treats involves offering variety and watching what order they eat things in. But it's been years since I've done that with these two and with time I've began to notice that it doesn't make much difference what I give them. They are always content with what they get.

During a lot of my training I use Roudybush pellets as rewards for flight recall and training because that's what my parrots normally consume and it's healthier for them than eating other stuff. By teaching them to work for pellets it has made their performance a lot more reliable. There is much less of the "well I would come to you for a sunflower seed but I think I'd rather pass if you've only got a safflower..." attitude when they know what they'll get but yet prefer it.

So now I put it to the test, after years of healthy eating habits with uncolored Roudybush Maintenance pellets as the staple of their diet, what do Kili & Truman prefer when given the choice?




10 for 10 Kili picked Roudybush pellets over sunflower seeds. Truman was 8 for 10 on this trial run but anecdotally prefers pellets even more than Kili. I later discovered he was trying to outsmart me by grabbing the seed so he could get the pellet too so I don't really think it counts! Anecdotally I would say that I've noticed a 9/10 typical preference for the birds to take pellets over seeds. Once in a while they just like something different for fun or variety and that's perfectly normal. If pellets make up the dominant portion of their diet, this is absolutely considered to be more healthy by avian veterinarians.




if you think about it, the same holds true for people. People who are used to healthy eating can enjoy healthy food more and don't feel forced to eat right. I know when I am out and about and active a lot, I will sooner go for a healthy meal than junk food and it's the same with my birds. They exercise a lot and work hard and at the end of the day, they want what will sustain their bodies and not just some momentary pleasure at the expense of their long term health.

Santina has converted to Roudybush Pellets readily and predominantly gets pellets for training as well! I'm not certain she would qualify as well as Kili/Truman in a similar test but I can tell you she runs down her perch and jumps on my arm to get a pellet so we're definitely on the right track.

Interestingly the same results continued for pellets vs nuts as long as the nut wasn't bigger than the pellet. However, the birds will often go for a small piece of pellet over an average piece of nut or seed. Moral of the story is that parrots that are cared for using my method, choose healthy eating. If they are choosing healthy eating then we can be assured that they are content with the healthy food we are feeding them. Happiness and healthiness go hand in hand and are the basis of my approach. Learn how to give your parrot the Wizard's treatment from my book, The Parrot Wizard's Guide to Well-Behaved Parrots.


| | | |
| --- | --- | --- |
| | | Friday November 22nd, 2013 |
I hate cleaning cages. I'd much rather be spending my time training or hanging out with the birds. I don't actually mind the "ick" of cleaning poop so much as taking the time to do it. But it's a fact of life when it comes to bird ownership and something that must be done. This is why I am keen on good cleaning products that reduce the amount of time/effort I need to spend cleaning.

Recall my Must Have Cleaning Devices for the Parrot Owner article reviewing cleaning gadgets. Well in addition to good gadgets, you also need good cleaning supplies. Paper towels do just fine, but on a tight budget washable rags are a good idea. I find that dish soap and bleach work very well for a thorough cage cleaning, however, it smells awful and takes a long time to prepare. Worse yet bleach stains and requires gloves for use. I'm so worried about the fumes that I have to lock my parrots out in the stairway. There has to be a better way.

Since I got Truman's Cage from Kings Cages I was already familiar with the brand. I've been using a bunch of their products for a while now and one of them is the Royal Cage Cleaner spray. This spray makes cleaning a whole lot easier. I just spray it on and wait 5 minutes, come back before it dries, and wipe off with a wet paper towel.




Frankly, I prefer my steam cleaner because it is an entirely chemical free way to clean and sterilize the cage. The trouble is that it has a very narrow stream so it takes forever, especially when it's a wide spread mess. For hard to reach crevices like in the grooves of a perch, I'd definitely go with steam cleaner. But on cage bars, grates, and particularly seed catchers, the spray is awesome.

I tried a different cleaner before, don't remember the name, but it was a citrus based cleaner. It smelled good and is supposedly very safe but it would leave a lot of residue after cleaning. I like the Royal Cage Cleaner better because it has very little residue. Wiping with a wet paper towel once gets most of it and a little more effort and it's all gone.



For the absolute worst messes I use a combination of my steam cleaner and spray. First I spray the area to dissolve the poop. Then I wipe what I can and blast the rest out with the steam cleaner. Works like a charm. For spot cleaning, $10 for the spray is well worth it. One bottle lasts me about a year because I combine with the steam cleaner.

I have one bottle of free Royal Cage Cleaner to give away. The contest is very simple. Just leave a comment below or on the Trained Parrot Facebook page telling me about what you currently use for cleaning your parrot's cage. Contest ends midnight Tuesday November 26th and a winner will be chosen at random and announced Wednesday. The only restriction I have here is that free shipping is in the US only. International winner must pay international shipping or decline the prize and another winner will be selected. Winner to be selected from either comments section or facebook comments at random. Thanks for reading and participating.
The Parrot Wizard Pocket Perch has been a hit with owners of small parrots. Unfortunately it isn't so good for the bigger end of small parrots because they can easily tip it or jump off. So I set off to come up with a universal tabletop perch for most small to medium parrots and here it is, the Deluxe Tabletop NU Perch from Parrot Wizard.

It's a 10" wide, 3/4" diameter, 8" high T-Perch on a 12x12 base. It is suitable for all small to medium sized parrots including budgies, all parakeets, lovebirds, parrotlets, cockatiels, conures, caiques, poicephalus parrots, quakers, amazons, african greys, eclectus, mini-macaws, and small cockatoos.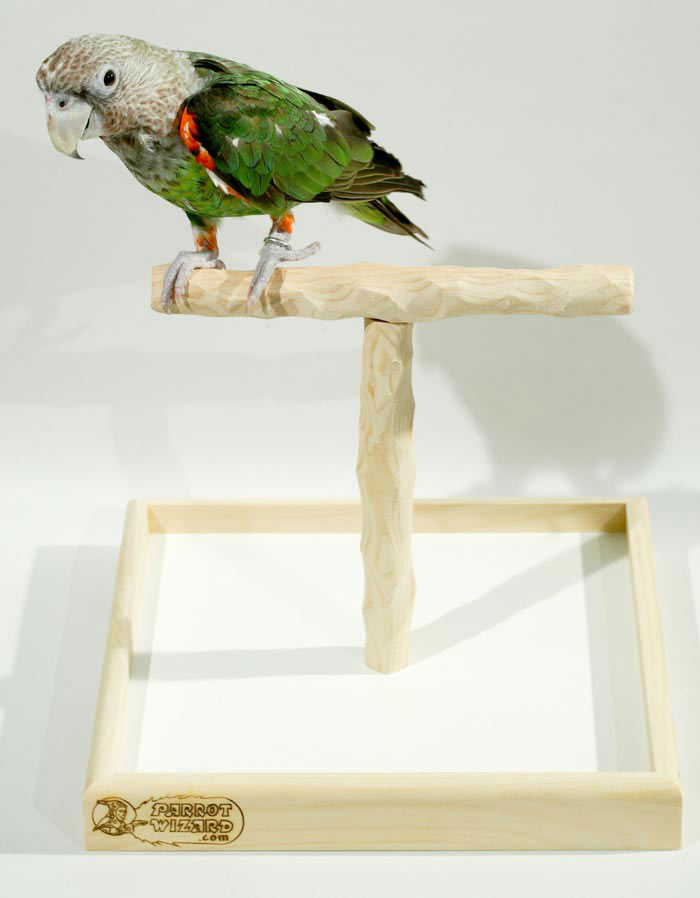 The deluxe in the name refers to the fact that it is skillfully grafted and very well made. It comes in a retail box and assembly is nothing more than twisting the T-Perch into the base. The base is durable and very easy to wipe down.

Since this is a "table" top perch, it was very important to make sure that it would look good amidst your living room furniture. There are no nails or hardware sticking out. And the wooden border is smooth and aesthetic. These tabletop perches are so dependable they come with a 1 year warranty. It does not cover any chewing but if the (unchewed) perch broke as the parrot walked across it or something like that, you'd be eligible for a replacement.





I have a full line of parrot trees still in the works and I may be releasing a bigger version of the tabletop for large parrots as well. Stay tuned.

Finally, to encourage more people to give the Deluxe Tabletop NU Perch a shot, I'm offering free shipping for the first 3 days only. Get yours before the end of the day Wednesday, August 7th and save $9.99 on shipping.


My book is here! The Parrot Wizard's Guide to Well-Behaved Parrots is the most complete book about parrot keeping. It's not just a book about trick training, it is an entire approach to having an outstanding relationship with your parrot.

I have been writing this book for the last half year but more importantly it is the culmination of five very intense years of parrot education, training, consulting, and performing. I've taken everything that I have learned, applied it, and then wrote down for you the essentials that you can apply to your bird. This book isn't there to teach you how to teach a million tricks or become a performer. It's about how to achieve a well-behaved parrot and ultimately a mutual relationship!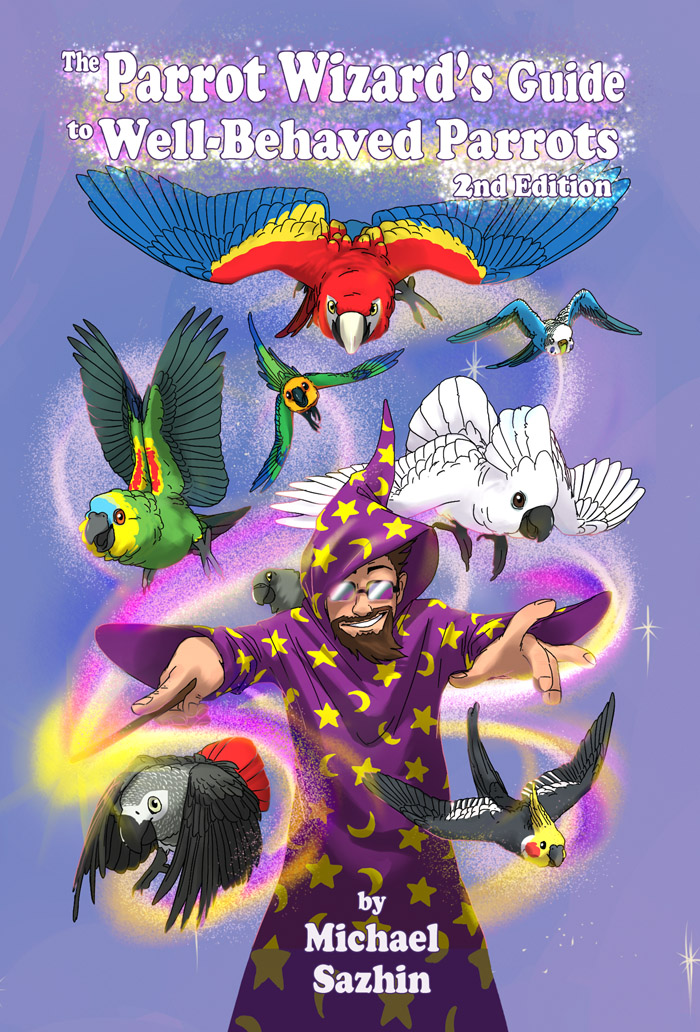 Click to order a copy from ParrotWizard.com/Book



It's not that I think I know better than others, but I just was never very pleased with the other books I've read about parrot keeping. Many of them are obsolete and don't recommend best practices. But even some of the books I agree with, I just found terribly boring. They are written by experts for experts and really leave the common parrot owner in the dust. Parrot owners don't need the nitty gritty technical stuff, they need something accessible that they can apply and that will work! I understand this because I'm a pet parrot owner and it wasn't long ago that I was desperately seeking help on the most basic things.

Instead of teaching you how to do absurdly complicated tricks with your parrot, my book is there to teach you all the essential stuff from merely approaching your parrot's cage without it freaking out to being able to grab it. A lot of emphasis is placed on taming, health, safety, and other things that are essential elements of keeping a pet parrot. Also the first chapter is entirely about how to choose a parrot in the first place for folks who do not yet have one and attempts to answer the classic question, "what kind of parrot should I get?"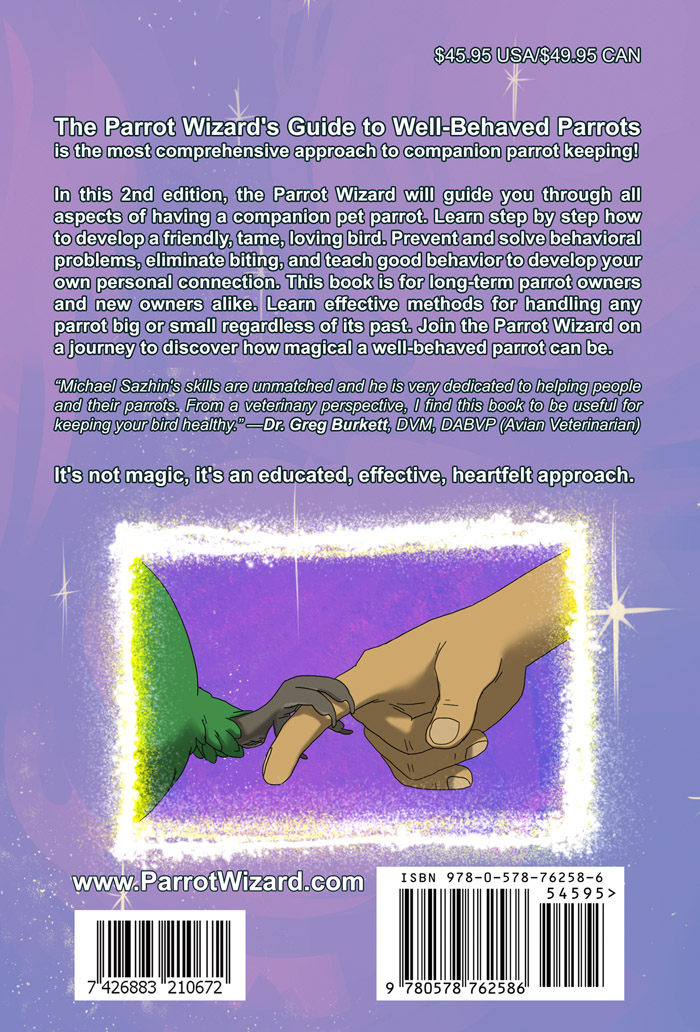 In my book, I tell it how it is. I don't try to sugar coat things or make a parrot owner out of everybody. The purpose is to help those who want the help and to get them to achieve a good relationship with their parrot. The book takes a very balanced approach keeping both the parrot's well-being but also the parrot owner's sanity in mind. I realize that people are busy, have other commitments, may not have the means to buy fancy stuff. That is why my book is down to earth and really about finding a way that anyone can make it work rather than a professional approach to training performing parrots.

Unlike any other parrot book I've ever come across, mine presumes that parrots are flying creatures and takes an approach to keeping them as such. Despite the recommendation of keeping them flighted, the book presents countless ways to get more out of your parrot than if it were clipped! Flight safety, flight recall training, flight trick training, and managing flighted parrots are key themes throughout the book. Even if your parrot is clipped you will find this book extremely helpful and I think it will convince you that you can still have a relationship with your parrot by allowing it to fly. Better yet, you will have a better behaved, healthier, safer, and more fun parrot than it could ever be while clipped!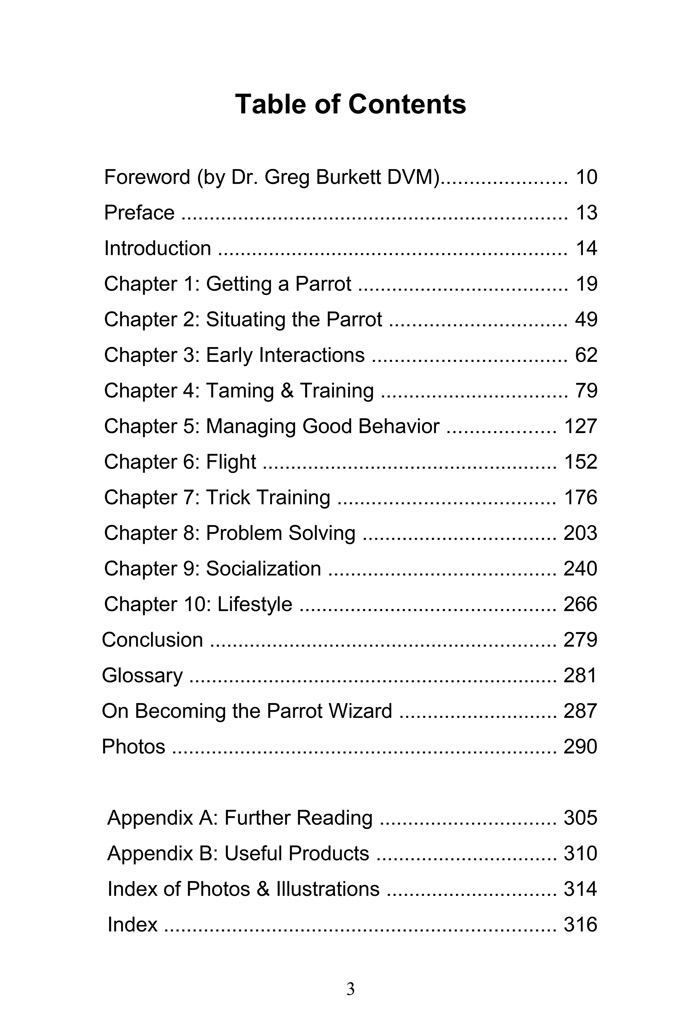 Problem solving receives an entire chapter in the book. Solving problems such as biting, screaming, plucking, and even flighted related issues are extensively covered. However, the main purpose of the book is to present an approach to follow from day 1 to ensure that those problems don't arise in the first place. This information is all based on problems I have solved in my own parrots or have helped others solve with theirs.

You'll find it interesting that I barely wrote any of this book at home. It has bits written all over the world on planes, trains, and automobiles. I've been writing it on the go during my travels. Guyana, Suriname, French Guiana, Guadeloupe, Haiti, Ethiopia, Sudan, Eritrea, Djibouti, and Somalia are some of the places I was in while writing the books. During those trips I got to observe parrots in their natural habitats so it was especially encouraging to me to help owners find the best compromise between a parrot's nature and desirable household pet qualities.