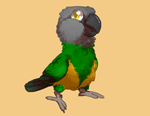 Kili
Type: Senegal Parrot
Genus: Poicephalus
Species: Senegalus
Subspecies: Mesotypus
Sex: Female
Weight: 120 grams
Height: 9 inches
Age: 15 years, 5 months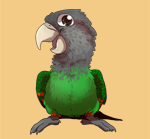 Truman
Type: Cape Parrot
Genus: Poicephalus
Species:Robustus
Subspecies: Fuscicollis
Sex: Male
Weight: 330 grams
Height: 13 inches
Age: 13 years, 8 months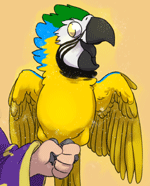 Rachel
Type: Blue & Gold Macaw
Genus: Ara
Species:ararauna
Sex: Female
Weight: 850 grams
Height: 26 inches
Age: 11 years, 5 months

List of Common Parrots:
Parakeets
:
Budgerigar (Budgie)
Alexandrine Parakeet
African Ringneck
Indian Ringneck
Monk Parakeet (Quaker Parrot)
Parrotlets
:
Mexican Parrotlet
Green Rumped Parrotlet
Blue Winged Parrotlet
Spectacled Parrotlet
Dusky Billed Parrotlet
Pacific Parrotlet
Yellow Faced Parrotlet
Lovebirds:
Peach Faced Lovebird
Masked Lovebird
Fischer's Lovebird
Lilian's (Nyasa) Lovebird
Black Cheeked Lovebird
Madagascar Lovebird
Abyssinian Lovebird
Red Faced Lovebird
Swindern's Lovebird
Lories and Lorikeets
:
Rainbow Lorikeet
Conures
:
Sun Conure
Jenday Conure
Cherry Headed Conure
Blue Crowned Conure
Mitred Conure
Patagonian Conure
Green Cheeked Conure
Nanday Conure
Caiques:
Black Headed Caique
White Bellied Caique
Poicephalus Parrots
:
Senegal Parrot
Meyer's Parrot
Red Bellied Parrot
Brown Headed Parrot
Jardine's Parrot
Cape Parrot
Ruppell's Parrot
Eclectus
:
Eclectus Parrot
African Greys:
Congo African Grey (CAG)
Timneh African Grey (TAG)
Amazons:
Blue Fronted Amazon
Yellow Naped Amazon
Yellow Headed Amazon
Orange Winged Amazon
Yellow Crowned Amazon
Cockatoos:
Cockatiel
Galah (Rose Breasted) Cockatoo
Sulphur Crested Cockatoo
Umbrella Cockatoo
Moluccan Cockatoo
Bare Eyed Cockatoo
Goffin's Cockatoo
Macaws
:
Red Shouldered (Hahn's) Macaw
Severe Macaw
Blue And Gold Macaw
Blue Throated Macaw
Military Macaw
Red Fronted Macaw
Scarlet Macaw
Green Winged Macaw
Hyacinth Macaw
Glossary of Common Parrot Terms
If you live in the Dallas area of Texas and love parrots, this is an event you won't want to miss! Come see the Parrot Wizard perform live at the Parrot Wonderfest at Dallas Parrots June 9, 10, and 11, 2023.

This will be a fun and educational event. Kili the Senegal Parrot will be performing parrot tricks as seen on TV shows like America's Got Talent, Steve Harvey, and David Letterman. Learn how to apply lessons from positive reinforcement training to your day to day hands on interactions with your parrot. Presentations throughout the day will focus on how you can develop a better relationship with your companion parrot.

Presentations are aimed to inspire and help you discover your parrot's potential! Learn how to keep your parrot healthy and more engaged. Experience the magic of parrot keeping!

Bring your copy of The Parrot Wizard's Guide to Well-Behaved Parrots for book signing or purchase one at the store.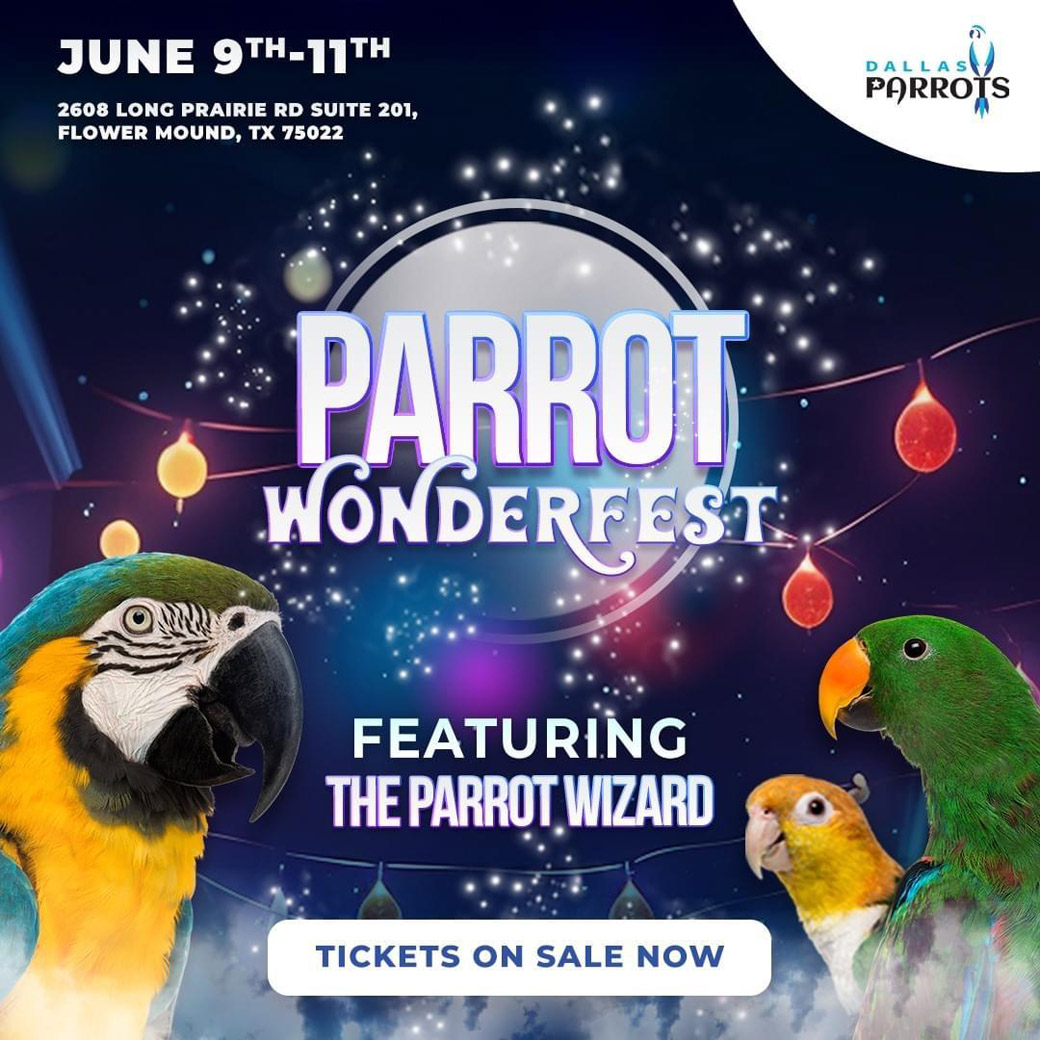 Come see the incredible selection of parrots at Dallas Parrots. Sales up to 50% off on supplies during the event. Enjoy Texas BBQ and Tacos. The store will have many cool giveaways throughout the day on Saturday June 10. Interact with world renowned Avian vets and professors from Texas A&M university. Meet parrot supply vendors and fellow bird enthusiasts.

Schedule
Friday June 9, 3-5PM VIP Meet & Greet
Saturday June 10, 12-5PM Main Event Day
Sunday June 11, 1-3PM Recap and Short Presentation

Please come and enjoy seeing the parrots at the store and my parrots, but please leave your own birds at home.

Dallas Parrots is located at 2608 Long Prairie Rd Suite 201, Flower Mound, TX 75022.
Awesome news, live parrot events are starting to make a comeback! Parrot Stars will be hosting a Summer Festival the weekend of July 9, 2022 and I'll be the headlining speaker!

Come see Parrot Wizard presentations about parrot behavior, training, and how to enhance your relationship with your parrot while enhancing its life!

In all likelihood, I will be bringing Kili & Truman, the Trained Parrot duo for performances! Kili will put on a tricks show and Truman will do some talking and be his goofy self! Come meet me and the birds for book signing, presentations, and great fun!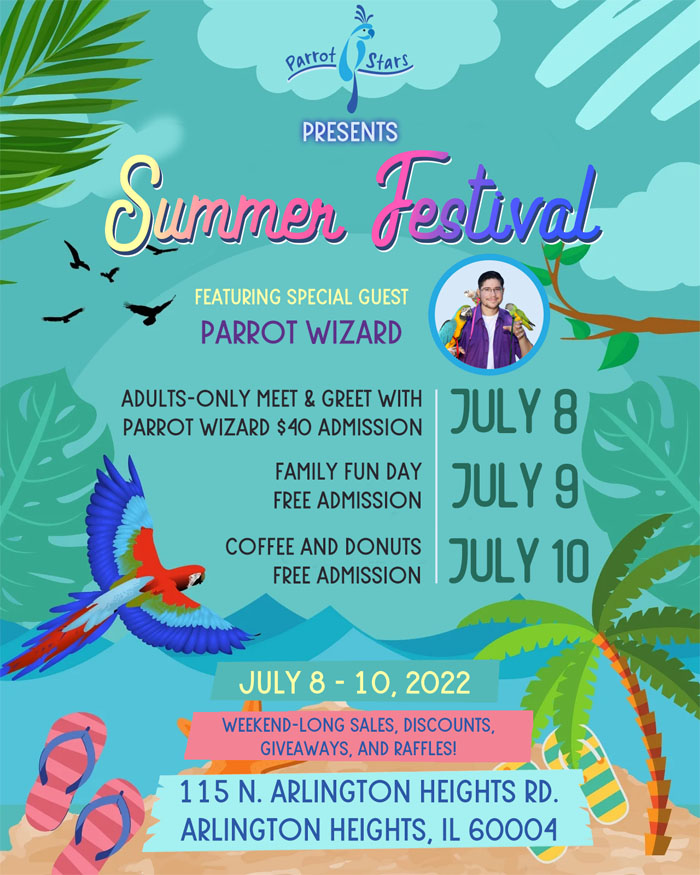 The main event is Saturday July 9 from 10AM till 5PM. There will be food, activities, sales, giveaways, and presentations throughout the day. Every presentation will be a different topic, so come stay for the whole day!

Friday July 8 will be a little different. This will be a closed door adult only Meet & Greet from 5:30-7:30PM at the store. Tickets are $40 and available in limited quantity for this exclusive event. It's a chance to beat the crowd, meet me and my birds, get a copy of my book signed, and chat. I'm particularly looking forward to this chance to make personal connections and meet people without the crowd.

The event ends Sunday July 10 with a shortened day 10AM-3PM. Come for free coffee and donuts, Sunday only raffle, and one more of my presentations.

It's going to be a terrific event and a great opportunity to present and talk to fans in the Chicago area. So, come on out to Parrot Stars at 115 N Arlington Heights Rd, Arlington Heights, IL 60004 on the weekend of Saturday July 9, 2022 for an awesome time with parrots!


| | | |
| --- | --- | --- |
| | | Thursday January 6th, 2022 |
Parrots have the potential to live for a very long time. While smaller parrots have a lifespan of 20-30 years, some of the larger parrots can live 50-100. Is it ok for someone over the age of 60 to get a parrot? How old is too old to get a parrot?

It's not uncommon to hear that anyone over 50 years old should not get a parrot because the parrot will outlive them. While it is likely true that the parrot will outlive the owner, is this a necessarily a bad thing or a problem?

First of all, a parrot is sooner likely to outlive its owner's interest in keeping it than the owner's life. It is difficult to foresee or commit to how our lives will be 10, 20, or 50 years from now. Circumstances change, people get busy, people move, life happens. Sometimes those circumstances make it impossible to continue to keep the parrot and sometimes the person just no longer wants the bird. This is reality.

So, instead of focusing on trying to get people to keep the parrot for the bird's entirely life (which in some or many cases may exceed the human's), I would much rather focus on education and training. Ensure that the parrot's life is good with you in your home and beyond.



It starts with my own parrots. Although, I have every intention of keeping them, I made sure to train and socialize all of my birds to be good with other people. Whether I have guests over, I'm having someone take care of my birds while I'm on a trip, or if something were to happen to me, it is my responsibility to ensure their well-being.

What is bad about a bird outliving it's owner or being rehomed? Why does it get such a bad rap? The reason is because the parrot was selfishly or thoughtlessly kept in isolation with that single owner its whole life and then when the owner passes away or rehomes the bird, it becomes extremely distraught. A large part is because the parrot is unfamiliar with different people and fearful of the changes. Another reason can be from developing an inappropriate sexual "mate" bond with the human which makes the parrot anguish similar to having a mate pass away (whether the owner really died or gave the bird away).

This is preventable. No doubt the parrot may be disappointed about the changes, but there is no reason it has to be debilitating to the parrot's future. The bird should be able to live on without its owner. This is where training is so useful. Training helps create a bond that is more based on friendship rather than mating. This is a relationship that is more replaceable. Other people can fill this type of role either temporarily or permanently. Furthermore, the parrot has room for more than one person for friendship rather than mating relationships.

Training teaches the parrot methods and tools that can be replicated by other people. This makes it easier for the parrot to accept other members of the family in your home. But, it also prepares the parrot for life in a future home if it ends up outliving its time with you.

My advice is to at minimum clicker train, target train, and step up train any parrot. Even if the parrot has a good relationship with you, performing this training will help the bird do these important behaviors for other people. You can learn about basic training from my book, The Parrot Wizard's Guide to Well-Behaved Parrots. My recommendation is to make sure that anyone who gets or inherits your bird receives the clicker, target stick, and book along with the bird. If the bird transfer is done with your guidance, you should teach the new owner and help the bird accept them. However, if it happens suddenly for unforeseen reasons, set it up so the new owner receives the same tools and information that you used. This ensures that they can learn how to re-establish communication with your parrot, even without your help, that will be familiar to the parrot. Although the new faces and environment may be unfamiliar, at least the parrot will understand the communication and interaction. This will help the parrot adjust to the new home quickly. But, it will also help the new owner get to like the parrot and wish to take better care.

You see, when someone inherits or accepts an untrained parrot, it is often quite bitey and difficult. This does not inspire trust or interest for the new owner and the parrot often gets mistreated or passed around. You can ensure that your bird is adored in your and future homes by teaching good behavior now. It's on you. And age has nothing to do with it.



That said, don't get a parrot if you don't expect yourself to be able to work with the bird for the foreseeable future. This could just as well be due to health, responsibilities, life changes, as well as age. A high school student about to leave for college, may have less years of commitment than a 70 year old in good health with plenty of time! Be smart about whether or not you have time to commit to your bird's education and preparation for life with or without you.

And if you feel that your day are numbered or that you won't be able to care for a parrot for years to come, there are other ways to be involved without getting a parrot of your own. You can volunteer at a parrot rescue in person or virtually. You can foster a parrot in your home temporarily. You can visit parrots at a bird store or you can live vicariously through parrot youtube videos.

So, as you see age and lifespan matter much less in the case of parrot ownership compared to quality of experience, socialization, training, and preparation. To provide the best quality of life to a parrot now and in its future, training and socialization are a must. Take responsibility and see to it that your parrot can be happy in your home and in the next.

Learn how to train and socialize any parrot with the help of my Parrot Academy.
What is better for taking a parrot outside, a harness or a travel cage? This article will go over some of the pros and cons of using a travel cage or harness for taking a pet parrot outdoors.

As you well know, it is very important to have some physical method of restraint whenever you take a pet parrot outside. Although having a great relationship with your parrot should be the primary reason your bird does not fly away, a back up physical means is best to keep things safe when things outside your control happen. Even well trained parrots and parrots with clipped wings manage to fly away and be lost outside.

You have 3 choices of protection when taking your parrot outside, a travel carrier, travel cage, and a harness. Which is best or which should you get? In my opinion, each of these has its own purpose and you would benefit most from getting all 3. I have each of these 3 for each of my 3 parrots.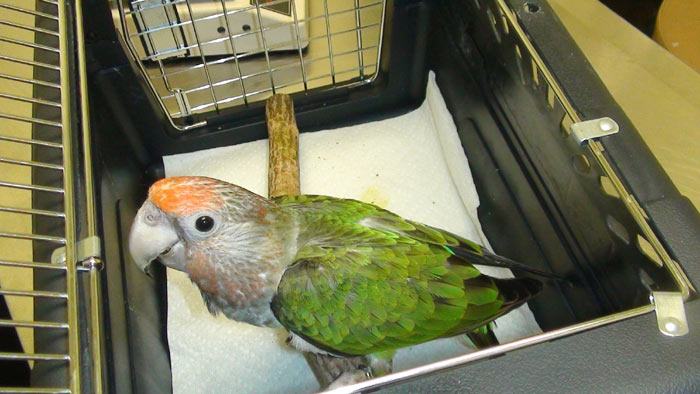 A travel carrier is the best thing to use to transport your parrot to go somewhere. Most often this will be to go to a vet, but it can just as well be helpful to drive a couple hours to a summerhouse where you have a full size cage waiting. Unlike a travel cage, carriers usually have solid walls and limited visibility. Some are hardshell plastic carriers (normally used for a cat or a dog, but converted for use for a bird) while others are special purpose bags for transport. A carrier offers better protection for the parrot and less climbing opportunity than a cage. Strictly for getting from point A to point B, this is better than a travel cage.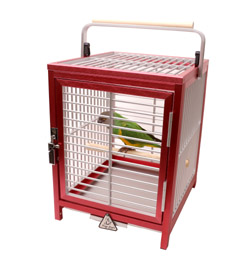 A travel cage is a smaller cage that the bird can be taken outside in. Ideally, it should be lightweight, have a carry handle, and a perch inside for the bird. Try to avoid using a wire cage meant for parakeets for any larger bird. Those cages come apart easily and a larger bird is more likely to speed up that process. Most things are just held together by friction, squeeze, or bent wire and any parrot from a Green Cheek Conure and up can undo that. The Aluminum Travel Cage from Parrot Wizard is light weight, safe, and convenient for all small to medium parrots. If you insist on using a wire cage outdoors, be sure to zip tie everything secure that isn't immediately necessary including all food doors, where the cage connects to the base, and where cage sections connect to each other.

Unlike a carrier, a travel cage is meant to provide your parrot a more active outdoor experience. The parrot can readily see out of the cage in all directions, climb around the bars, and soak in the sunlight. You can more easily see and talk with your parrot and have a mutual time outdoors. A travel cage is good for sitting with your parrot in the backyard, walking around the block, driving and spending time at a park, or when taking a trip where the parrot will be living out of that cage for a few days at a time. If your parrot is spending less than a few hours in the travel cage, forget about putting food and water inside as the parrot will only make a mess and not even consume any of it. For longer trips, put food and water in when you are not in motion.

Although a travel cage can be used in place of a carrier (especially by covering the cage with a towel in cases where the bird is nervous from being too exposed), it may be bulky to go in and out of the vet's office with. A more compact travel carrier that limits your parrot's activity is still better for those types of outings. However, when it comes to enjoying the outdoors and being visible to you, a travel cage is more suitable. Some parrots may be scared of the travel cage or carrier, but luckily it is fairly easy to train them to accept it.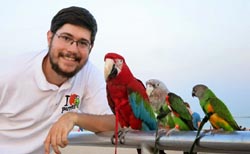 A bird harness provides the ultimate outdoor experience to both you and your parrot. You can enjoy your parrot's direct company and the bird can freely move about on you. Add a leash extension in a safe environment (nowhere to get tangled or harmed) and your parrot can even fly. The harness provides the maximum freedom, however, it also requires the highest level of training and the highest level of supervision. If you go outside with your parrot on a harness, you need to keep your attention on the bird the entire time. So, if your purpose is to go for a walk with your bird, a harness is great. On the other hand, if you are having a backyard BBQ with guests and want your parrot to be outside, it may be better to use a travel cage since you are too busy (and near a hot grill) to be able to give the bird enough attention. Although a harness can keep your parrot from flying off, you cannot simple tie the bird to something and divert your attention. A bored bird can chew through the harness or get into mischief if left unsupervised even for a short time. So, as you can see, a carrier, travel cage, and harness all have their place.

Travel Carrier Pros/Cons:
· Pro: Secure
· Pro: Low visibility (good for new or nervous bird or busy environment)
· Pro: Lightweight for mobility
· Pro: Inexpensive or mid-priced
· Con: Not good for getting sunlight
· Con: Not good for interaction

Travel Cage Pros/Cons:
· Pro: Good visibility
· Pro: Good for getting sunlight
· Pro: Some interaction with bird through bars
· Pro: Bird can live in travel cage for a few days at a time
· Con: Midweight, less convenient to walk with
· Con: Expensive (or poor quality/security on wire cages)
· Con: Heavy or impossible for large parrots

Harness Pros/Cons:
· Pro: Maximum freedom
· Pro: Flight possible
· Pro: Personal hands on interaction
· Pro: Inexpensive
· Pro: Lightest travel method for large parrots
· Con: Requires extensive training
· Con: Requires constant attention/supervision
· Con: Difficult or unavailable for very small parakeets

Using a travel carrier, travel cage, and harness all have their pros and cons. Each has its place depending on what you are trying to do with that bird at that time. Use a carrier for efficient transport of your bird. Use a travel cage to spend time outdoors with your parrot in a more interactive way and as an alternative to the harness if your parrot is not yet ready to use one. Train your parrot to wear a harness and use a harness for hands on, yet safe, outdoor time with your bird.


The most unbelievable thing happened today. I come in and find that my Senegal Parrot laid some eggs. The amazing thing is that the mother is a Blue and Gold Macaw. This is the very first hybrid of its kind. Very rare! They haven't even hatched yet but I can just imagine what they will look like! And of course they're available for sale! Good price. Beautiful colors. Very rare. Any gender you want. Very cheap. Payment in bitcoin or moneygram. Send to 1600 Pennsylvania Avenue. See the parrot eggs in the video below. Do you want these rare fertile parrot eggs for sale?