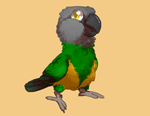 Kili
Type: Senegal Parrot
Genus: Poicephalus
Species: Senegalus
Subspecies: Mesotypus
Sex: Female
Weight: 120 grams
Height: 9 inches
Age: 14 years, 3 months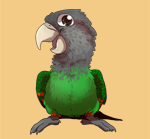 Truman
Type: Cape Parrot
Genus: Poicephalus
Species:Robustus
Subspecies: Fuscicollis
Sex: Male
Weight: 330 grams
Height: 13 inches
Age: 12 years, 7 months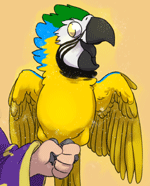 Rachel
Type: Blue & Gold Macaw
Genus: Ara
Species:ararauna
Sex: Female
Weight: 850 grams
Height: 26 inches
Age: 10 years, 3 months

List of Common Parrots:
Parakeets
:
Budgerigar (Budgie)
Alexandrine Parakeet
African Ringneck
Indian Ringneck
Monk Parakeet (Quaker Parrot)
Parrotlets
:
Mexican Parrotlet
Green Rumped Parrotlet
Blue Winged Parrotlet
Spectacled Parrotlet
Dusky Billed Parrotlet
Pacific Parrotlet
Yellow Faced Parrotlet
Lovebirds:
Peach Faced Lovebird
Masked Lovebird
Fischer's Lovebird
Lilian's (Nyasa) Lovebird
Black Cheeked Lovebird
Madagascar Lovebird
Abyssinian Lovebird
Red Faced Lovebird
Swindern's Lovebird
Lories and Lorikeets
:
Rainbow Lorikeet
Conures
:
Sun Conure
Jenday Conure
Cherry Headed Conure
Blue Crowned Conure
Mitred Conure
Patagonian Conure
Green Cheeked Conure
Nanday Conure
Caiques:
Black Headed Caique
White Bellied Caique
Poicephalus Parrots
:
Senegal Parrot
Meyer's Parrot
Red Bellied Parrot
Brown Headed Parrot
Jardine's Parrot
Cape Parrot
Ruppell's Parrot
Eclectus
:
Eclectus Parrot
African Greys:
Congo African Grey (CAG)
Timneh African Grey (TAG)
Amazons:
Blue Fronted Amazon
Yellow Naped Amazon
Yellow Headed Amazon
Orange Winged Amazon
Yellow Crowned Amazon
Cockatoos:
Cockatiel
Galah (Rose Breasted) Cockatoo
Sulphur Crested Cockatoo
Umbrella Cockatoo
Moluccan Cockatoo
Bare Eyed Cockatoo
Goffin's Cockatoo
Macaws
:
Red Shouldered (Hahn's) Macaw
Severe Macaw
Blue And Gold Macaw
Blue Throated Macaw
Military Macaw
Red Fronted Macaw
Scarlet Macaw
Green Winged Macaw
Hyacinth Macaw
Glossary of Common Parrot Terms
It's been nearly six months since I adopted Santina from Lazicki's. The progress since then has been monumental and this is an update to mention most of it. I have gone from a bird that wouldn't even step up for me to being able to take my entire flock out to Coney Island wearing harnesses.

Here's a list of the things Santina learned during this period:
-Step up (inherited)
-Touch her (inherited)
-Head scratches (inherited)
-Go in carrier
-Target
-Grab
-Flip over
-Take medication
-Open wings
-Getting along with other birds
-Put on Harness
-Socialization (don't bite others)

Santina was already known to be able to step up and cuddle with certain people, but this certainly wasn't the case with me on first encounter. So not only did I work on inheriting those qualities she already had, but I improved them to the maximum extent. I improved her step up reliability to 100%, got her comfortable being touched anywhere as necessary, and went on to do a lot more with her. I set lenient goals and always exceeded expectations. For example I was ready to have to take weeks to get her to step up but she was already doing so within a few days, I was ready to take a month to harness train her but did so in under a week, I hoped to be able to take her to Coney Island before the end of the summer and was already doing so a few weeks since harness training her. All in all, progress has been very efficient and she is doing stupendously.

Santina has been learning to get along with the other birds





I would estimate that I spent an average of 10 minutes twice a day training Santina. Some days sessions were as much as 30 minutes but other days I skipped training entirely. It's not a lot of time but it was always a focused and goal oriented time. For each specific thing I taught her, we would have a burst of focused training and in between training new things we would just take time off or review known behaviors. The time off between training to let things sink in is nearly as important as the time training itself.

If I can achieve so much in such a short span of time, then these are things that anyone can eventually achieve with any parrot. It's all in the approach and I share it in detail in my book, The Parrot Wizard's Guide to Well-Behaved Parrots. I would also like to announce my upcoming DVD, The Parrot Wizard's Guide to Harness Training a Parrot Using Positive Reinforcement.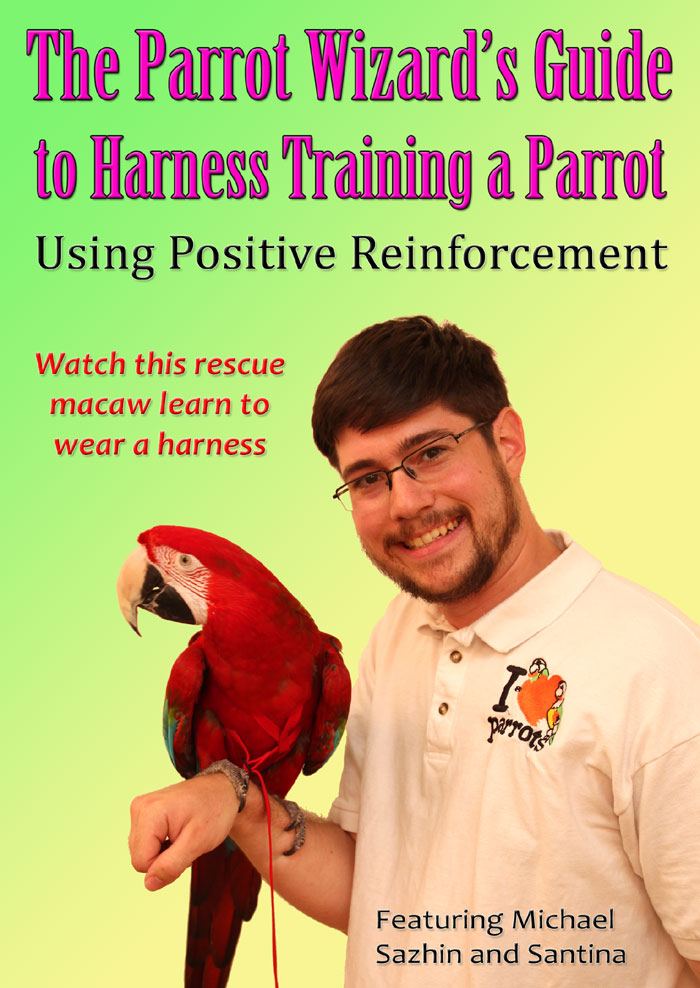 This DVD features Santina and covers the entire harness training process from start to finish. You can see the exact steps I took to teach her to want to wear the harness and assist me in putting it on. The DVD covers 6 days of training and the 50 minute section of harness training equates to about 1/4 scale. In other words, some repetitions were cut out and the real training was only about 4 times as much as what you see in the DVD. Put a different way, that's just 3 hours of training or 6x 30 minute sessions. That's nothing! In a single outing, I can spend more time out with Santina wearing a harness than all the training that it took!

The secret is, well watch the DVD for secrets. But what I want to say is that you really have to see the DVD in conjunction with my book. The DVD is strictly about harness training and does not teach how to do training, how to manage motivation, etc. The approach demonstrated in the DVD presumes a moderately tame parrot that is capable of at least step up, being touched, being grabbed, targeting, and having its wings pulled open. All of these things are covered in my book and are absolutely mandatory requisites to even think of beginning harness training. I don't know how some people think they will stick a harness on a bird that bites them and won't even step up. Not gonna happen.



But all things said, I taught Santina all those requisites in about 4 months really taking my time. Then I taught her to wear a harness in under a week and spent another week or two getting her used to going outside. Some days I would take her out twice just so she would be more used to being outside and wearing the harness. In 2 months since harness training Santina, I had already gone so far as to take her to Coney Island (a really busy amusement area), on the Subway into NYC, and out with my other two parrots at the same time. This article and video aren't meant to teach you what to do but rather to inspire what you can do with your birds. All you need is some love, time, patience, and some Wizard's tools to help you in the process.



Part of: Taming & Basic Training, Parrot Trick Training, General Parrot Care, Outdoor Harness Flight, Blog Announcements, Macaws, Rescue
Santina Green-Winged Macaw Progress Harness Tame Taming Training
Comments
Post Your Response



cml

Posted on June 21, 2014 02:36PM

What a cuddle bug Santina is!



Michael

Posted on June 21, 2014 04:31PM

She's like a giant teddy



Lady

Posted on July 19, 2014 03:40PM

Awesome job! It is so wonderful that you show so many how to train and teach our feathered children. Thanks Michael for all you do to make life more enjoyable for all involved!
Post Your Response