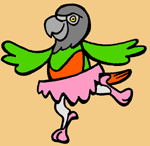 Kili
Type: Senegal Parrot
Genus: Poicephalus
Species: Senegalus
Subspecies: Mesotypus
Sex: Female
Weight: 120 grams
Height: 9 inches
Age: 10 years, 9 months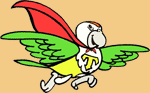 Truman
Type: Cape Parrot
Genus: Poicephalus
Species:Robustus
Subspecies: Fuscicollis
Sex: Male
Weight: 330 grams
Height: 13 inches
Age: 9 years

List of Common Parrots:
Parakeets
:
Budgerigar (Budgie)
Alexandrine Parakeet
African Ringneck
Indian Ringneck
Monk Parakeet (Quaker Parrot)
Parrotlets
:
Mexican Parrotlet
Green Rumped Parrotlet
Blue Winged Parrotlet
Spectacled Parrotlet
Dusky Billed Parrotlet
Pacific Parrotlet
Yellow Faced Parrotlet
Lovebirds:
Peach Faced Lovebird
Masked Lovebird
Fischer's Lovebird
Lilian's (Nyasa) Lovebird
Black Cheeked Lovebird
Madagascar Lovebird
Abyssinian Lovebird
Red Faced Lovebird
Swindern's Lovebird
Lories and Lorikeets
:
Rainbow Lorikeet
Conures
:
Sun Conure
Jenday Conure
Cherry Headed Conure
Blue Crowned Conure
Mitred Conure
Patagonian Conure
Green Cheeked Conure
Nanday Conure
Caiques:
Black Headed Caique
White Bellied Caique
Poicephalus Parrots
:
Senegal Parrot
Meyer's Parrot
Red Bellied Parrot
Brown Headed Parrot
Jardine's Parrot
Cape Parrot
Ruppell's Parrot
Eclectus
:
Eclectus Parrot
African Greys:
Congo African Grey (CAG)
Timneh African Grey (TAG)
Amazons:
Blue Fronted Amazon
Yellow Naped Amazon
Yellow Headed Amazon
Orange Winged Amazon
Yellow Crowned Amazon
Cockatoos:
Cockatiel
Galah (Rose Breasted) Cockatoo
Sulphur Crested Cockatoo
Umbrella Cockatoo
Moluccan Cockatoo
Bare Eyed Cockatoo
Goffin's Cockatoo
Macaws
:
Red Shouldered (Hahn's) Macaw
Severe Macaw
Blue And Gold Macaw
Blue Throated Macaw
Military Macaw
Red Fronted Macaw
Scarlet Macaw
Green Winged Macaw
Hyacinth Macaw
| | | |
| --- | --- | --- |
| | | Wednesday October 18th, 2017 |
Marianna and I recently got to visit Steve Hartman from The Parrot University and learn about how the Aviator Harness is made. He took us on a personal tour of the production facility and shares with you in the video at the end.

This article is about how to make a bird harness in a professional way beyond just a nylon strap and some buckles. You will get to find out some of the hidden features of the Aviator Harness that you never knew about. Getting to see how the harness is made first hand, gave me an even greater appreciation of the product that I have been using and selling for years. Much more goes into making it than I had previously realized. Here are some things that you probably never heard about the Aviator Harness as it was pretty new to me as well:

It's all in the material. The strap material used to make the Aviator Harness is carefully chosen for a combination of strength and comfort. Not only has the company tested and rejected a multitude of materials, every batch of material is tested to conform to stringent standards.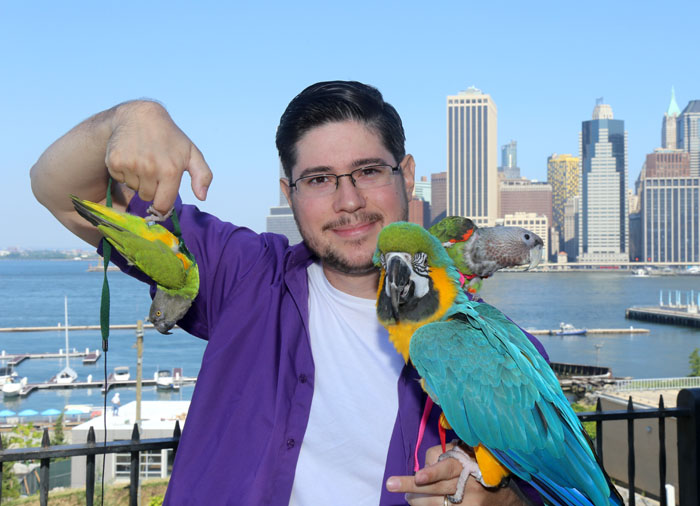 Welded, not sewn.. I've known for some time that the Aviator Harness is "welded" but never truly understood what this means or why it is done this way. It turns out that they were originally sewn together but that the parrots would immediately go for the stitches and chew them out. The weld isn't exactly a weld. It's not like they take a hot torch or iron to melt the strap to itself. Instead, they have a special machine that vibrates a pin into the material so fast that it melts together locally. It's quite strange really. The machine does not apply heat. Instead, it uses the friction of the vibration to make the material melt itself. This creates a bunch of contact points that hold it all together that the parrot cannot separate.

One metal slide is all. There is only one point of adjustment on the Aviator Harness and that is the black metal slide. Not to be confused with plastic, the slide on the Aviator is made from black powder coated steel. I got to hold these in my hand and I realized that they are much heavier and tougher than they look. This would appear to be the single point of failure for a harness, but in all my years of using these harnesses, the slide is one part that never got damaged in the slightest.

Grooming is everything. They call it grooming but it's really just a process of smoothing everything out with a torch. There are naturally a lot of rough spots such as the ends, the welds, and contact points on the strap. Each strap is held up to a flame by hand to get it smoothed out wherever there is a rough edge. It might be hard to realize this with a finished harness in hand but when you feel how they come out before they are groomed, you would realize it would be quite uncomfortably poking the bird.

They're already stretched. The strapping itself is pretty firm, especially when scaled down for the smaller birds. I remember how I used to tell people to wash their new Aviator a few times before initial use to soften it up. Well, it turns out that now all of the Aviator Harnesses are per-processed to be ready for use out of the box. They are each stretched, shrunk, or washed as necessary to be soft and ready for use out of the box.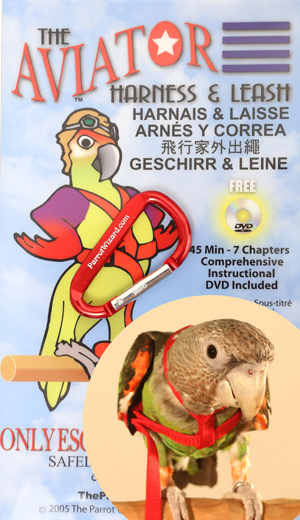 Each harness is tested. Not by a parrot but by multiple quality control checks built into the system. Because multiple different people are involved in the various stages of production, any mistakes or defects are caught early. There is virtually no chance that a bad Aviator makes it out to customers and breaks allowing the bird to fly away. They are pulled and checked over many times to make sure this does not happen.

They're made in the US. The Aviator Harnesses are made in the US by US employees. Steve employs local college students part time in addition to full time employees to produce the harnesses. He explained to me that he tried to have them made in China but that the quality was not sufficient or consistent enough to satisfy parrot owners. It is really important that each harness is safe and works out of the box but with outsourced manufacturing, it just wasn't possible to control this. So, the Aviator is put together in the US for the highest quality standards.

It takes a long time to make. By the looks of it, you'd think it could be made in a few minutes but that is not the case. There are over 20 steps in making an Aviator Harness. Multiply that by 8 sizes and 7 colors and that is a heck of a lot of steps! As the harnesses are produced, they can spend over a month moving from station to station to go through the various stages before they are finally packaged and shipped. If you wanted to make one yourself, it would take a really long time and even then, you would not have access to the specialized machinery and would have to compromise the quality. Basically, it would not be worth spending the kind of time it would take to make one from scratch.

I learned another secret during my visit, the price of the Aviator Harness is about to go up on November 1. If you don't have one or need another, order now before the price goes up worldwide at every store (including mine).

I have to say, I was genuinely impressed with how the Aviators are produced. A lot of thought, experience, and care for the parrots' welfare has gone into how they are made. It was a pleasure getting to meet Steve and his wife Judy. I'm as proud as ever to be one of the biggest vendors of the Aviator Harness in the United States. Every size and color is available for the lowest price at ParrotWizard.com. Also, please check out my own, personally made, support products such as my Training Perches, Book, and Harness Training DVD.

Here is a video of Steve showing Marianna the process of making an Aviator Harness for Parrots:



Part of: Outdoor Harness Flight, Blog Announcements, Product Reviews
Aviator Harness Parrot Bird Leash Review
Comments
Post Your Response