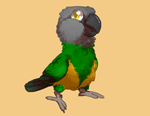 Kili
Type: Senegal Parrot
Genus: Poicephalus
Species: Senegalus
Subspecies: Mesotypus
Sex: Female
Weight: 120 grams
Height: 9 inches
Age: 14 years, 3 months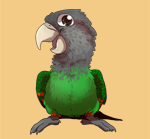 Truman
Type: Cape Parrot
Genus: Poicephalus
Species:Robustus
Subspecies: Fuscicollis
Sex: Male
Weight: 330 grams
Height: 13 inches
Age: 12 years, 7 months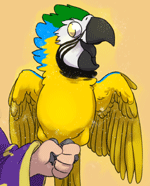 Rachel
Type: Blue & Gold Macaw
Genus: Ara
Species:ararauna
Sex: Female
Weight: 850 grams
Height: 26 inches
Age: 10 years, 3 months

List of Common Parrots:
Parakeets
:
Budgerigar (Budgie)
Alexandrine Parakeet
African Ringneck
Indian Ringneck
Monk Parakeet (Quaker Parrot)
Parrotlets
:
Mexican Parrotlet
Green Rumped Parrotlet
Blue Winged Parrotlet
Spectacled Parrotlet
Dusky Billed Parrotlet
Pacific Parrotlet
Yellow Faced Parrotlet
Lovebirds:
Peach Faced Lovebird
Masked Lovebird
Fischer's Lovebird
Lilian's (Nyasa) Lovebird
Black Cheeked Lovebird
Madagascar Lovebird
Abyssinian Lovebird
Red Faced Lovebird
Swindern's Lovebird
Lories and Lorikeets
:
Rainbow Lorikeet
Conures
:
Sun Conure
Jenday Conure
Cherry Headed Conure
Blue Crowned Conure
Mitred Conure
Patagonian Conure
Green Cheeked Conure
Nanday Conure
Caiques:
Black Headed Caique
White Bellied Caique
Poicephalus Parrots
:
Senegal Parrot
Meyer's Parrot
Red Bellied Parrot
Brown Headed Parrot
Jardine's Parrot
Cape Parrot
Ruppell's Parrot
Eclectus
:
Eclectus Parrot
African Greys:
Congo African Grey (CAG)
Timneh African Grey (TAG)
Amazons:
Blue Fronted Amazon
Yellow Naped Amazon
Yellow Headed Amazon
Orange Winged Amazon
Yellow Crowned Amazon
Cockatoos:
Cockatiel
Galah (Rose Breasted) Cockatoo
Sulphur Crested Cockatoo
Umbrella Cockatoo
Moluccan Cockatoo
Bare Eyed Cockatoo
Goffin's Cockatoo
Macaws
:
Red Shouldered (Hahn's) Macaw
Severe Macaw
Blue And Gold Macaw
Blue Throated Macaw
Military Macaw
Red Fronted Macaw
Scarlet Macaw
Green Winged Macaw
Hyacinth Macaw
Glossary of Common Parrot Terms
As you probably know, I love using the Aviator Harness for taking my parrots outside. It's the easiest and most reliable harness to use. Now I wanted to mention all the different colors that these harnesses are available in. They come in Black, Red, Green, Silver, Blue, Pink, and Purple. The variety is good because it can help you match the harness to your bird.

There are two ways to choose a color harness for your bird. Either match the color to your parrot's plumage and outer appearance or get a funky cool color to match your parrot's inner personality. I would recommend sticking to a matching or bland color for your first harness so that it is least distracting to the bird. However, once the parrot is accustomed to wearing a harness, there should be no problem picking any color you'd like.

Here are some harness color recommendations by species:
Green Cheek Conure - Petite Size Green
Ring-Necked Parakeet - XS Size Green
Sun Conure - XS Size Red
Senegal Parrot - XS Size Green
Galah - Small Size Pink or Silver
Timneh African Grey - Small Size Silver
Congo African Grey - Medium Size Silver or Red
Amazon Parrots - Small or Medium Size Green
Eclectus - Medium Size Green or Red
Blue and Gold Macaw - Large Size Blue or Red
Scarlet Macaw - Large Size Red
Green Winged Macaw - XL Size Red
Hyacinth Macaw - XL or XXL Size Blue

You can buy an Aviator Harness in any available size and color here.

Truman models the available colors: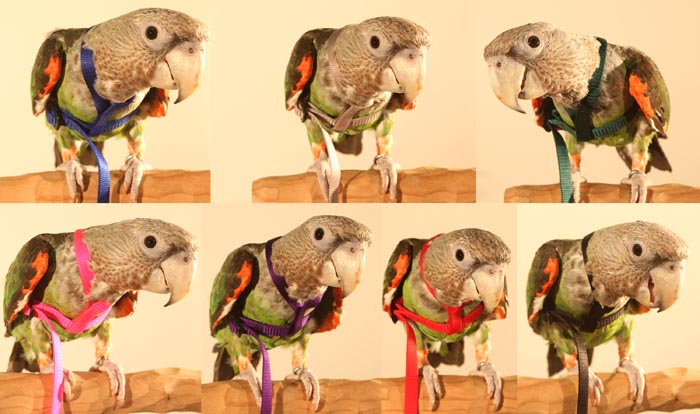 Video of Truman putting on each harness color


Part of: Outdoor Harness Flight, Cape Parrots, Product Reviews
Truman Cape Parrot Aviator Harness Harness Colors
Comments
Post Your Response
Nokota

Posted on June 18, 2014 01:39AM

The smallest is only available in four colors. GOD I wish I could get Vivi a purple one... WHY are there color restrictions!?



Michael

Posted on June 18, 2014 02:05AM

Harnesses are [url=http://ParrotWizard.com/Harness:oasfniyt]available in 7 colors[/url:oasfniyt] red, black, green, silver, blue, purple, and pink in sizes Small, Medium, Large, and XL. Red, Black, Green, and Blue for Petite and XS. Red, Black, Blue, and Silver in XXL. In [url=http://parrotwizard.com/Aviator_Harness/truman_colors_med.jpg:oasfniyt]the picture[/url:oasfniyt] you can see Truman trying on all 7 colors available. Just a few sizes are restricted in colors. You can see [url=http://ParrotWizard.com/Harness:oasfniyt]all available sizes/colors here[/url:oasfniyt].



ginger

Posted on June 18, 2014 02:17AM

One of the best things about this video is that I get to watch how you put the harness on several times in a row.
Tony

Posted on June 18, 2014 03:42AM

Truman looks so adorable.



Michael

Posted on June 18, 2014 03:47AM

Putting the harness on is the easy part. Getting Truman to agree to getting paraded around in pink is a whole other story!
Wolf

Posted on August 3, 2014 09:18AM

Some people are having problems with a tight fit with the part that goes over the birds head and really want to know what is the recommended way to fix it and also how to remove the harness. so what do you think about making a video addressing these problems for them ?



Michael

Posted on August 3, 2014 02:18PM

Removing the harness is putting it on in reverse. The only difficulty with that is going against the feathers but the bird learns to work with you for negativevreinforcement (having the harness off). I would absolutely not recommend modifying the harness. It isn't stitched, it is welded together. So you cant just change it on your own without making it weak. It's just about getting the right size harness and teaching your bird to help put it on and want to wear it. I think most people have trouble because they are forcing it onto resisting bird. Teach your bird to be calm and help out and it's as easy as I show.



Chantilly

Posted on December 11, 2015 12:37AM

@Michael, do you think that my could be retrained to wear a harness? She absolutey hates them and is terrified of them... What I currently have is lthis but in medium, http://birdsville.net.au/accessories/ha ... ness-lead/ . When she was younger we would have somebody holding her while the other person would put it on. BIG MISTAKE. Now she is older and independant, as soon as it gets within 10 metres of her, she will give me a BIG bite and fly of screaming. I want to retrain her. I know it will be hard, but still I want to be able to take her outside. I use positive reinforcment on her but she has her own mind and her own barriers, and I dont want to push her and destroy our relationship. I would buy the aviator harness, but I am uncertain if I am able to show Tilly(gcc) it is ok. And dont want to just spend the money and it go to waste when I could buy her a bunch of toys or trick training stuff. Sadly If I do get the aviator harness it will probably be from an AUS site because American postage is really expensive . But I know you did it with Kili do you think things would work out for me and my birdie in this situation?



Michael

Posted on December 11, 2015 02:51AM

It won't be easy but I am sure it is possible. I would very strongly reading/applying my book first and then retraining the harness using the method in my harness training DVD. Most other ways only kead to problems as you well know.



Chantilly

Posted on December 11, 2015 03:21AM

Thankyou Michael Are you considering making an epub? Thankyou for the quick reply Also: I was wondering if Truman was in[/i:3phacgz6] the truman show? Thanks



Michael

Posted on December 11, 2015 09:13PM

Sorry, no ebook available. Just hardcover. But it comes with clicker and target stick when ordered directly from me. I also suggest the harness training DVD. Shipped together, even to Australia, it's pretty reasonable. More on naming Truman here: http://trainedparrot.com/index.php?bid= ... ape+Parrot
Post Your Response