If you live in the Dallas area of Texas and love parrots, this is an event you won't want to miss! Come see the Parrot Wizard perform live at the Parrot Wonderfest at Dallas Parrots June 9, 10, and 11, 2023.

This will be a fun and educational event. Kili the Senegal Parrot will be performing parrot tricks as seen on TV shows like America's Got Talent, Steve Harvey, and David Letterman. Learn how to apply lessons from positive reinforcement training to your day to day hands on interactions with your parrot. Presentations throughout the day will focus on how you can develop a better relationship with your companion parrot.

Presentations are aimed to inspire and help you discover your parrot's potential! Learn how to keep your parrot healthy and more engaged. Experience the magic of parrot keeping!

Bring your copy of The Parrot Wizard's Guide to Well-Behaved Parrots for book signing or purchase one at the store.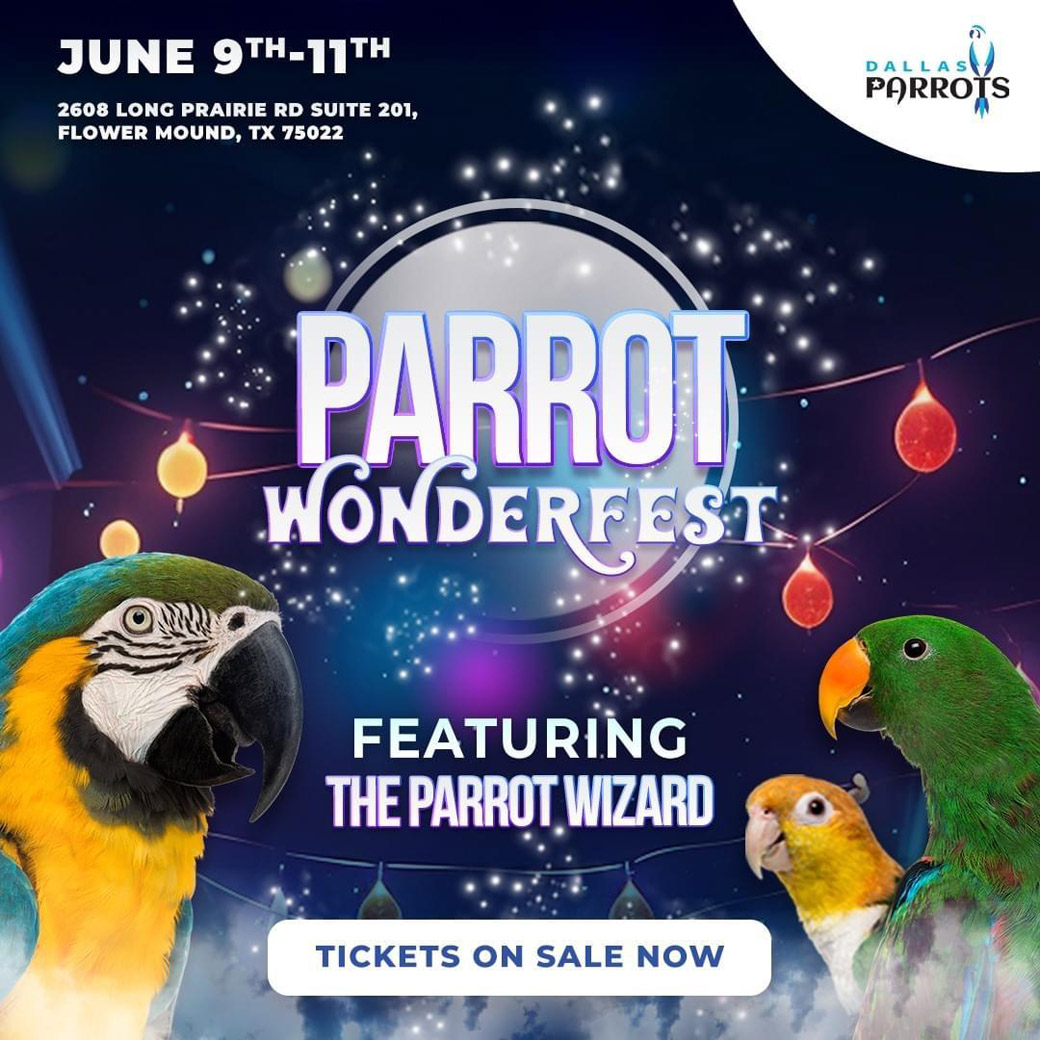 Come see the incredible selection of parrots at Dallas Parrots. Sales up to 50% off on supplies during the event. Enjoy Texas BBQ and Tacos. The store will have many cool giveaways throughout the day on Saturday June 10. Interact with world renowned Avian vets and professors from Texas A&M university. Meet parrot supply vendors and fellow bird enthusiasts.

Schedule
Friday June 9, 3-5PM VIP Meet & Greet
Saturday June 10, 12-5PM Main Event Day
Sunday June 11, 1-3PM Recap and Short Presentation

Please come and enjoy seeing the parrots at the store and my parrots, but please leave your own birds at home.

Dallas Parrots is located at 2608 Long Prairie Rd Suite 201, Flower Mound, TX 75022.

Part of: Parrot Trick Training, Blog Announcements, Senegal Parrots
Parrot Parrot Wizard Kili Senegal Parrot Dallas Parrots Store Event Announcement Texas Dallas